Adam at 10.31 as high jump duo win medals
Adam Thomas (purple vest) in action at Loughborough earlier this season (photo by Bobby Gavin)
British Athletics website report
Andy Butchart claimed his place at the London 2017 World Champs and then insisted he can't wait to sabour the atmosphere.
Adam Thomas came up with the fastest 100m run of his life to make it out of the heats at the British Champs in Birmingham.
And the Loughborough-based Scot was thrilled to then find he had moved to seventh equal on the all-time list at 10.31 to match Dougie Walker's best time back in 1997.
Bracknell's Thomas, who lost out in the semis when he clocked 10.39, actually came up the quickest 100m run by a Scot for 13 years, since Nick Smith recorded 10.28 in 2004.
'I'm delighted with that PB and that's really good to hear about the all-time list,' grinned Adam. 'There are some very well-known names on there from Scottish sprinting going back the years.
'My mother is Scottish and my grand-dad was in the Scots Guards so there's no doubt about my connection!
'I'm at Loughborough Uni and the last couple of weeks have been better with exams finished and time to rest up between training and competitions and so on.
'scottishathletics have been brilliant for me over the past couple of years. I'm part of the National Acadmey and appreciate the support.
'There is something happening in Scottish sprinting, I believe. There's half a dozen athletes starting to bring down the PBs and get a bit closer to where we'd want standards to be.
'I ran 10.41 at Loughborough to equal my time from 2016 and then 10.31 in the heat today – with 10.39 in the semi-final, which wasn't too bad, either. The start wasn't quite as good in the semi.'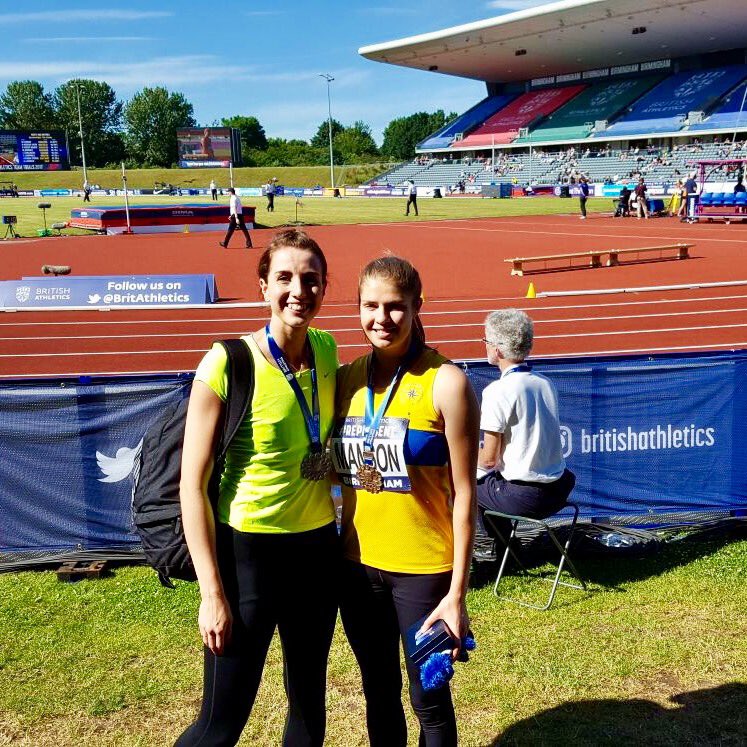 Emma Nuttall and Nikki Manson (photo via Twitter)
If that was definitely an encouraging vibe then so was watching two Scottish high jumpers take to the podium with the impressive Morgan Lake (1.96m) in the women's competition.
Edinburgh AC's Emma Nuttall landed the silver with 1.83m and Nikki Manson of Giffnock North AAC joined her there with a bronze, after a clearance at 1.79m.
'It was great for us both to get a medal and I'm just happy competing and jumping again after a long spell with injury problems,' said Emma.
'I'm enjoying myself and that's the main thing at the moment. I think there are bigger jumps to come and I am a wee bit disappointed with the height today but getting over the Commonwealth Games standard (1.86) is the goal for the season, really.
'I've been through a fair bit in terms of injuries since Glasgow 2014 so this feels like another step on the right road. I will take the silver medal.'
Nikki said: 'It was my first medal at a British Champs and it was a bit different from competing in Scotland. I'm happy with a few first time clearances and just need to relax a bit more – it was different with big TV screens, the crowd and so on but I enjoyed it.'
There was a fourth place in the Women's pole vault for Hen Paxton as she cleared 4,15 but then had to withdraw through injury. And Heather Paton finished sixth in the Women's 100m Hurdles final.
Tags: Adam Thomas, Birmingham, British Champs and World Trials, Emma Nuttall, Nikki Manson