Teenage kicks for Euan, Connor, Emma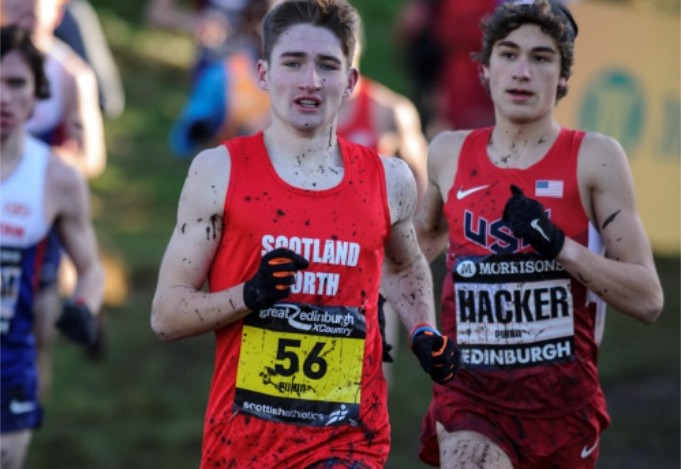 Connor Maclean had a superb run at the Great Edinburgh XC – pictures by Bobby Gavin 
Euan Gillham and Connor Maclean will pull on Scotland vests this weekend when they compete at U20 level in the Celtic XC event.
And the two 17-year-olds would be more than entitled to spend part of the journey to Ireland swapping stories about their fine runs at the Great Edinburgh XC.
One of them wore the distinctive red, white and blue vest of GB – while the other wore the red of the North District.
But there was a shared sense of pride as Kilbarchan athlete Gillham finished in 10th place in the Junior Men's 6K race and Stornoway RAC's Maclean followed him home only five seconds later in 13th – and ahead of no fewer than four of the six GB picks at U20 as he claimed the Scottish Inter-District U17 gold in spectacular style.
It was an excellent effort by both athletes yet not a huge surprise to close followers of the endurance scene in those age groups, given their performances over the past two or three years and what is clearly a deep commitment to their sport under the tutelage of coaches Robert Hawkins and Ross Munro respectively.
With Inverclyde's Jonny Glen having made a GB breakthrough at the Euro Cross at this age-group, and featuring on Saturday albeit with a below-par run, there are plenty of reasons to be cheerful about emergent talent while always being mindful the 'retention' issue which is always key for our teenage athletes.
All three plus Central AC's Aidan Thompson make up the Scotland team at U20 level in Ireland on Sunday.
'I am pleased with that and I have finished second in terms of the British lads and that's after a late call-up,' smiled Gillham, who turns 18 in April.
'I heard about my GB selection a week past on Friday and it was really exciting. It had to be kept quiet for a few days but it wasn't too much of an issue as it was still the holidays.
'When the kit arrived that is when it started to feel real. I think, to be honest, I was still running on the excitement and adrenaline of being selected by GB come the race itself
'I've run here many times – I've been at the Inter-Districts since I was 12 – so I know what to expect. It was actually my fourth time in this particular race as I've done it twice as U17 and once for Scotland in a Celtic XC at U16.
'Connor Maclean ran superbly and it motivated me when he was up there just ahead of me. I wanted to make sure I beat him but managed to get ahead of him on one of the muddy sections before we went into the last lap.
'Hopefully I can kick on from here. I didn't feel nervous this morning and that is unusual for me – I surprised myself. But I felt good on the start-line and I'm happy with 10th place.
'Racing these English lads more often helps. I will be at Milton Keynes and Birmingham in against them again and we will see what happens.
'Callum Hawkins has been training with us since he came back from America. When that first happened, I was beating him in sessions but of course he's quicker and doing more reps now!
'It certainly helps us all having that kind of quality in the group and training with him has helped me for sure.'
Stornoway coach Munro was thrilled with Maclean's performance but stressed that it was the result of years of hard work by the 17-year-old who, along with club-mate Michael Macmillan, has ambitions to win an athletics scholarship in the United States. Macmillan turns 17 later this month.
'Connor is a very committed lad and it was a great run in Edinburgh,' said coach Ross Munro.
'His training partner, Michael, will actually be disappointed with fifth in the Inter-District race. Because of work reasons and so on, we often do sessions at 7am in  the morning. The two of them are there and very dedicated indeed.
'Connor is doing 50 miles a week at the moment and, in my opinion, it is all about how much you want it.  Both have ambitions to get to the United States on athletics scholarships. So they are happy to put in the work and are very dedicated young guys.
 I don't think there are too many 16 and 17-year-olds getting out of bed at 6am to put so much effort into their sport.
'It is expensive. You need the club support, and the family support. The parents are supportive and then there is the local sports council. We are always asking for travel grants because Connor and Michael are racing often on the mainland – and all over Britain in fact.
'We fly to races quite often now because we've had some bad experiences on the A9, with the ferry and on the trains. The North gave us an early heads-up on the team so we could make a block booking for flights and that helps.
'I do think we must break up the East and West teams, though. Let's split them into two and make it a proper Scottish Inter-Districts race.'
*As athletes ploughed through the mud and wind at Holyrood, another promising teenager was in action indoors in Sheffield.
Emma Canning, also 17 and like Gillham a member of the scottishathletics Youth Academy, picked up a bronze medal at the England Athletics U20 Combined Events Championships.
It was a good performance by the Whitemoss athlete who is coached by Iain McEwan. Emma amassed a PB tally of 3603 points.
Tags: Connor Maclean, Emma Canning, Euan Gillham, Kilbarchan AAC, Stornoway RAc, Whitemoss AC