Superb Scottish performances at Celtic XC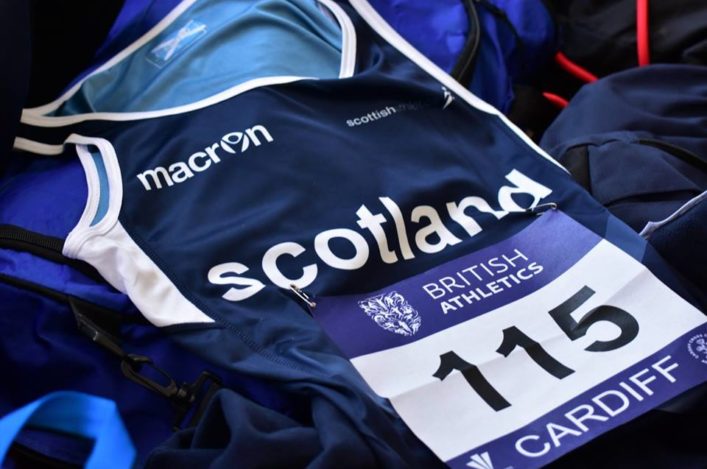 We're #backinblue in that Macron Scotland kit – (photos by Neil Renton)
RESULTS – click on the race (Leaderboard icon brings up Celtic Nations)
Scotland claimed three sets of team gold medals at the Celtic Nations XC match in Cardiff as many of our young athletes distinguished themselves with fine performances.
Indeed, the tally could yet be four wins from six races with the U20 Women's result subject to scrutiny – while the U20 men only lost out victory by a single point.
The British Cross Challenge in Blackweir Park in the Welsh capital was the perfect backdrop for the Celtic Nations XC races therein and adding to the feel-good factor were three overall race wins – with Anna Macfadyen's superb success at U20 level backed up in lower age-groups by Lily-Jane Evans-Haggerty at U15 and Anna Hedley at U13.
***
Monday night update: The team result for the U20 Women in the Celtic Nations XC race has now been changed to give Scotland the victory. Both Scotland and Ireland were tied on 15 points but third Scottish counter, Gillian Black, finished in eighth place, one place ahead of the third Irish athlete.
U20 Women International team Result
***
Let's start with the Scotland U23 performances and double gold in that age-group as the Men and the Women both dominated.
These athletes competed in the Senior Races at Cardiff and it should be noted Scotland had a few U20 athletes racing in an U23 age bracket in a Senior Race (who says cross country is straight-forward?).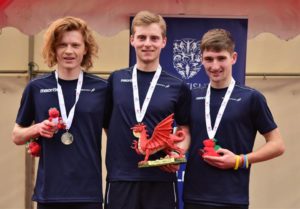 Scotland U23 Men – gold medals at Celtic Nations XC
In terms of individual places reported upon herein, we will focus here on the Celtic Nations XC races. Scotland U23 men actually went 1,2,3 thanks to the efforts of Michael Ferguson, Logan Rees and Connor Maclean.
The U23 Women went 1,2,4 thanks to the performances by Mhairi Maclennan, Louise Mercer and Annabel Simpson to also bring home team golds. The team were backed up by Catriona Graves.
Anna Macfadyen is starting to make a real impact at U20 level in British terms and her terrific performance took British Cross Challenge and Celtic Nations XC gold.
Backing her up in a team sense were Clare Stewart at sixth and Gillian Black in eighth with Scotland and Ireland tied on 15 points. The team were backed up by Naomi Lang.
The Scotland U20 men selection featured GB internationals Sol Sweeney and Ben Greenwood and the Perth Strathtay duo did not disappoint. Sweeney was second and Greenwood was fourth with Alex Carcas at nine for Scotland to take silver medals and so nearly the golds.
Ben brought home the Celtic bronze medal (with an Irish B athlete not counting for those) while Sol's overall fourth place in the race will keep him high in the British Cross Challenge Series standings. The team were backed up by Tristan Rees.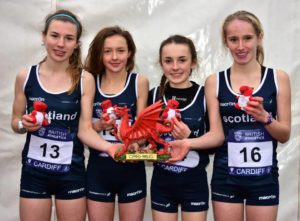 Scotland U17 Women – gold medals at Celtic Nations XC
Scotland U17 Women certainly looks a promising age group and so it proved as they finished three in the top five in the Celtic Nations XC for a dominant success. Eloise Walker was second with Cera Gemmell in fourth and Heather Barnes just behind in fifth. Jessica Macleod took seventh place, also!
The Scotland U17 men found it tougher but there was an outstanding individual run for Hamish Armitt to take the Celtic Nations XC gold, with Robert Sparks in 11th and Joe Ewing in 17th. The team were backed up by Drew Pollock.
Many congratulations to all those athletes, and their families and coaches who represented Scotland in Cardiff. We would also like to thank the team managers for their hard work and commitment over the weekend – Neil Renton, John Rodger, Sophie Dunnett and Sandra Hardacre.
*In the lower age-groups of the British Cross Challenge Series, there were those fine wins in Cardiff for Evans-Haggerty (VP-Glasgow) and Hedley (Fife AC) – with both those girls following up their wins in Antrim the previous week.
Freddie Carcas picked up a sixth place at U17 level while there was a seventh place finish for Valencia Wright at U13.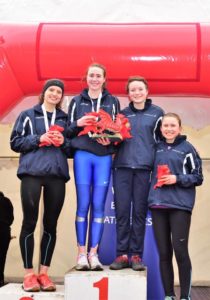 Scotland U23 Women – gold medals at Celtic Nations XC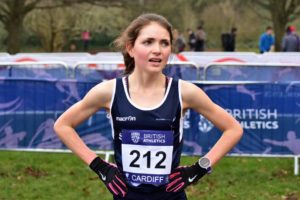 Anna Macfadyen – U20 British race win for the Forres Harriers athlete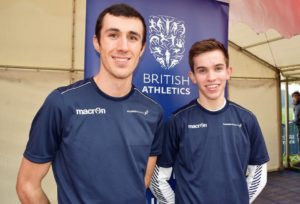 Ben Greenwood and Sol Sweeney – Perth training partners had good runs at U20
Tags: Anna Hedley, Anna Macfadyen, British Cross Challenge, Cardiff, Celtic Nations XC, Lily-Jane Evans-Haggerty, Scotland