Superb performances at GAA Miler Meet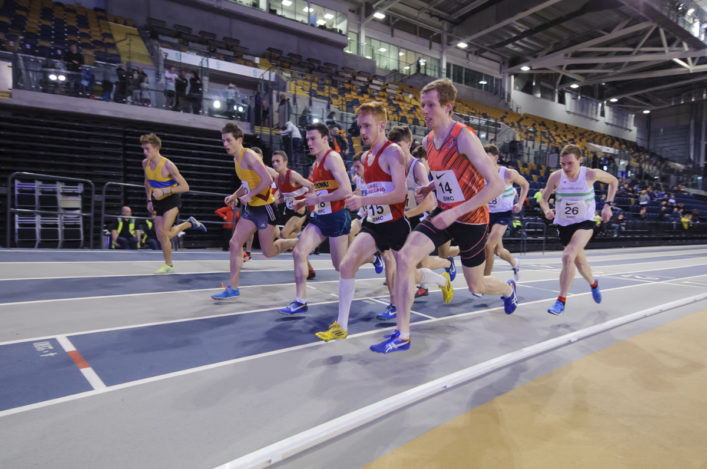 Action from the Senior Men's A race in the 3000m Champs (photo by Bobby Gavin)
It was a record-breaking night in so many ways at the GAA Miler Meet and Scottish 3000m Champs at the Emirates Arena.
And, while the focus has naturally been on Laura Muir's superb run over 5000m, there were other notable efforts over 3000m and 600m – as well as the large rash of PB performances we have come to expect from these meets.
Subject to the usual ratification procedures, we expect a number of Record or Best Performances to be confirmed for the following athletes: Fiona Matheson with a World mark for W55 Indoor 3000m at 10.21.52; Guy Bracken with a British mark at 3000m Indoors with 9.04.33; Jemma Reekie with a Scottish mark at U20 3000m indoors with 9.28.19; and Ben Greenwood with a Scottish mark at U20 600m indoors with 1.18.98.
Many congratulations, in particular, to these athletes and their coaches and families on fine performances at the GAA Miler Meet.
In addition to Reekie's performance, which clinched Scottish U20 gold, her fellow National Academy member, Erin Wallace, took U20 silver with 9.33.02. and also went below the previous Record for the distance indoors (held by Kathryn Gillespie at 9.37).
In the Women's 600m race, there was a performance of 1.32.48 by Jill Cherry which takes her to third on the Scottish all-time list for 600m indoors. In that race, Jill edged out her VP-Glasgow team-mate, Mhairi Patience, by two hundredths of a second.
Dundee Hawkhill athlete, Scottish-based Welshman Kristian Jones, took the gold in the Senior 3000m Champs with the other medallists being Glasgow-based GB international, James Bowness, and Welsh athlete Jonathan Hopkins. In that race, there were terrific runs by Ryan Thomson and Robert Bough to finish fourth and fifth.
English athlete Kate Maltby won the Senior 3000m gold, but missed out on a GB qualifying standard for the Euro Indoors with 9.01.97.
Dundee Hawkhill's headline-grabbing evening was given added lustre by a Scottish U20 gold for James Donald, ahead of Adam Scott of Fife AC and Anthony Addison of Corstorphine.
The Scottish U17 titles went to Andrew MacAngus of Kilbarchan AAC and Eloise Walker of Edinburgh AC.
Video of Senior Men's A race with thanks to GAA
Video of Men's 600m race with thanks to GAA
Video of Women's 600m race with thanks to GAA
SCOTTISH 3000M CHAMPS:
Men 1-2-3: Kristian Jones 8.07.64; James Bowness 8.11.65; Jonathan Hopkins 8.12.09.
U20 Men 1-2-3: James Donald 8.33.36; Adam Scott 8.35.36; Anthony Addison 8.47.49.
Women 1-2-3: Kate Maltby 9.01.97; Melissa Courtney 9.11.38; Kerry O'Flaherty 9.12.88.
U20 Women 1-2-3: Jemma Reekie 9.28.19; Erin Wallace 9.33.02; Zoe Bates 10.10.72.
U17 Men 1-2-3: Andrew McAngus 8.58.25; Drew Pollock 9.10.07; Stephen Addison 9.32.31
U17 Women 1-2-3: Eloise Walker 9.54.05; Heather Barnes 10.10.74; Jessica MacLeod 10.15.43
Veteran Medals
V35 1-2-3: David Henderson, Gordon Robertson, Garry Matthew
V40 1-2-3: Robert Gilroy; Gordon Barrie; David Tamburini
V45 1-2-3: Kerry-Liam Wilson; Stephen Allen; Greig Glendinning
V50 1-2-3: Chris Upson; Gary McKendrick; Denis Williams
V55 1-2-3: Guy Bracken; Patrick O'Kane, Rob McLenna
W35: Jacqueline Etherington
W40: Claire Thompson, Cath Ferry
W45: Julie Wilson
W50: Sharyn Ramage
W55: Fiona Matheson
W60: Phyllis Hands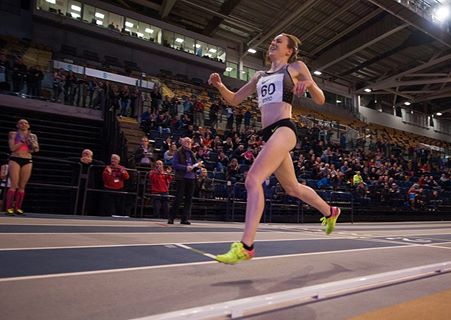 Tags: Ben Greenwood, Emirates Arena, Erin Wallace, Fiona Matheson, GAA Miler Meet, Jemma Reekie, Jill Cherry, Scottish 3000m Champs