Super Scots land four golds in Sheffield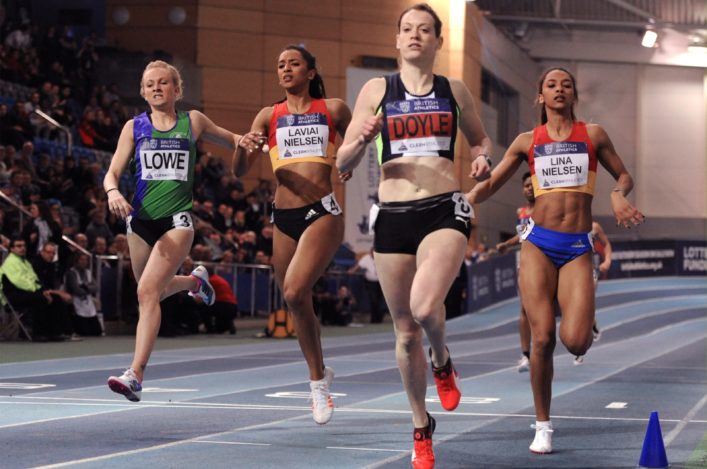 Eilidh Doyle is first to the line to claim the Women's 400m title – photos by Mark Shearman
Four Scots claimed British Indoor gold in Sheffield on another excellent weekend for our top athletes.
Nine medals in all was the final haul from the British Indoor Team Trials event as golds were landed by Eilidh Doyle, Eilish McColgan, Guy Learmonth and Allan Smith.
Doyle and Learmonth look to have now stamped their passports for the European Indoors in Belgrade but the team announcement is not due until Tuesday 21 February, after the weekend Grand Prix meeting at Birmingham.
McColgan added a silver in the 1500m to her 3000m gold on a hectic, and tiring, weekend as she raced three times in less than 24 hours while the other on the podium were Steph Twell, 3000m silver; Mhairi Hendry, 800m bronze, Grant Plenderleith 200m bronze and Courtney MacGuire, pole vault bronze.
First at the break in the Women's 400m final, Doyle had to use all her 400m Hurdles strength to hold on for a 52.63 victory after a slow first 200m, with Laviai Neilsen clocking 52.86 just inches ahead of Lina Nielsen, who was rewarded with a 52.89 personal best.
'I knew it was going to be really tough today – I raced Laviai out in Vienna and she really pushed me, and that was where I ran my season's best, so I knew it'd be more of the same here today,' said Eilidh.
'Over the final lap I could feel people behind me but I didn't really know what was going on, so I just thought 'keep digging and digging', so I'm delighted to just get the win and secure the spot for European Indoors.'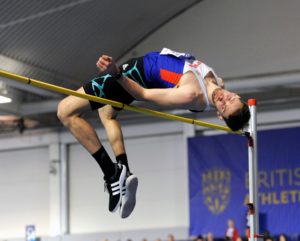 Allan Smith won the high jump British Indoor title for the second time in three years as he replicated his 2015 success.
Allan's first time clearance at 2.25m proved enough on countback to take the honours in a tight competition, with David Smith placed sixth on 2.17m.
'I'm happy with winning the British Championships – it's always nice, and it's the first time I've beaten Robbie, too,' said Allan.
'He's one of the big boys, so there's a positive to take from that, but I just need to get that 2.28m mark in for the European Indoor Championships.'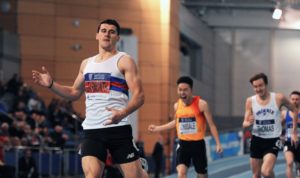 Guy Learmonth was the next Scot to feature in a final and his victory was never really in doubt in the 800m as he led from the start to finish; clocking 1.48.19 to win the British Indoor title once again.
'I am absolutely over the moon,' said Guy.
'It has been a rough 18 months for me so there was a lot at stake. I've started the indoor season pretty well and have continued that this weekend. I knew I had to finish in the top two to guarantee my spot in Belgrade but I really wanted to win the British title – it means a lot.'
In the Men's 400m final, there looked to be a bronze medal at British level for Jamie Bowie as he came home in  behind Jarryd Dunn and Cameron Chalmers – but unfortunately a DQ decision denied the Team East Lothian athlete a medal.
The women's 1500m promised much in Scottish terms before Sarah McDonald closed out the win just ahead of a silver for McColgan, with Eilish timed at 4.19.99.
Jemma Reekie, after a great run on Saturday evening in the heat, was in contention for the bronze right until the final lap but finished fourth in 4.22.74.
There was a PB indoors for Grant Plenderleith in the 200m final with 21.53 and that landed him a bronze medal from fourth in the race, with the winner having switched allegiance to Italy. Heather Paton unfortunately struck the second last barrier in her 60m Hurdles final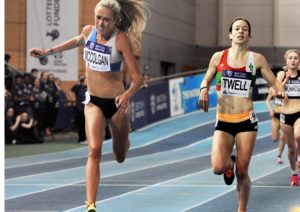 The Saturday headlines had been grabbed in emphatic fashion by McColgan.
Just back from her recent training stint in Kenya, the Olympian fancied a first indoor outing in five years. And, not content with one event, she took on the 3000m and the 1500m heat with barely 65 minutes between them.
Eilish won the 3000m crown with a great sprint finish to win it on the line from silver medallist Steph Twell, with both athletes five seconds outside the European Indoor qualifying time of 9.00. Eilish was at 9.05.07 with Steph at 9.05.30.
'It was a very slow first one kilometre but I was confident in my kick at the end and I felt strong over the course of the race,' said Eilish.
'I have the qualifying time from outdoors so I knew in the back of my head that I just needed to finish in the top two. I've got another opportunity at the Indoor Grand Prix to run a fast time next week – that's where I'll go for a PB, but today was all about going for the win.'
Those two medals added to two earlier in the afternoon as Mhairi Hendry and Courtney MacGuire both claimed bronzes.
Hendry worked hard for her third place in the Women's 800m final as she clocked 2.05.22 with Emily Dudgeon taking fifth place. MacGuire cleared 3.94m in the pole vault to win bronze.
Tags: Allan Smith, British Indoor Champs, Eilidh Doyle, Eilish McColgan, Guy Learmonth, Sheffield