SUCA International in Dublin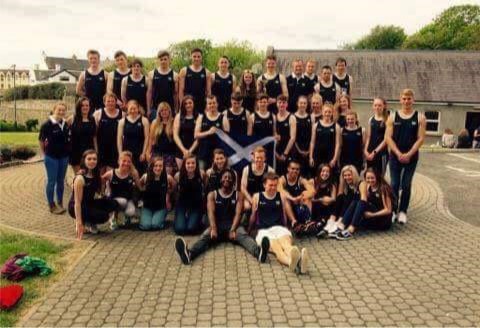 Universities International 27 May 2017
The Scottish University & College Athletics team took on the Irish Universities team at Morton Stadium in Dublin last weekend in the annual Celtic Universities International match.
After several days of warm sunny weather in Dublin, Saturday begin with torrential rain that delayed the start of the match by two hours. The athletes coped well with the delays and despite the damp conditions and a wet track there were many fine performances and a number of PBs in a very close match.
From the men's team, captained by Marcus Morton, there were individual wins for Krishawn Aiken, Lewis Brown, Callum Matthews, Fearghus Thomson, Peter Muirhead, Lewis McGuire, Michael Tarnewsky and Fraser O'Rourke.
For the women, captained by Adrienne Rennie, there were individual wins for Katie Patullo, Emily Craig, Hannah Cameron, Carolyn Harvey, Kristen Mullen and Stephanie Fowler. Both the men's and women's 4x400m relay teams won.
The women's 4x100m relay team also won an exciting race. The men's 4x100m team narrowly lost by two hundredths of a second.
In the most exciting race of the day, the men's 100m, Scotland's Alec Thomas missed out on first place by one thousandth of a second, recording a time of 10.99.
In the points competition the men's team finished a single point behind Ireland, 99 points to 98. Ireland's women's team won by eight points, 105 points to 97, giving Ireland an overall victory by the very narrow margin of nine points, 204 points to 195.
The highlight of the whole event was the tremendous team spirit shown by all of the athletes under the guidance of team manager Janelle McGurk.
With thanks to David Low
Tags: