Sprint king Kelly; Portobello Promathon; Enter Age Groups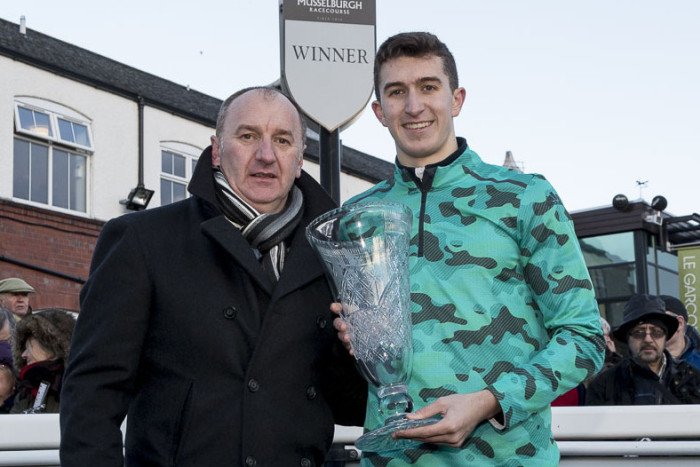 Greg Kelly celebrates New Year Sprint success (photo via Edinburgh Evening News twitter)
East Kilbride AC's Greg Kelly 
emulated 2015 champion Cameron Tindle as a teenage winner of the world-famous New Year Sprint at Musselburgh Racecourse on Sunday.
The 17-year-old started off 8.25m and cruised home fully two yards clear in 11:54secs as he repeated his semi-final victory over Lasswade long jumper Jordan Charters with fellow teenager Emily Dagg close behind in third.
Despite a gap of barely 90 minutes between semi and final, Kelly's victory in the 148th running of the 110m dash earned him a handsome crystal trophy and a first prize of £4,000, although the cold and blustery conditions ruined any prospect of adding a big money bonus.
The newly-crowned champion and his proud father were unconcerned, however, and a beaming Kelly – who is coached by Gordon Bury – admitted: 'It still hasn't sunk in yet, to be honest. This is just the biggest race and it's mad for me to have won it.
'I felt confident I could do it after beating Jordan in the semi-finals, but there's such stiff competition that you can never really think you're going to win. I knew Jordan was one of my biggest threats, so I treated the semi like a final.
'Getting a walkover in Friday's heats was a good thing because people didn't really know what I was capable of. I wanted to have a good hard race on Friday, but my first real run was the semi-final. 2016 was a brilliant year for me. I won the 100m and 200m double at the national championships and competed for Scotland at the Celtic Games in Swansea, which was a great experience.'
Dagg, also 17, had created quite an impression during Friday's qualifying heats at Meadowmill Sports Centre when she clocked the quickest time of the day – a sizzling 11:50 – off 20.5m.
'I'm really pleased,' said Dagg after going four places better than last year. 'Getting to the final again was a bonus and I felt I ran well, so I have no regrets.'
+++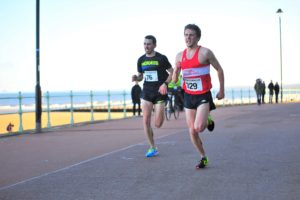 Grant Sheldon edges out Andy Douglas – (photo by Bob Marshall)
One of the first events of 2017 took place in Edinburgh on New Year's Day – with wins for Grant Sheldon (Cambuslang Harriers) and Rachael Dunn (Edinburgh AC) at the Portobello Promathon.
Three-times winner Andy Douglas (Inverclyde) came up with his fastest time but Sheldon clocked 18.43 to win by one second – with Peter Avent (Shettleston) coming home in third in 19.02.
Dunn won the Women's race in 22.10 from Gillian Palmer 22.57 and Shona McIntosh (HBT) in 23.07.
Results (provisional) online on our Events section
With thanks to Alex Jackson
+++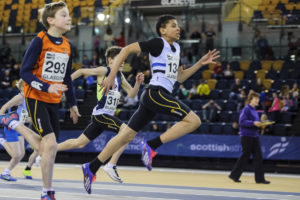 The Age Groups Championships are always one of the highlights of the Scottish Indoor Season at the Emirates Arena in Glasgow.
We're certain 2017 will be no different with plans being made for U13, U15 and U20 athletes to gather and compete just as they did early in 2016.
The weekend of February 11/12 is set aside for those age groups, with the U17 Champs now part of the Senior Indoor Champs (which take place on Saturday 28 January).
So we are looking for entries now for championships in all those age groups the online Entry system through our Event section pages on this website.
Saturday 11 February will host the U13 Champs and the following day, Sunday 12 February, will see the staging of the U15 Champs. The U20 Champs are on both days and when you will compete will dictate which day you will attend the Emirates.
Tags: Age Group champs, Andy Douglas, East Kilbride AC, Emily Dagg, Emirates Arena, Grant Sheldon, Greg Kelly, Jordan Charters, Rachael Dunn