Sprint duo picked for GB and NI at Mannheim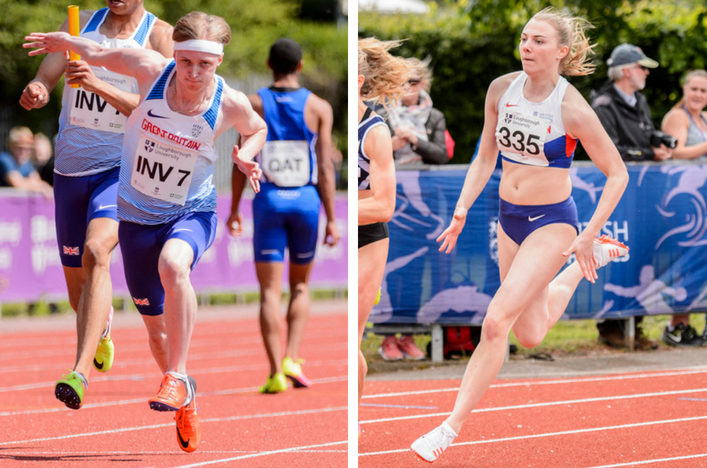 Michael Olsen and Alisha Rees – GB selections for Germany (photos by Bobby Gavin)
British Athletics website announcement
Edinburgh AC duo Alisha Rees and Michael Olsen are celebrating GB and NI selections for the forthcoming U20 International in Germany.
The sprint pair will head to the Mannheim Gala this weekend as part of a 20-strong team announced by British Athletics.
It is part of the preparations for the World Juniors in Finland with the German event placing a big emphasis on the sprints.
Alisha, of course, has already amassed international experience – including winning a relay medal at the European U20s last summer – and is named for the 200m and the 4 x 100m team. Alisha is at Loughborough University now and is being coached by Leon Baptiste.
Michael stepped up to GB and NI level for the Loughborough International and has seized his chance with aplomb. Coaching by Bill Walker, he will race 100m and 4 x 100m this weekend in Mannheim.
Team Leader for the British juniors, Trevor Painter, said: 'We've selected a strong team for the Mannheim Gala and it is another key meeting in our calendar as we prepare for next month's World Junior Championships in Tampere.
'There will be a focus on the sprints and the men's and women's 4 x 100m relay teams and Mannheim will allow athletes to benefit from going up against some strong international competition both on the track and in the field.
'Building on the performances from the England Athletics U20 Championships at the weekend, it also allows for athletes to consolidate their preparations ahead of the World Juniors.'
The British Athletics junior team for the Mannheim Gala on 23-24 June 2018:
Men:
Dom Ashwell (Marvin Rowe, Shaftesbury Barnet) – 100m, 4x100m;  Bayley Campbell (Paul Dickenson, Windsor, Slough, Eton & Hounslow) – Hammer Throw; Kaie Chambers-Brown (Sharon Morris, Birchfield Harriers) – 100m, 4x100m; Charlie Dobson (Stephen Garnham, Colchester Harriers) – 200m, 4x100m; Jona Efoloko (John Smith, Sale Harriers Manchester) – 100m, 4x100m; Alex Knibbs (Nick Dakin, Amber Valley & Erewash) – 400m hurdles; Chad Miller (Ryan Freckleton, Hercules Wimbledon) – 4x100m relay; Jason Nicholson (Janice Kaufman, Gateshead) – 110m hurdles;  Jake Norris (Paul Dickenson, Windsor, Slough, Eton & Hounslow) – Hammer Throw; Michael Olsen (Bill Walker, Edinburgh AC) – 100m, 4x100m; James Tomlinson (Paul Jensen, Pembrokeshire) – Discus; Josh Zeller (Ken Spencer, Bracknell AC) – 110m hurdles
 Women:
Georgina Adam (Denise Timmis, Lincoln Wellington) – 200m, 4x100m; Kristal Awuah (Matthew Thomas, Herne Hill) – 100m, 4x100m; Ebony Carr (Mike Leonard, Marshall Milton Keynes) – 100m, 4x100m; Molly Caudery (Stuart Caudery, Cornwall AC) – Pole Vault; Veru Chinedu (Ryan Freckleton, Cambridge Harriers) – 100m, 4x100m; Mair Edwards (John Davis, Basingstoke & Mid Hants) – 200m, 4x100m; Holly Mills (James Coney, Andover) – Long Jump; Alisha Rees (Leon Baptiste, Edinburgh AC) – 200m, 4x100m
Tags: Alisha Rees, Germany, Mannheim, Michael Olsen