Smiths on song at Seniors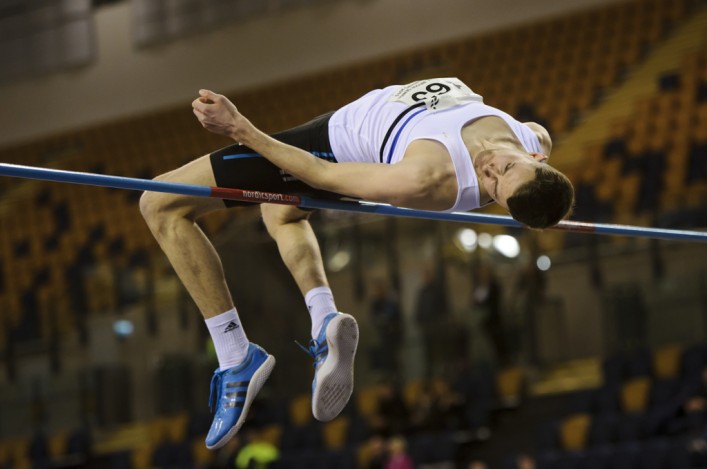 All the Results from the Senior Indoors
High jumpers Allan Smith and David Smith raised the bar at the Emirates Arena – with Championship Best and Scottish Native Record indoor performances.
The pair each cleared 2.25m with Edinburgh AC's Allan duly taking home the gold medal on the day on countback as he went over on his first attempt.
Giffnock North AAC athlete David represented Scotland at Hampden last summer and was pleased with his 2.25m clearance but disappointed to miss a Euro Indoor qualifier with both men failing at 2.29m in a late afternoon duel which proved the highlight of the Senior Indoor Champs.
'I would have been happy if you had told me beforehand I would get 2.25 and it was a good competition with Allan and Ray Bobrownicki (third in 2.20m),' said David.
'But I wanted that 2.29 Euro qualifier and I felt it was there, certainly on my last attempt. I had tensed up for the other too because I started to think it would mean something but I felt I had sorted that out for the third one.
'I had an injury three weeks ago, though, so it is decent to be at this kind of height. I'd love to represent GB at the Euro Indoors so I have to believe I can make that qualifying height and get there.'
Aberdeen athlete Zoey Clark, a Team Scotland 4 x 400m relay runner last summer, won a 60m and 200m sprint double – setting PBs in both.
Clark dipped under 24 seconds for the 200 for the first time as she held off Beth Dobbin of Edinburgh AC in a good race to win in 23.96 and earlier had beaten teenager Alisha Rees in the 60m final with a run of 7.58. Rees, not yet 16, ran 7.61 there and that was only three hundredths away from a Scottish U17 record held by Linsey Macdonald.
'I shaved a wee bit off my PB for the 60m but it was the first time I have been under 24 for the 200 so that feels brilliant,' said Zoey, with that 200m run the fourth best time indoors by a Scot on the all-time list as she went ahead of Sinead Dudgeon.
'I had to work hard to get it because I could hear everyone pounding on the boards behind me! I am delighted. We have done a fair bit of speed work this winter towards a better 400m time and that's clearly helped me today with the 200.
'It is always nice to win gold medals so it has been a great day for me in Glasgow. I won the 60 before, a couple of years ago, but the main thing is the 200m PB.
'It all bodes well for the summer outdoor season and I only really have BUCS indoors now because I don't want to try and do too much.'
Dobbin's 24.17 was also a PB and puts her in at sixth on the all-time list for indoor performances by Scottish women.
Other Team Scotland athletes picking up gold medals were the likes of long jumper Sarah Warnock, with an indoor PB of 6.21m, shot putter Kirsty Yates and Grant Plenderleith in the 200m.
Scotland international Cameron Tindle, 16, had to pull out of the 60m final, unfortunately, but it was another teenager, Alec Thomas, who won gold instead at 6.98 with a big PB.
Thomas also won a 200m silver and is now being coached by Melbourne Commonwealth Games medallist, Chris Baillie. Alec even pushed Plenderleith close in the 200m – a sixth race of the day for the 18-year-old, who set a PB in the 200m as well as that 60m run.
Myles Edwards followed up his 1500m run for Scotland the week before with victory while it was the same story with Sam Adams in the pole vault.
There was a big triple jump PB for Chukwudi Onyia in the triple jump at 15.40m while David Martin won the men's long jump with 7.08m
The Men's 800m title went to Donald MacLeod and Fife AC's Jenny Tan won the Women's 1500m gold. There were sprint hurdles wins for Mhairi Patience of VP-Glasgow and Jack Lawrie of Pitreavie AAC.
Alec Thomas: 60m gold and 200m silver
Tags: Alec Thomas, Alisha Rees, Allan Smith, Beth Dobbin, David Smith, Emirates Arena, Grant Plenderlieth, Kirsty Yates, Sarah Warnock, Senior Indoors, Zoey Clark