Six Scots to race for GB at Edinburgh XC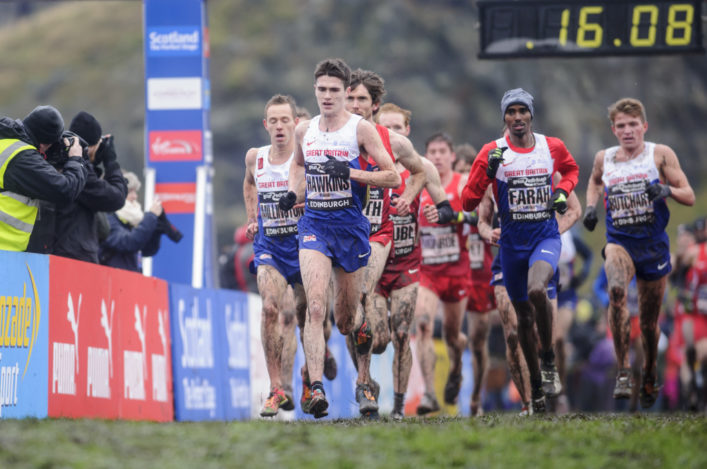 Action from the Senior Men's race in 2016 at Holyrood – photo by Bobby Gavin
British Athletics website report
BBC website story with video footage from January 2016
Euro Cross bronze medallist Callum Hawkins will race Mo Farah and Garrett Heath at the Great Edinburgh XC on Saturday 7 January.
Three Scottish Olympians in all feature in the two Senior GB and NI teams with Steph Twell and Beth Potter part of the 12-strong Women's selection.
And there are GB and NI vests at Junior level for teenagers Erin Wallace of Giffnock North and Sol Sweeney of Perth Strathtay – with that being a well-deserved first call-up to a British selection for 18-year-old Sweeney.
Laura Muir will now run for GB and NI in the 4 x 1K International Relay event at Holyrood which will mean nine Scottish athletes featuring in that race, with Scotland A and B selections to be confirmed by scottishathletics in due course.
American athlete Heath beat Farah over the Edinburgh course back in January of this year and has already been confirmed as coming back in the hope of serving up a repeat on January 7.
Farah will be back, too, to woo the capital crowds as he starts what he hopes will be a memorable year with London 2017 World Champs on the horizon.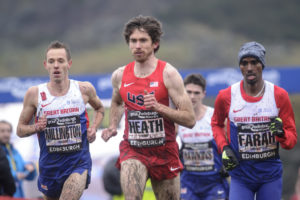 Heath to defend Edinburgh title
'I am looking forward to the Great Edinburgh Cross Country on January 7,' said Farah, the only Brit to have won the Senior Men's race in this fixture.
'Holyrood Park is always a great venue and I'm sure the course will offer the usual challenges. I have been back in full training for the past few weeks and this event will offer me a good opportunity to measure my fitness and see how training is going ahead of the 2017 track season.'
Callum, who is coached by Robert Hawkins, added: 'It will be a great way to kick-start 2017. It's a good opportunity to compete back on home soil; it's an event I always enjoy racing in.
'For me, 2016 has been incredible and hopefully I will continue to head in the right direction in the New Year.'
Fellow senior men's team gold medallists from Chia; Andy Vernon, Ben Connor, Dewi Griffiths and Ross Millington will also contend the race against athletes from Europe and USA. Notably, European U20 bronze medallist Mahamed Mahamed, at the age of 19, earns his first senior call-up to the British team.
European 5000m bronze medallist Steph Twell and Gemma Steel add significant experience to the senior women's team. They will be joined by European cross U23 team gold medallists Jessica Judd, Rebecca Murray and Georgina Outten, as well as Potter.
In the Junior teams, it'a great to see places for Erin Wallace, who is coached by Dudley Walker, and Sol Sweeney, who is coached by Cat Tavendale.
Scottish U17 Athlete of the Year Erin of course medalled at the European Youths in Georgia last summer while Sweeney wins his reward for a fine run in the U20 trials race in Liverpool, where he finished 12th (with 9th placed Connor Maclean of Stornoway too old in the age groups for this event).
Muir, coached by Andy Young, is joined in the GB team for the Relay by James Bowness, who is based in Glasgow and coached Bill Parker.
*The Great Edinburgh International XC is free to spectate and will be shown live on BBC One and BBC One HD from 13:15 on January 7th 2017.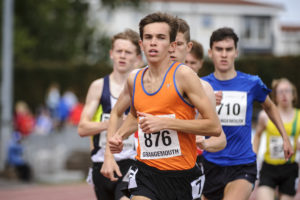 Sol Sweeney – first GB vest for the Perth Strathtay athlete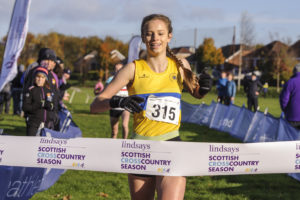 Erin Wallace – Short Course champion wins GB vest at XC
British Athletics teams for the Great Edinburgh International XCountry in Edinburgh, Scotland:
Senior Men:
Ben Connor (Spencer Duval); Ellis Cross (Mick Woods); Mo Farah (Alberto Salazar); Alex George (Paul de-Camps); Dewi Griffiths (Kevin Evans); Callum Hawkins (Robert Hawkins); Adam Hickey (Eamonn Martin); Charlie Hulson (Steve Vernon); Mahamed Mahamed (Peter Haynes); Ross Millington (Steve Vernon); Jonny Taylor (Gordon Surtees); Andy Vernon (Nic Bideau)
Senior Women:
Charlotte Arter (James Thie); Lauren Deadman (Bill Foster); Claire Duck (Mike Baxter); Rachel Felton (Christopher Frapwell); Emily Hosker-Thornhill (Mick Woods); Jessica Judd (Mick Judd); Rebecca Murray (Alex Stanton); Georgina Outten (Andrew Walling); Beth Potter (Mick Woods); Gemma Steel (Rob Denmark); Steph Twell (Mick Woods); Pippa Woolven (Luke Gunn)
Junior Men:
Scott Beattie (Mike Bateman); Tom Dodd (Catherine Muth); Hugo Milner (Chris Woodhouse); Sam Stevens (Alan Maddocks); Sol Sweeney (Catriona Helen Tavendale); Alex Yee (Kenneth Pike)
Junior Women:
Phoebe Barker (Richard Owen); Cari Hughes (Andrew Walling); Harriet Knowles-Jones (Paul Roden); Amelia Quirk (Beverly Kitching); Erin Wallace (Dudley Walker); Victoria Weir (Simon Anderson)
4 x 1K International Relay
James Bowness (William Parker); Laura Muir (Andy Young); Charlene Thomas (Aaron Thomas); James West (George Gandy)
Tags: Beth Potter, Callum Hawkins, Erin Wallace, Great Edinburgh XC, Hoyrood Park, Laura Muir, Sol Sweeney, Steph Twell