Seventeen medals for Scots at British Champs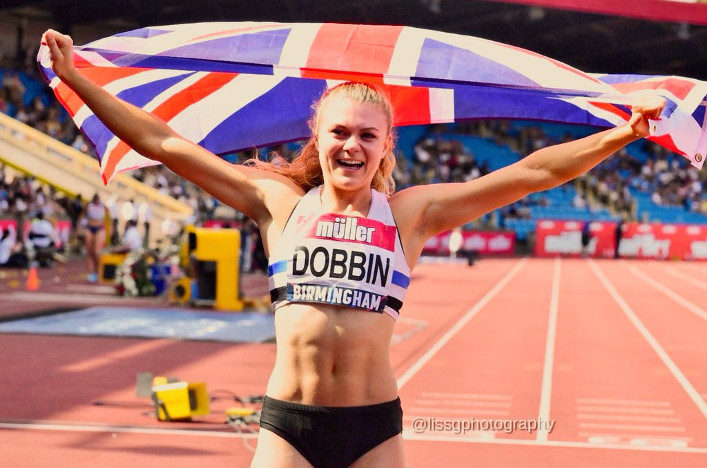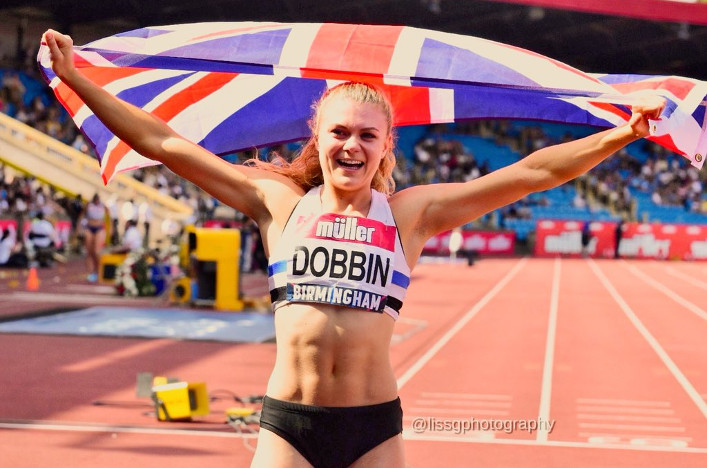 Beth Dobbin photo thanks to on Twitter @lissgphotography on Instagram

Full results via British Athletics
Scots picked up four gold, six silver and seven bronze medals at the 2018 British Champs this weekend, with eight athletes now holding confirmed places at the European Championships in Berlin this summer.
Over the full weekend, the seventeen-strong medal tally was as follows:
Gold – Steph Twell, Laura Muir, Beth Dobbin, Chris O'Hare
Silver – Chris Bennett, Kirsty Law, David Smith, Kirsten McAslan, Jake Wightman, Jemma Reekie
Bronze – Mark Dry, Nikki Manson, Nick Percy, Allan Smith, Guy Learmonth, Eilish McColgan, Neil Gourley
With a confirmed European Champs place requiring a first or second place finish at the trials and at least one qualifying standard, the following are now set to compete at Berlin 2018:
Steph Twell, Laura Muir, Beth Dobbin, Chris O'Hare, Chris Bennett, David Smith, Kirsten McAslan, Jake Wightman.
A clear stand-out performance on the second day of the trials came from Beth Dobbin, who landed two successive Scottish Records in the 200m, the second also a Championship Record, to take gold and secure Berlin qualification. She set out her stall with a 22.75 run in the heats, lowering her previous Scottish Record of 22.83, set less than a month ago. But that was just a start, with a 22.59 run in the finals setting her second national record of the day.
"It is a dream come true, I've not even slept this week, I've just been thinking about trials, about the race, and I knew I was capable of winning," she said. "I think even if I finished second I would have been disappointed today … it's just an absolute dream come true."
Here's BETH DOBBIN – British Champion, Scottish Record holder, Championship Record holder, Euro Qualifier, and quite rightly VERY happy right now! #BritishChamps

Posted by Scottish Athletics on Sunday, 1 July 2018
The men's 1500m, tipped to be one of the day's most thrilling events, did not disappoint, with a Scottish 1-2-3 from Chris O'Hare, Jake Wightman and Neil Gourley, with Josh Kerr in 5th.
Chris said: "The 1500 is always going to be a fight for the finish, it's always coming down to the last 300, last 400. I knew with 400 to go I was in the lead, not really where I wanted to be but I knew that I just had to go for it and give it everything I had."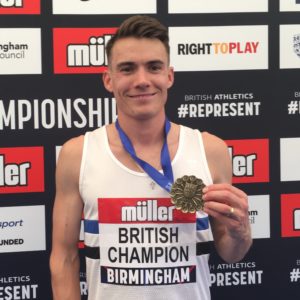 It was a welcome return to form for Chris after injury saw him struggle to place in recent internationals: "Indoors I was 100 per cent injured. Commonwealths I was still a bit injured and just trying to fight back and put the effort in on the bike and in the pool and on the elliptical but you can't go into a major champs like Commonwealths when you've not been running and you're not 100 per cent fit, and so it's good to be here and good to be 100 per cent fit and show everyone what I can do."
The women's 5000m also saw a battle between Scots, with both Steph Twell and Eilish McColgan in contention. A strong finish saw Steph take gold in 16:07.24, with Eilish in bronze medal place with 16:08.06.
Steph said: "A fifth title is a tough one to retain, the third and fourth titles kind of take care of themselves, they're not as special as a fifth anniversary, so today as well as racing some really great competition of Eilish and Melissa (Courtney), it was definitely about a race against myself."
Ahead of Berlin she plans to target some 1500m races in a bid to bring down her finishing pace, and is clear on her aims for the Euros: "I'm going to put it out there – I want a medal, so we'll see what colour I get."
A further gold medal came from Laura Muir in the 800m with a classy run that saw her lead from the front early on: " I just knew I wanted to make a move quite far out and I'm lucky I managed to come away with the win today against a really good field, so yeah, I'm really happy."
After a summer which also saw her graduate from the University of Glasgow, she added: "It's been seven years I've been doing veterinary medicine for, and it was such a big day, graduation, and I'm so happy that I've done it, but I'd like to say a big thanks to the vet school, and my coach Andy and my family who've supported throughout."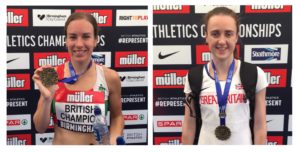 Kirsten McAslan scooped a superb silver medal in the 400m hurdles, less than a year after moving to the event from the flat, running a PB of 56.48 and securing Berlin selection in the process.
The high jump saw Scottish 2-3 with David Smith producing a PB of 2.26 for silver, and Allan Smith in third with 2.23.
Jemma Reekie also rose to the occasion to take silver in the 1500m with a PB of 4:09.10 and in the discus, Kirsty Law took silver with a season's best of 54.63. They both now will be striving to hit Berlin qualifying marks in the coming weeks to secure selection.
Guy Learmonth took bronze in the 800m in 1:50.43, and said: "I just knew it was going to come down to the last 120 and I just didn't get the space I wanted until maybe 80 to go… Obviously I'm happy with the bronze, but I really wanted to take this title and add it to the indoor ones that I've got."
CEO of scottishathletics, Mark Munro, said: "It is fantastic to see so many strong performances from Scottish athletes again this year as well as some new medalists adding to the medal tally with the likes of Beth Dobbin and Jemma Reekie.
"Whilst recognising the athlete performances we must also thank and praise the great coaching going on behind the scenes. If an athlete is training 20-25 hours per week then the coach is working for at least 30 hours!
"Congratulations to all our medalists and PB performances and their coaches, just great."
Tags: Allan Smith, Berlin 2018, Beth Dobbin, British Champs, Chris Bennett, Chris O'Hare, David Smith, Eilish McColgan, Guy Learmonth, Jake Wightman, Jemma Reekie, Kirsten McAslan, Kirsty Law, Laura Muir, Mark Dry, Neil Gourley, Nick Percy, Nikki Manson, Steph Twell