scottishathletics launch National Academy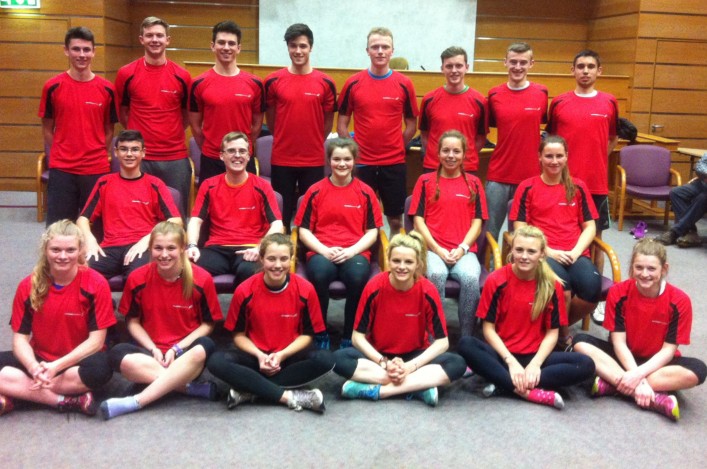 The new National Academy group met for four days this week at Tulliallan and Grangemouth
scottishathletics are ready to widen its key development programme, which will now be titled the 'National Academy'.
The original project was launched in 2013 with the intention being to better support and direct young athletes, their coaches and parents as they progress towards senior status.
By extending the programme to consider performances from the summer 2014 season by older athletes, this will allow us to involve more individuals who are showing the potential to develop towards the outcomes and goals of the National Academy.
scottishathletics regard the targets of the programme to be as follows:
*Improving the retention rate of our best age group athletes into the Senior ranks
*Increased representation on GB U18, U20 and U23 teams en route to CWG Gold Coast 2018 and beyond
*Increased number of athletes who in the future can benefit from support from UK Athletics/UK Sport
*Greater number of young athletes on CWG Gold Coast 2018 team and beyond
*More medals at CWG Gold Coast 2018 and beyond
A total of 32 athletes have now been 'inducted' into the new National Academy, with their coaches and parents very much involved in that with a number spending four days this week at Tulliallan and Grangemouth in a residential camp.
scottishathletics regard the benefits of the programme (as appropriate) as follows:
*Coach Education Opportunities
*Athlete Education Opportunities
*Parent Education Opportunities
*Subsidised Event Specific Competition Opportunity
*Functional Movement Screening Support
*Subsidised Training Camp Opportunity
*Physiotherapy Support
The National Academy programme for track and field athletes will be a combination of education, learning and opportunities for athletes, coaches and parents – which when partnered with hard work and strong commitment – will help prepare the athlete 'teams' for the challenges ahead and assist the them to fulfil their performance potential in athletics as seniors.
Director of Coaching Rodger Harkins believes a broader approach sits appropriately with the overall goals of scottishathletics.
'We are delighted to confirm that scottishathletics are setting up a National Academy to further help the development of potential elite athletes,' said Rodger.
'Over the past couple of years, the Youth Academy for 16 and 17-year-olds laid the foundation for this project. It has been a really successful programme – offering advice and support to hard-working young athletes, their parents and their coaches. The education this group has received has been and will be invaluable as they continue to progress in the sport.
'Now we feel a broader National Academy  enables us to identify others worthy of this kind of support: late developers; those who may have changed events; or indeed are new to the sport in their mid-teens.
We don't want the right people to miss out on this kind of learning opportunity so that is why we are broadening the base while not indulging in any real reduction in the high standards we've sought thus far in track and field.
'This approach is totally consistent with our Performance Foundation principles to help talented Scottish athletes develop; to 'Perform When It Counts'; and, in the future, to merit recognition by UK Athletics.
'From the first year group, brought in during 2013, the likes of Euan Gillham and Emma Canning have won GB selection thus far at U20 level and that is great credit to them and their coaches. Others have appeared for Scotland or age group set records.
'The goal of the National Academy is to educate and prepare people – that's athletes and coaches – for that kind of progress and we're looking towards greater Scottish involvement at events such as the World Youths, Commonwealth Youth Games, and Euro U20s and Euro 23s.'
Everyone at scottishathletics congratulates the athletes and coaches selected and the families involved.
The list features athletes from various events and the Para selections include Lewis Clow and Jason MacLean, who represented Scotland at Glasgow 2014.
Central AC have five athletes included and there is a place for Edinburgh AC's Cameron Tindle, the young sprinter who represented Scotland at the Glasgow International at the Emirates Arena in January.
From April 2015 the National Academy looks as follows:
Multi Events:
Tom Chandler (Kenny Pearson) Multi Events Central AC
Emma Canning (Iain McEwan) Multi Events Whitemoss
Endurance:
Euan Gillham (Robert Hawkins) Kilbarchan AAC
Gavin McArdle (Robert Hawkins) Kilbarchan AAC
Aidan Thompson (Derek Easton) Central AC
Josh Kerr (Dave Campbell) Edinburgh AC
Christopher Stewart (Dudley Walker) Giffnock North AAC
Mhairi Hendry (Andy Young) VP-Glasgow
Kathryn Gillespie (George Gillespie) Central AC
Neil Gourley (Ben Thomas) Giffnock North AAC
Owen Miller (Gemma Nicol) Dunfermline T&F
Shelby Watson (Ian Mirfin) Red Star AC
Sprints and Hurdles:
Pamela McNicol (Sandy Robertson) Law and District AC
Katie Purves (Allan Scott) Edinburgh AC
Ewan Dyer (Eric Simpson) Pitreavie AAC
Cameron Tindle (Henry Gray) Edinburgh AC
Alisha Rees (Willy Russell) Banchory Stonehaven
Mhairi Patience (Colin Sinclair) VP-Glasgow
Jill Cherry (Allan Scott)  VP-Glasgow
Jack Lawrie (John Macdonald) Pitreavie AAC
Kelsey Stewart (Joyce/Ken Hogg) Aberdeen AAC
Jason MacLean (Charlie Forbes) Inverness Harriers
Lewis Clow (Trevor Madigan) Aberdeen AAC
Ross Paterson (John Kinder) Red Star AC
Throws:
George Evans (Colin McCulloch) Inverness Harriers
Dionne Milne (Colin McCulloch) Moray Road Runners
Ciaran Wright (Willie Robertson) Falkirk Victoria Harriers
Ross Douglas (Jim Edwards) Charnwood AC
Jumps:
Anna Gordon (Eamon Fitzgerald) Pitreavie AAC
Caitlin Edgar (Kenny Pearson) Central AC  *Also Multi-Events
Rachel Alexander (Anne Stewart/David Watson) Giffnock North AAC
Lewis McGuire (Bryan Roy) Central AC