Scottish U17 Champs review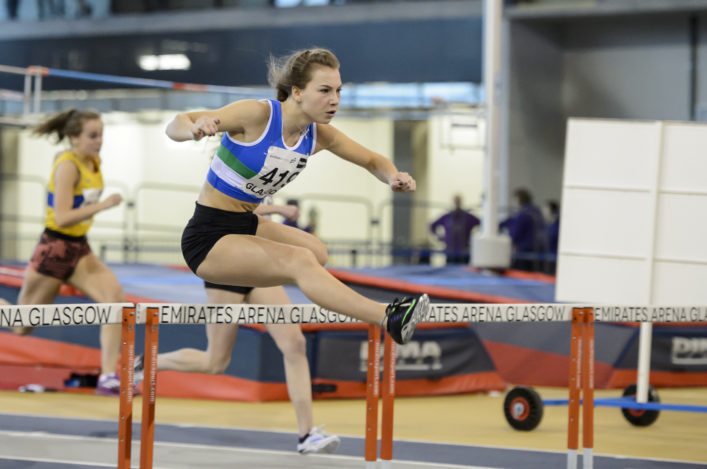 National Academy athlete Jade Henry on her way to CBP in the 60m Hurdles (photos by Bobby Gavin)
Three Championship Best performances and a couple of athletes recording Commonwealth Youth Games qualifying standards were the highlights at the Scottish U17 Champs.
It is always a busy competition and adding the U17s to the Seniors programme has created a better atmosphere – with big entry numbers in both age brackets.
VP-Glasgow's Jade Henry in the 60m hurdles and Adam Clayton of Giffnock North AAC in the 200m were the athletes to set new marks on the track for the Scottish U17 Championships with fine performances.
Clayton won the 60m in 7.10 but it was his 200m run at 22.45 which landed the best performance accolade.
In the field, there was a CPB for Shona Crossan of Shettleston with 12.76m to add to those achieved by Jade and Adam. Ben Wightman won the Men's shot.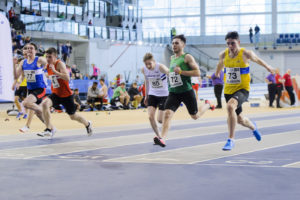 Henry clocked 8.79 in the 60m Hurdles and is benefiting from the coaching experience of Commonwealth Games medallist, Chris Baillie.
'I'm pleased to get a Championship best performance,' said Jade. 'I've run faster than that, just, with my PB (8.78 in SAIL leagye match) but I guess you have to try and do it on the day in a final at a champs and it's pretty good to know that no U17 has ever managed that before.
'I was into gymnastics when I was younger but moved to athletics at about 13. I always enjoyed school sports day and a teacher suggested I try doing some hurdles.
'Now I'm being coached by Chris Baillie and that's working really well for me. He has so much knowledge and experience to pass on and we work a lot on the technical aspects of it – hopefully I can keep on improving.'
The U17 Men's gold in the 60m Hurdles headed for Aberdeen thanks to a win by Robbie Farquhar in 8.58 seconds.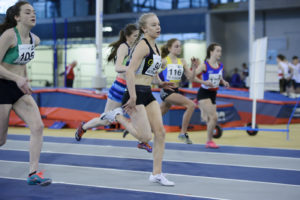 Lauren Greig of Glasgow School of Sport won the 60m sprint in 7.83 and it was in the 200m that there were two performances inside the time required for the Bahamas selection policy for the CYG.
Jade Hutchinson with 24.87 took second and Greig, with 24.89 in third, both ran the Commonwealth Youth Games qualifying in the 200m.
Joel McFarlane is an U17 athlete making a big impression and Joel picked up golds in the high jump and long jump with 1.88 and 6.68. Megan Busby won the Women's LJ and Claire McGarvey the HJ.
The 1500m titles were won by Jamie Burns and Sarah Calvert and the 800m races were won by Gary McPake and Olivia Vareille – with Olivia just a fraction of a second away from the Cahmpionship Best as she clocked 2.12.81. Michael Bargh won the 400m in 51.37.
In the pole vault, there were joint golds for Rosie Browne and Cara McCauley at 2.51m and Matt Chandler at 3.81. There were Triple Jump titles for Miraji Ahmed and Cara Fairgrieve.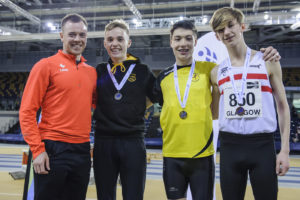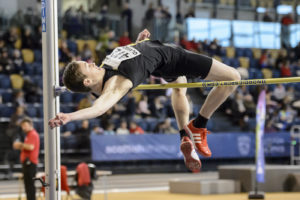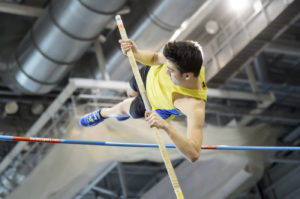 Photos by Bobby Gavin
Tags: Adam Clayton, Emirates Arena, Jade Henry, Jade Hutchison, Joel McFarlane, Lauren Greig, Scottish U17 Champs, Shona Crossan