Scottish records at Anniversay Games
TWO new Scottish records were set in the London Stadium this afternoon as both Andy Butchart and Beth Dobbin felled their own previous marks, in the 5000m and 200m respectively.
The Anniversary Games saw a 5th place finish for Andy in 13:06.21, bettering his own previous record of 13:08.61, set at the Rio Olympics.
He said: "The race was always going to be pretty fast and I felt pretty good. It felt way easier today than in Rome and I ran slower in Rome. I am training really well and I am excited, I have not come from altitude training and have been training at sea level but I have been training really well.
"Today was massive and it was great to run here. I am exactly where I want to be. It is incredible to run that time and it is big confidence boost and I think I can go faster and break 13 minutes."
Then it was over to Beth Dobbin, who made a decisive return from injury to run 22.50 in a thrilling 200m.
"I'm over the moon with that," she said. "This time last year I missed the Anniversary Games because I had a shift at work, so to now be a full-time athlete, racing against Olympic champions, it's just a dream come true. I was racing against my idols so I am absolutely buzzing.
"I didn't expect to be in PB shape until trials because every year we focus on peaking for trials so to run a PB here today it means a lot. It gives you that confidence which you need heading into the trials and I want to go to the European Team Champs, so hopefully I have laid down a marker that gets me selection."
In the 1500m, Laura Muir took a decisive victory in 3:58.25, with Jemma Reekie – direct from her double U23 European Gold in Sweden last weekend – claiming a superb PB of 4:02.09, in 7th place.
Laura said: "It may have looked easy, but it wasn't! I didn't realise I ran a 57-second last lap and I'm so so happy about that. The girls are really strong and I know that my advantage is in that kick, so I just sat in there and tried to take it easy. It was all about winning today and I did that.
"London is a really fast track and it's always a great atmosphere. The conditions are usually pretty good – it was a little bit windy today, but the whole vibe of the place is really special and it makes athletes raise their game."
We'll have a video interview with Jemma on the website early next week, so watch out for that recap of an extraordinary summer so far for her.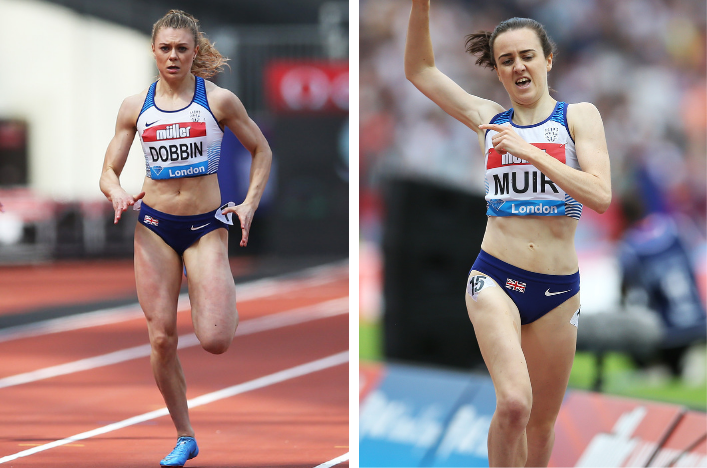 With thanks to British Athletics and Getty Images
Tags: Andy Butchart, Anniversary Games, Beth Dobbin, Jemma Reekie, Laura Muir, Muller Anniversary Games, Scottish record