Scottish Junior trio named by GB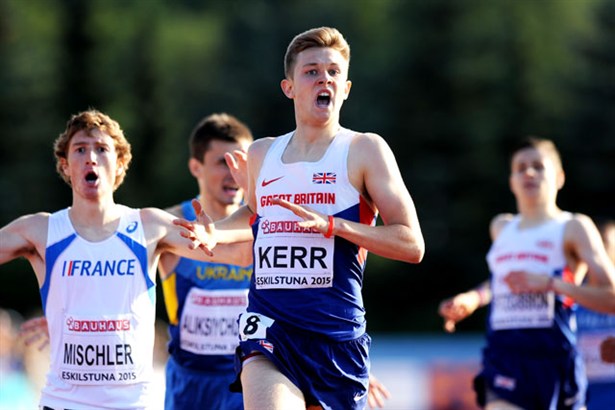 Josh Kerr – Edinburgh AC athlete won Euro Juniors gold last summer
European Junior champion Josh Kerr and World Youths medallist George Evans are among 16 athletes announced in the first wave of selections for the IAAF World Junior Championships taking place 19- 24 July in Bydgoszcz, Poland.
And sprinter Cameron Tindle, who like Evans medalled at the Commonwealth Youth Games, has been included in a 24-strong team has also been confirmed for the Mannheim Bauhaus Juniorengala this weekend.
Kerr ran a personal best of 3:41.08 in the 1500m at the NCAA DI Championships in Eugene last week so is in good form ahead of the Junior Championships in Poland.
George Evans, who is coached by Colin McCulloch and won World Youths bronze in Cali in Columbia last year, had a successful weekend in Bedford following up his shot put victory on Saturday by winning the discus on Sunday with a throw of 58.43m.
The Inverness Harriers athlete will make his first World Juniors appearance in Poland next month.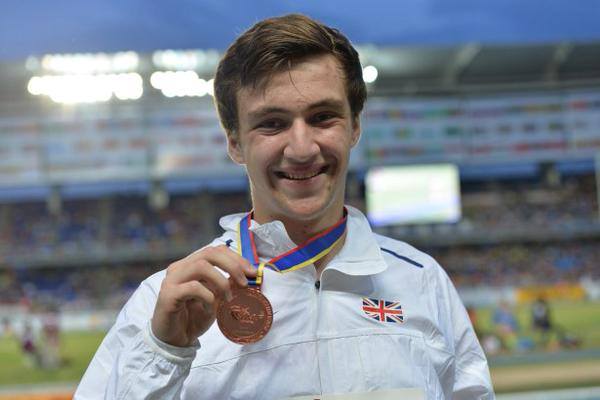 George Evans – bronze in Cali and double gold in Bedford last weekend
Jo Summers, Team Leader for the British team said: 'We had two exciting days in Bedford with some impressive performances. The team is looking good for Poland and there is still time for a few more athletes to step up and secure selection.
'Mannheim will be perfect preparation for the championships giving athletes valuable experience in an overseas competitive environment.'
Bobby Clay, Kerr, Rechmial Miller, Evans,  Callum Wilkinson and Harry Hughes are all part of the British Athletics Futures Programme.
British Athletics team for the World Junior Championships after the first wave of selection (second wave to be released on Tuesday 5 July)
Men:
100m: Rechmial Miller (Ryan Freckleton);  200m: Ryan Gorman (Karen Buck); 800m: Daniel Rowden ; Richard Thurston); 1500m: Josh Kerr (Joe Franklin); 110m Hurdles: Matthew Treston (Adrian Brown); 10000m Race Walk: Cameron Corbishley (Andi Drake), Callum Wilkinson (Mick Graham)
High Jump: Rory Dwyer (Fuzz Caan); Pole Vault: Adam Hague (Trevor Fox); Discus: George Evans (Colin McCulloch); Javelin: Harry Hughes (Mike McNeill)
Women:
100m: Imani Lansiquot (Jonas Taiwah- Dodoo); 1500m: Bobby Clay (Rob Denmark); 100m hurdles: Alicia Barrett (Toni Minichiello), Mollie Courtney (David Warner); 3000m steeplechase: Aimee Pratt (Vincente Modahl).
Check out the British Athletics website for the announcement and the team for the Mannheim Bauhaus Juniorengala on 25-26 June in Germany.
Tags: Cameron Tindle, George Evans, Josh Kerr, Poland, World Juniors