Scottish hill runners prove World class (again)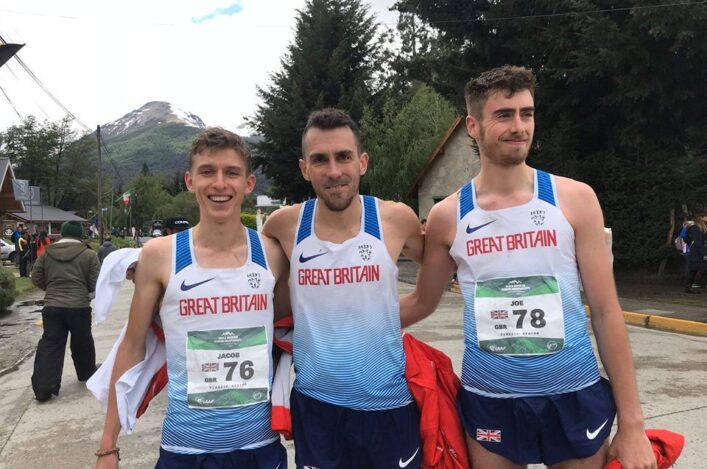 Photo via Twitter
British Athletics website report
Scottish duo Andy Douglas and Jacob Adkin came up with terrific top ten performances at the World Mountain Running Champs.
The unforgiving hills of Patagonia in Argentina provided the backdrop and despite a tough course and conditions, Douglas took a fine seventh place with Adkin one place back at eighth.
In doing so, they helped GB and NI finish fifth in the team standings with third counter, Joe Steward, placed 27th.
It also confirmed once again that Scots are world class at hill running with Andy, who is coached by Sophie Dunnett, having of course won the WMRA World Cup overall earlier this year.
Jacob, who is now coached by Robbie Simpson, won the European Championship individual gold as well as, alongside Andy and Robbie, team gold.
The outstanding efforts by the pair over the course of the year is reflected in places on our short-list for the FPSG Athlete of the Year – ahead of the FPSG Awards Dinner in Glasgow next Saturday (November 23).
+++
Charlotte Morgan was in action the following day in the World Long Distance Mountain Running Champs also in Patagonia.
And the current FPSG Masters Athlete of the Year came up with a performance to match those of Douglas and Adkin as she too made the top ten with a fine seventh place finish.
Morgan, the v40 athlete from Carnethy Hill Runners, clocked 3 hours 58.54 for the 41.5k course with 2184m of climb and was the first of the British team to finish.
Charlotte won this particular title a year ago in Poland.

Tags: Andy Douglas, Argentina, Charlotte Morgan, Jacob Adkin, World Long Distance Mountain Running Challenge, World Mountain Running Champs