Scottish 5K Champs review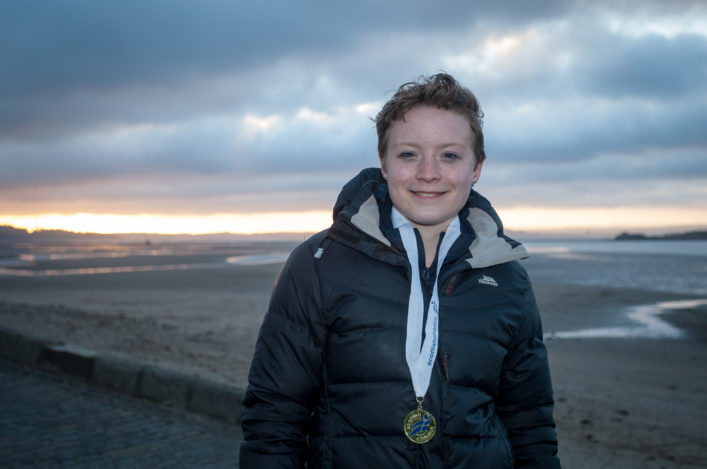 Annabel Simpson celebrates Senior and U20 gold at Silverknowes (photo by Steve Adam)
The Scottish 5K Champs has a reputation as the fastest in-depth race of that distance in Britain.
And Friday's 2017 edition at windswept Silverknowes on the Forth coastline maintained that status in spades.
With record entry numbers hitting the 600 capacity, there were no fewer than 318 athletes who raced under the 20-minute barrier for 5K from 480 finishers.
To make the top 100, an athlete had to be quicker than 16.52 and there were 266 finishers under 19 minutes.
All of those figures compare very favourably indeed to the English Champs (244 under 20 minutes, 195 under 19 minutes) held a week earlier in Cheshire. Where did they get the idea of a Friday night 5K Champs?
Kris Jones and Annabel Simpson moved from track to tarmac as they claimed the gold medals – just as they did exactly a week earlier in the 10,000m Champs at the GAA Miler Meet in Glasgow.
Jones clocked 14.31 to win by nine seconds from silver medallist Jamie Crowe of Central AC, with triathlete Marc Austin of VP-Glasgow taking the bronze medal in 14.45.
Simpson was at 16.43 for an excellent effort in the conditions as she won it from Edinburgh AC's Rebecca Burns, an athlete making a significant comeback in 2017. Rebecca broke 17 minutes with 16.58 while there was third place for GB cross country international Gillian Black (VP-Glasgow) in 17.07.
PHOTOS by Neil Renton on Facebook
PHOTOS by Steve Adam on Facebook
Crowe led Central AC to the team title with contributions from Alastair Hay and Aidan Thompson while Edinburgh Uni Hare and Hounds landed the Women's golds thanks to the combined efforts of Mhairi Maclennan, Catriona Graves and Amy Frankland.
Welsh athlete Jones, of Swansea Harriers, is starting to dominate the Scottish distance scene as he added the 5K title to his 10K road win in Stirling last year. Indoor track and cross country golds have peppered the interim.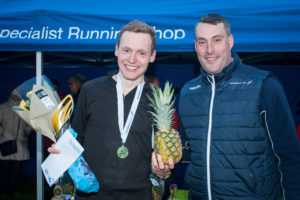 Kris Jones with prizes – including pineapple – and Mark Munro, chief executive of scottishathletics
'I'm pretty pleased with how things have been going – if only Callum Hawkins hadn't run the National XC,' laughed Kris, a silver medallist at Falkirk.
'It was always going to be more about the medals than the times with the wind. We had a bit of a group initially but I managed to push on a bit and get ahead.
'There's a seafront very similar to Silverknowes in Swansea where you can get a really good fast, flat race – about 50 percent of the time.
'But it was good to be part of a great race and it's positive for club athletics in Scotland so many people are running under targets like 18 and 19 minutes.'
Simpson celebrated her 20th birthday in between her two Senior golds and had feared the 10,000m debut might impact on her 5K.
'It took a bit more out of me than I had thought so I didn't do too much running for a couple of days afterwards,' she said.
'I was back at Pitreavie in midweek and did a track session on Wednesday and that helped. The wind was tough on the way out and in the final stretch but I still enjoyed it.'
Simpson took the U20 gold with Black and fourth-placed Anna Macfadyen the other medallists.
Logan Rees, seventh overall, continued his fine 2017 with U20 gold from Aidan Thompson and Euan Gillham.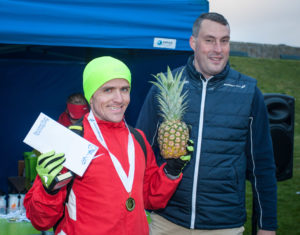 Masters champion Robert Gilroy
Rees, Thompson and Burns count as three medallists on Friday night who have made really good return from injury-hit spells not so long ago.
Fiona Matheson of Falkirk Vics and Robert Gilroy of Cambuslang took the Masters golds in the Scottish Champs.
And, at V60, there was an event prize from Run and Become for a certain Paul Forbes of Edinburgh AC, after a run of 18.19. Forbes, 34 years ago, was Scottish 800m Record holder.
*Thanks to Alex Jackson, Adrian Stott and his Run and Become team and all volunteers helping out on Friday. And to the Road Running and Cross Country Commission volunteers, too.
Photos by Steve Adam
Tags: Annabel Simpson, Central AC, Edinburgh Uni Hare and Hounds, Kris Jones, Logan Rees, Run and Become Self Transcendence, Scottish 5k Champs