Scots teenagers star in Bedford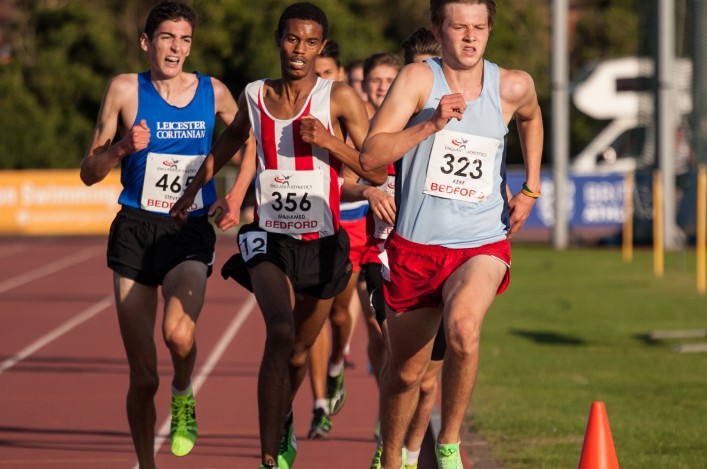 *Josh Kerr en route to a 1500m and 3000m gold double at England Athletics U17 Champs – with thanks to Steve Adam for the picture
Weekend round-up  August 30/31
A memorable 2014 season in track in field is coming to a close but it was still a hectic weekend for athletes.
From Combined Events to Age Group Champs in England and league matches in Scotland as well as Para performances, results were coming in thick and fast through Saturday and Sunday.
So we will seek to cover some of those here in a round-up report but if a particularly impressive performance has been omitted – apologies.
Let's start in Bedford at the England Athletics U15/U17 Champs with a number of Scottish teenagers having made the journey south to seek high level competition.
And Josh Kerr of Edinburgh AC came home with two golds after completing a remarkable double in the 1500m and the 3000m.
Josh won the 1500m on Saturday in 3.52.46 to set a Scottish Age Group record at U17 level and end the run of a mark set by Glen Stewart some 27 years ago. It also takes him top of the British U17 rankings.
How could the Edinburgh AC athlete follow that? Josh went out late on Sunday afternoon at Bedford and in the final event of the weekend clinched the 3000m title with an imopressive run of 8.35. 5.
He was not Scotland's only endurance medallist – not by any means.
Adam Scott of Fife AC took gold in the U15 final at 1500m with a run of 4.13.15. Giffnock North AC's Erin Wallace was a silver medallist in the U15 Girls at 1500m and Kilbarchan AAC's Jemma Reekie was also a silver winner in the U17 Girls at 800m.
Lewis McGuire took gold in the U17 high jump with a 2.02m PB; Andrew McFarlane won the U15 pole vault title with 3.60m; Rebecca Porter won bronze in the U15 discus with 34.85; Emma Rae bronze in the U15 hammer with 49.35; Dionne Milne silver in the U17 discus with 43.60; Andrew Costello won silver in the hammer with 51.83; Jade Carlyle took silver with 1.69 in the U17 high jump.
It was a good weekend for George Evans from Inverness Harriers as he won the U17 shot putt with 16.93 and took bronze in the discus with 52.35.
In the Para events at Bedford, there was a triple success for Jason MacLean in 100, 200 and long jump while his Inverness Harriers club-mate, Finlay Maclennan, picked up 400m gold.
All the results from Bedford from England Athletics U15/17 are now online.
*There were also some good Scottish performances at the Combined Events international fixture in Manchester over the weekend.
Congratulations to Andrew Murphy of Kilbarchan AAC on a fine third place finish in the Senior Men's Decathlon as he amassed 6440.
In U20 Men, Alastair Stanley (Garscube) was 5th and Tom Chandler (Central AC) was 6th.  Tom's points tally of 6002 means he is only the third Scot to break 6000 at U17 level and also puts him No 1 in Britain for this season in his age-group. Alastair's 1500m run of 4.14.12 was a meeting record for that particular event.
In U20 Women heptathlon, Emma Canning (Whitemoss) was 4th and Hollie Lister (Central AC) was 6th.
There were also good performances by Caitlin Edgar, who went 9th on the Scottish U17 list, and Holly MacArthur, who scored a second U15 all-time tally of 3280 – just better than Caitlin managed last year.
Well done to these athletes, their families and their coaches for their commitment to CE competition throughout the year.
Check out the various points tallies via the results.
*Congratulations to Central AC on yet another Scottish Men's League title.
That's five in a row now for the Central lads with Shettleston Harriers taking the second division championship following the final league fixture at Scotstoun on Saturday.
Victoria Park-Glasgow joined Shettleston in winning promotion to the first division with Arbroath and Lasswade taking the drop into the second division.
The final match saw Aberdeen AAC finish second on the day and second overall and included a 10,000m and 3000m steeplechase double by Central AC's Alex Hendry.
All the results should become available on the league website
*Meggan Dawson-Farrell was in action in Switzerland over the weekend in her last outing of a season which include an appearance at Hampden in the Commonwealth Games final.
And the Para athlete ended 2014 on a high with a season's best of 3.47.10 in the 1500m and PBs in 100,200 and 400m and Scottish T54 bests in those events.
Tags: Andrew Murphy, Central AC, England Athletics U15/U17 Champs, Jason MacLean, Josh Kerr, Meggan Dawson-Farrell, Tom Chandler