Scots savour Diamond League experience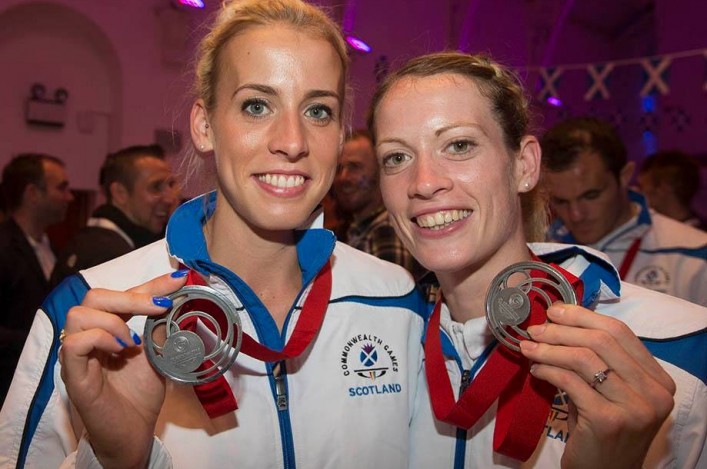 Lynsey Sharp and Eilidh Doyle with Glasgow 2014 medals – headed for Birmingham Diamond League after runs in Rome
British Athletics website report
Diamond League highlights on video
Rome Review
The Diamond League has played host to some fine individual Scottish performances in recent years including race wins for the likes of Lynsey Sharp, Laura Muir and Eilidh Doyle – with a couple of National Records along the way.
But it is hard to think of a more productive meeting collectively than Thursday night's action in Rome as four top Scots took to the track in the highest echelon of the sport outside Championship events.
Sharp and Doyle came up with third place finishes in the 800m and 400m Hurdles respectively – with both those races won in World Leads.
Then Steph Twell posted her second Olympic qualifying standard with her best run for six years in the 5000m as she broke the 15 minute barrier and went within five seconds of the National Record she set back in 2010.
And Chris O'Hare topped off a fine evening for the Scottish contingent in Italy with a solid seventh place run and a time of 3.35. that was a second GB Olympic qualifier for Chris and takes him top of the British rankings at 1500m.
So four Olympic standards achieved by four athletes who are all now clear at the top of the British rankings and in pole position for Rio qualification at the British Champs in Birmingham on June 24-26.
Thursday's action means Sharp, Doyle, Twell and O'Hare require 'only' a top two finish at the Alexander Stadium to gain automatic selection for Brazil.
Laura Muir, Andrew Butchart and Eilish McColgan are also in that position as they seek to join the Rio-bound quartet Callum Hawkins, Tsegai Tewelde, Derek Hawkins and Beth Potter.
Lynsey produced a fine display in a stacked women's 800m race, a second sub-two minute run in the Diamond League this year, this time stopping the clock at 1:59.03, a Season Best.
In what was arguably the race of the night on the track, a thrilling women's 5000m saw Ethiopia's Almaz Ayana miss out of the world record by just over a second but the race also beckoned good news for Twell. Her 14.59.00 clocking for 11th place was well inside the Rio standard in her second quickest-ever 5000m.
In the men's 1500m O'Hare ran inside the Olympic standard with 3:35.37 which was a Season Best and secured seventh in the race overall. It was a strong finish by O'Hare who passed several athletes in the closing 50m.
After victory in Doha, Eilidh Doyle added further Diamond Race points to her tally with a third place finish. After pushing her opponents over the first 200m, Doyle was lying in second coming into the last hurdle but was just pipped by Wenda Theron Nel to finish in 54.81. The winner, Jamaica's Janeive Russell, won in a world leading time of 53.96.
*As she warms up for the IPC Athletics European Championships this month, Scottish Para sprinter Maria Lyle recorded a time of 14.12 in the 100m.
+++
Birmingham Preview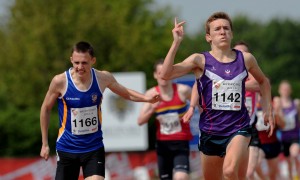 Jake Wightman
A total of 61 global medallists and 25 global champions are set to compete at the Birmingham Diamond League on Sunday.
The full start lists for the event are now live, and can be viewed on the IAAF Diamond League website.
And we make it half a dozen Scots set to be involved in what should be an exciting Sunday at the Alexander Stadium.
Britain's double Olympic, world and European champion Mo Farah will headline the men's 3000m following victory over 10,000m at the Eugene leg of the IAAF Diamond League last Friday night.
That race gives Andrew Butchart another taste of the big time as he reprises his indoor 3000m run in the same race as Farah at the Glasgow GP.
Eilidh Doyle and Lynsey Sharp move on from Rome to compete in Birmingham and there are places in a Women's 1500m race for Sarah Inglis and Josephine Moultrie.
And there is also a slot for Jake Wightman in the Men's 1500m as he chases the 3.36.20 Olympic standard.
+++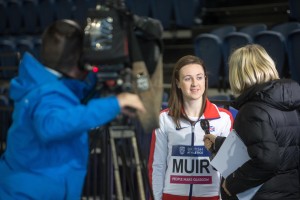 Laura Muir opened her outdoor season with a win at the Monbeliard meeting in France.
The World Champs 1500m finalist took on an 800m race and front-ran to win by almost two seconds in 2.00.57 for a fine performance in what was a meeting record.
Laura tweeted later about how she was drug-tested in France at the event and then, a few hours later, at home on her return to Glasgow. She said: 'Good job UK Anti-Doping – 100 percent me'.
+++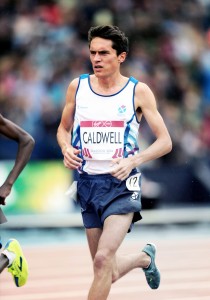 Scottish Commonwealth Games athlete Luke Caldwell races for GB this weekend in the European Cup 10,000m event in Turkey.
It is the third time in a row that a Scot has been with the GB men's team for this particular European event with Callum Hawkins in Macedonia back in 2014 and Andrew Butchart having raced in Italy last year.
Good luck to Luke and the GB teams in Turkey on Sunday.
British Athletics selection announcement
Tags: Birmingham, Chris O'Hare, Eilidh Doyle, Laura Muir, Lynsey Sharp, Maria Lyle, Rome Diamond League, Steph Twell