Scots land UK Inter-Counties medals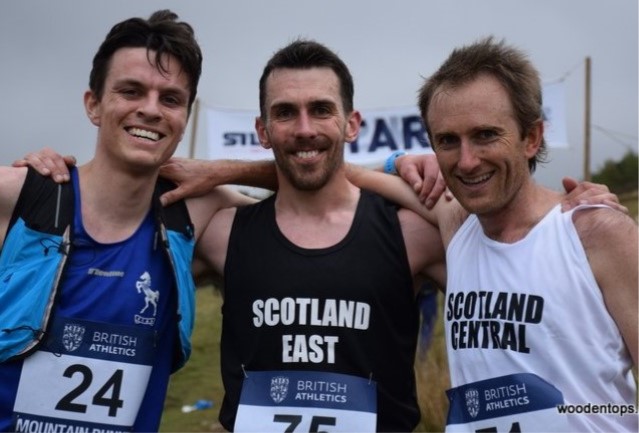 Gold and silver for Andy Douglas and Graham Gristwood at Broughton (photo via Twitter)
Andy Douglas (Scotland East) lived up to his billing of pre-race favourite when he attacked the field from the gun at Saturday's UK Inter-Counties Senior Hill Championship, held on a course in the Broughton Heights in the Scottish Borders.
Douglas pushed the pace over the first loop, however his UK Mountain Running team mates Graham Gristwood (Scotland Central) and Max Nicholls (Kent) were still very much in touch as the trio descended back down through the start area, just over halfway in.
Despite their best efforts, Gristwood and Nicholls never managed to close the gap and Douglas pulled away on the run-in back down the valley to the finish for a 19 seconds victory. The trio kept their placings across the line with Gristwood second and Nicholls third.
Chris Arthur, fifth overall, led home a strong Lancashire team to the team title, one point ahead of Yorkshire in second and five points ahead of Scotland East (Andrew Douglas, Tom Martyn, James Waldie) in third.
Scotland West (Joe Symonds, Ross Gollan, Sam Alexander) finished in sixth place and Scotland North (Kyle Greig, Robbie Paterson, Hamish Battle) made the top 10 with ninth place.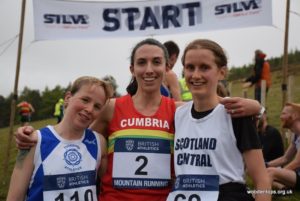 Bronze medal for Catriona Buchanan (photo via Twitter)
The 2011 Commonwealth Mountain Running Champion Lizzie Browne (Cumbria) also lived up to her status of pre-race favourite, finishing 21 seconds ahead of GB international Katie Walshaw (Yorkshire).
Catriona Buchanan (Scotland Central) backed up recent strong domestic form, which included wins at Dumyat and Whangie Whizz, finishing in third and only nine seconds down on Walshaw.
Buchanan was the stronger of the two on the climbs, though Walshaw had just enough to pull away on the faster sections.
The women's team event was also very close with Yorkshire pipping their very strong rivals Cumbria by only two points, arguably an upset based on recent form.
Scotland East (Georgia Tindley, Charlotte Morgan, Jill Stephens) were also very much in the mix, finishing in third only a point down on Cumbria. Scotland West (Katie White, Clara Horswell, Christina Rankin) finished in fifth.
With thanks to Mark Johnston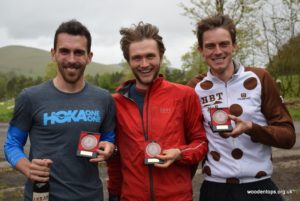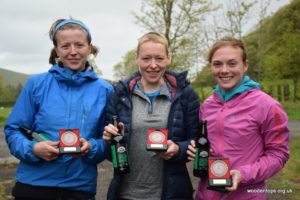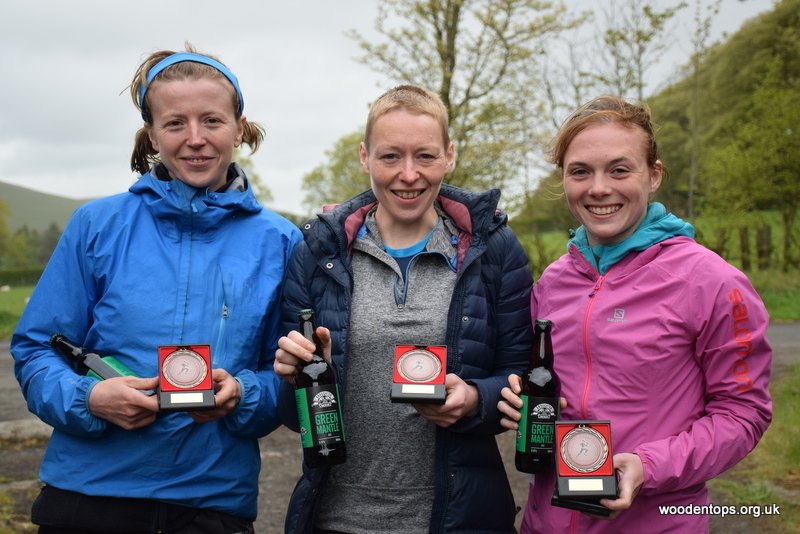 Scotland East took bronze team medals in both the men's and women's races
PHOTOS on Woodentops website (By Dave Woodhead)
Tags: Andy Douglas, Broughton, Catriona Buchanan, Graham Gristwood, hill running, UK Inter-Counties Senior Fell/Hill Champs