Scots claim six IPC World medals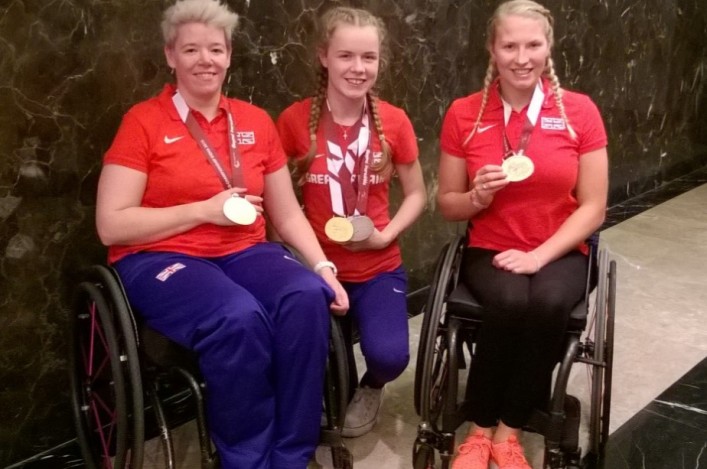 Report on early action in Doha
Final day report from British Athletics
Scotland's GB representatives at the IPC World Champs came home with a remarkable six medals – shared by three athletes.
Maria Lyle completed the haul as part of the T35-38 4 x 100m relay squad who won gold with a world record in Doha on Saturday.
The Dunbar schoolgirl, who is 15, had already landed silver in both her sprint events in the T38 100m and 200m.
Jo Butterfield had added discus bronze to the gold she had won early in the Champs in the club throw, while for Sammi Kinghorn the championships featured a bronze at 200m, four finals in total and a PB in the 800m final.
All at scottishathletics would like to congratulate the athletes involved and their families and coaches, as well as the clubs involved in their athletics development over the years, for a superb effort in Doha.
Injury unfortunately denied Libby Clegg and her guide runner, Mikail Huggins, the opportunity to add to that Scottish and GB tally, and her own career success, as she had to pull out of the event after suffering from an Achilles problem.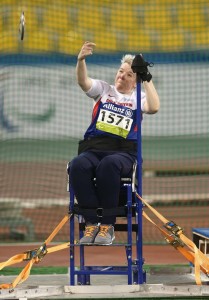 Jo Butterfield – double Doha medallist
Picking up from our first story on the early days in Doha, Butterfield claimed bronze in the F52 discus to the gold she won earlier in the week in the F51 club throw.
Her throw of 8.96m was enough to see Jo clinch another podium spot and add a fourth medal to the room she shares with T37 400m gold and 100m silver medallist Georgie Hermitage (Paul MacGregor).
Also a double European Champion, Butterfield said afterwards:  'I'm over the moon – I knew that one was going to be really tough and I had to work hard for it. I'm just going to relax now and cheer on everyone in the team; we have a lot of good medal opportunities still to come.
'It's special – Georgie and I have got a bit of a florists going on at the moment in our room. It's been a great experience and she has been the best room-mate I could have asked for. We have both really encouraged each other and that has really helped.'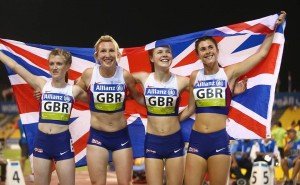 Maria with her GB team-mates after gold medal and World Record T35-38 4 x 100m Relay
Maria Lyle continued her progression to win the silver medal in the T35 100m in an official lifetime best of 13.92.
The 15 year-old was level with Australian rival Isis Holt until the 14 year old opponent pulled away over the final to set a new world record of 13.63.
Lyle, who also won 200m silver, commented afterwards: 'I'm happy with the time considering I had a bad start. I would have liked to have won the gold medal but it wasn't to be, I tried my best.
'The start is something I'll have to work on with my coach – we'll have to focus on a lot of technical things. I'm going to have a hard winter training session to make sure I'm in even better shape ahead of Rio next year.'
Then, on Saturday afternoon, Maria was a gold medal winner with the GB relay team in the T35-38 4 x 100m.
Watch the relay race action online
The team of Olivia Breen, Maria, Georgie Hermitage and Sophie Hahn obliterated the world record, setting a time of 52.22 to cruise to victory.
Breen got off to an impressive start and handed over to T35 100m and 200m silver medallist Lyle, who closed the gap on the back straight. T37 400m champion Hermitage showed her endurance strength over the penultimate leg, overtaking the Australian and Russian teams before giving Hahn the task of anchoring the team to golden success in record-breaking fashion.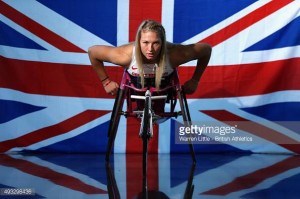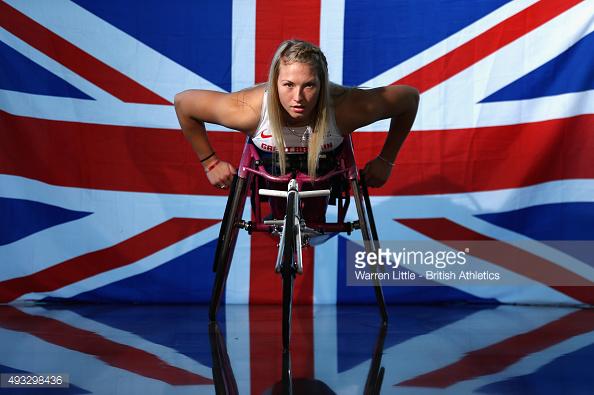 In her eighth race in six days, Sammi Kinghorn (Ian Mirfin) continued a successful championship recording a huge personal best in the T53 800m to finish seventh, to go alongside the bronze medal she won in the 200m.
The Scottish athlete took nearly two seconds off her previous best as the 19 year old finished her gruelling schedule in style.
After surpassing the team's medal target Paralympic Head Coach Paula Dunn said: 'We came out to Doha with the aim of winning 26-30 medals, 10-12 of those being gold and we hit that objective before we even started the final session.
'We can't afford to take this for granted going into a Paralympic year, but it's a really good indication of the strength and depth we have across the board.
'Six debutants have medalled, five world records have been broken and all six of the reigning world champions here have regained their titles, which goes to show we are in a really strong position moving forwards.
'We've got a huge two years ahead with both Rio and a home championships in London on the horizon and I am confident that we can replicate and even surpass the performances we've seen over the last 10 days of action.'
Tags: Doha, IPC World Champs, Jo Butterfield, Maria Lyle, Sammi Kinghorn