Scotland to defend Stewart Cup in 2017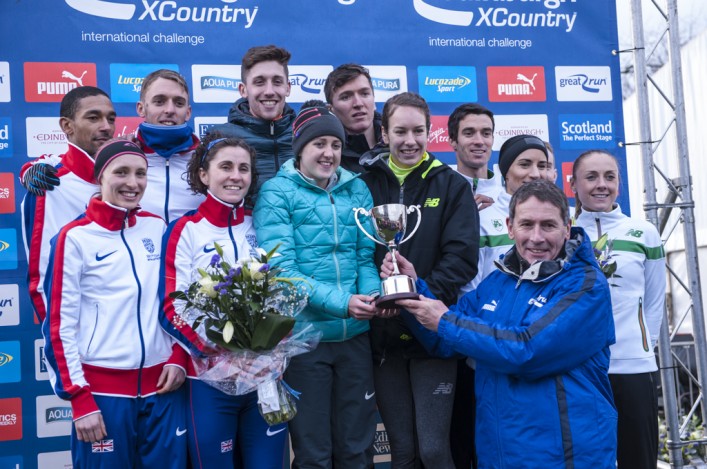 Stewart Cup celebrations for Scotland on the podium at Holyrood on January 9 (photo by Bobby Gavin)
Scotland will have the chance to defend the Stewart Cup at the Great Edinburgh XC next year.
And there is further good news around the Holyrood Park occasion with the event set to return to the Scottish capital in both 2017 and 2018 under current agreements.
Organisers of the Great Edinburgh XC have now confirmed that the victorious home team will have the opportunity to defend their title next year. The Scotland A team stormed to victory in the 4 x 1K International Relay to claim the inaugural Stewart Cup – and the same format will be used again next January.
The trophy was awarded to Laura Muir, Steph Twell, Jake Wightman and Cameron Boyek for the first time on January 9 at Holyrood, as part of the BBC televised event. It is named after two Scottish Running legends Ian and Lachie Stewart, and Ian was there on the day to make the presentation.
With eight teams in the race and teams featuring two men and two women, the innovative format was popular with the crowds and there was strong vocal support for the two Scotland teams when athletes were out on the course.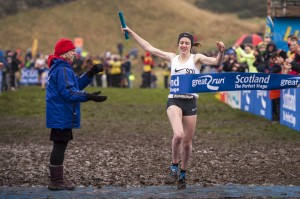 Laura Muir brings home the baton for Scotland A
'I raced this event last year but it was only two legs and fewer teams,' said Laura, who raced for Scotland in 2015 and then in the victorious A team earlier this month.
'The format for 2016 was ideal and the crowd seemed to love it. With four runners, two men and two women, and eight teams it was just about set-up perfectly.
'It was just brilliant to win the trophy in front of a home crowd and the atmosphere around the park was terrific. The Great Edinburgh International XCountry is such an exciting event. It was a really good team with I think good runs by all four athletes.'
The overall event also included an international team competition between GB and NI, Team USA and Team Europe, which featured senior men's and senior women's races around the park over 8K and 6K.
Team GB and NI were the winners, even though Double Olympic and World Champion Mo Farah just missed out on a win to experienced XC specialist Garrett Heath of the USA.
It has also been confirmed the event will continue to take place at Holyrood Park until at least 2018.