Scotland set new Women's 4x100m Record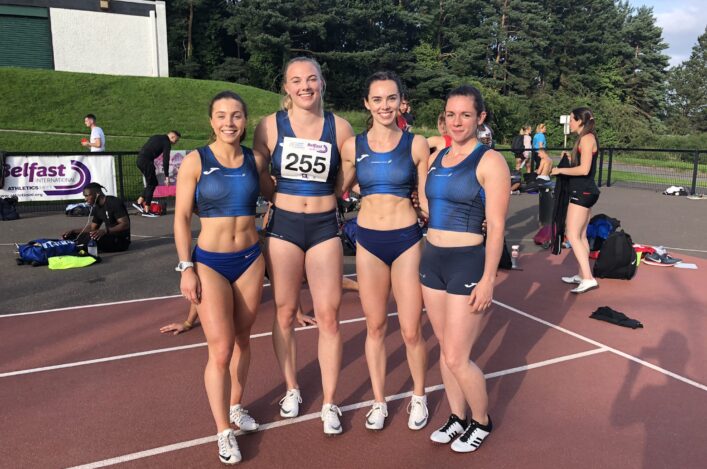 Record-breakers! (L-R) Chloe Lambert, Alisha Rees, Heather Paton and Katy Wyper (photo via Heather's Twitter. Thanks)
Click link below to watch race
Results2019-BelfastInternationalMeet
Scotland have new Women's 4x100m National Record holders!
A fine run in Belfast saw our Class of 2019 quartet clock 45.30 to eclipse the existing Record of 45.37, subject to ratification procedures. The previous Record was set fully 33 years ago back in 1986.
The athletes involved in Northern Ireland last night (L-R in photo) are Chloe Lambert, Alisha Rees, Heather Paton and Katy Wyper. The running order on Thursday night was Paton, Lambert, Wyper and Rees.
Well done to all four and their families and coaches as well Allan Scott of scottishathletics, who leads our Relay programme and was team manager for the Belfast International.
With Ireland setting a Meeting Record, Scotland were actually third in the race with Wales in second place.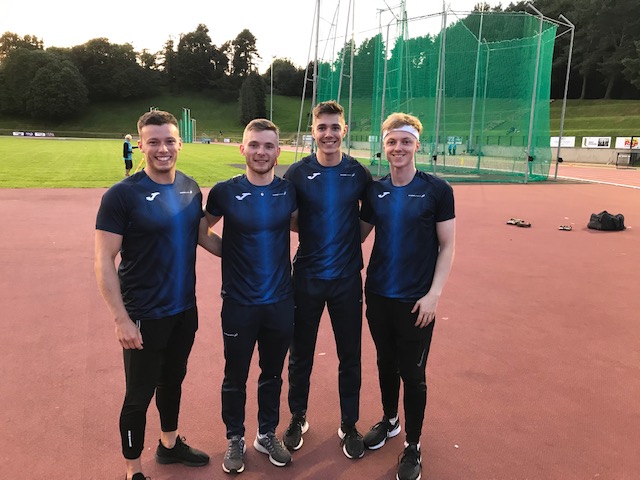 Scotland men in Belfast (L-R): Adam Thomas, Cameron Tindle, Fraser Angus and Michael Olsen (photo by Allan Scott)
Click link below to watch race
It was an excellent night for Scottish sprinting, in fact, with the Men's 4x100m team also in good form.
The quartet set a new Track and Meeting Record as they blew the opposition away to run 40.11 thanks to the efforts of Adam Thomas, Michael Olsen, Fraser Angus and Cameron Tindle. The running order on Thursday night was Olsen, Angus, Tindle and Thomas.
That time is faster than the current Scottish Club Record which features the likes of Allan Wells, Jamie Henderson and Elliott Bunney.
There were a series of individual event wins on the night, too.
Rees clocked 11.57 to take the Women's 100m race while Thomas was second in the Men's 100m in 10.54.
Throwers Chris Bennett and Nick Percy won the mixed hammer and mixed discus events. Nick threw 60.71m.
Paton was second in the Women's 100m Hurdles (13.67) and Lambert third in the Women's 200m (24.42). Wyper was second in the Women's B 100m in 11.97 with Lambert fourth in that race.
Tags: Adam Thomas, Alisha Rees, Belfast International, Cameron Tindle, Chloe Lambert, Fraser Angus, Heather Paton, Katy Wyper, Michael Olsen