On the roads: West 10k Champs; North half in Skye; GP shares update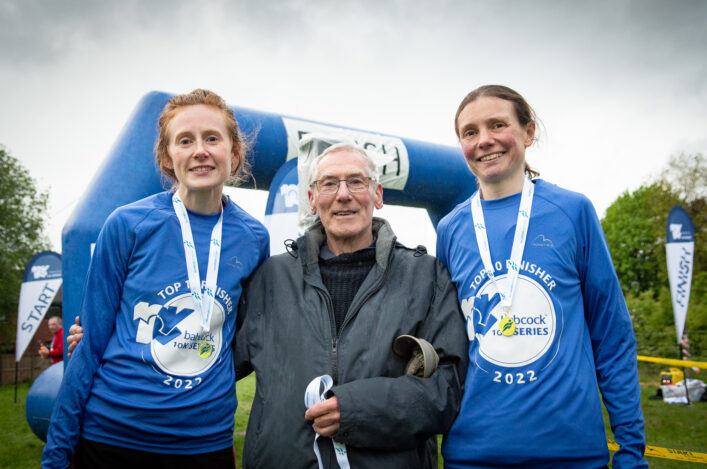 West 10k Champs gold and silver medallists Katie White of Garscube (right) and Lesley Blackwood of Cambuslang Harriers with Lachie Stewart at the Babcock Dumbarton 10k (photo by Darren Borzynski)
The West District 10k Road Champs were held at the Babcock 10k event in Dumbarton on Thursday night.
Conditions were far from ideal but there were still solid performances amid the wind and rain.
Senior titles were won by John Bell of Inverclyde AC in 30.41 and Katie White of Garscube Harriers in 37.28  (chip times given here).
Completing the Men's podium were Shettleston's Chris McGarrity (31.43) and Tom Connelly of Bellahouston Road Runners (32.23). Completing the Women's podium were Lesley Blackwood of Cambuslang Harriers (38.15) and Frances Wardle of Garscube Harriers (39.15).
The Masters 1-2-3 were as follows:
M40 1 Finlay Finlay Garscube (33.44);  2 Craig Shields  Garscube (34.08); 3 Neil Lafferty Greenock Glenpark (34.12).
F40 1 Katie White Garscube (37.28); 2 Gillian Blee Garscube (39.49); 3 Emma Blair Garscube (40.23).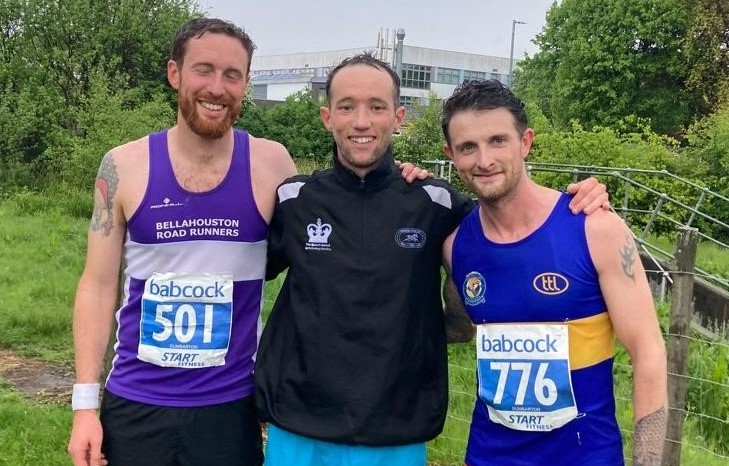 Winner John Bell of Inverclyde AC is joined by silver medallist Chris McGarrity of Shettleston and Tom Connelly of Bellahouston Road Runners
+++
Information on our Event section page
The North District Half Marathon Champs are headed to Skye next month.
The Skye Half Marathon takes place on Saturday 11 June and will incorporate the North champs with medals for individuals and teams.
Enter Skye Half Marathon via the event website
+++
The scottishathletics Road Race GP has reached the halfway stage following the Tru Wealth Scottish 5k Champs.
And fast times in the men's race at Silverknowes has led to a whole host of shares being awarded.
A total of £4000 is divided up – £2000 for men and £2000 for women – when the Series concludes in the autumn after the Glasgow Half Marathon at the Great Scottish Run.
In the men's race at Silverknowes, the top four athletes were inside the time required for the A standard:
Jonny Glen (14:26) Christian Graham (14:28) Alastair Hay (14:28) James Donald (14:29)
A further ten athletes in the men's race received B shares:
Hamish Hickey (14:30); Scott Stirling (14:31); Peter Avent (14:33); Callum Tharme (14:34); Michael Christoforou (14:35); Daryl Reid (14:37); Owen Miller (14:38); Fergus Roberts (14:41); Lachlan Oates (14:43); Niall Caley (14:44).
The sole recipient in the women's race was gold medallist Annabel Simpson. The Fife AC athlete landed a B standard after clocking 16:27.
With thanks to Mark Nixon
+++
Tags: Babcock Dumbarton 10k, John Bell, Katie White, North Half Marathon Champs, Road Race GP 2022, Road Race Grand Prix, Skye Half Marathon, West 10K Champs