Rae wins IPC World Cup with fine London run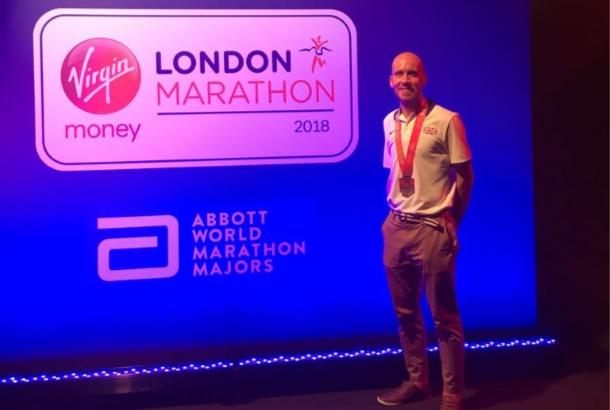 British Athletics website report
Scotland's Derek Rae secured an impressive victory in the Virgin Money London Marathon men's World Para Athletics Marathon Cup T45/46 classification on Sunday.
The Fifer, third last year, was in the lead at each of the splits over the course of the 26.2 miles, powering to victory in 2:36:13 hours (just under three minutes outside the time he recorded last year with of course conditions different this year).
Rae won bronze at the London Marathon in 2017 and was delighted to be able to better last year's result after months of patient planning under the guidance of coach Ron Morrison.
Photos of medal ceremony on Facebook
'The most important thing is to come away with a win,' said Fife AC athlete Derek.
'It became quite tough in the final 10km but to come away with first position is the stuff dreams are made of and I'm absolutely delighted.
'It's what all the hard work has been for and I'm exceptionally proud. My wife has been a massive support for me and I'd like to dedicate this to her. I opened up a gap and kept my foot down and the gap I created benefited me in the end.
'There's a couple of points where you come back on yourself and I looked back then and there was no sign of anyone.
'Now I'll have a rest and have a sit down with the support team and plan for the second half of the season. There's no marathon [at the European Championships] in Berlin so I'll look at what I can do and go from there.'
+++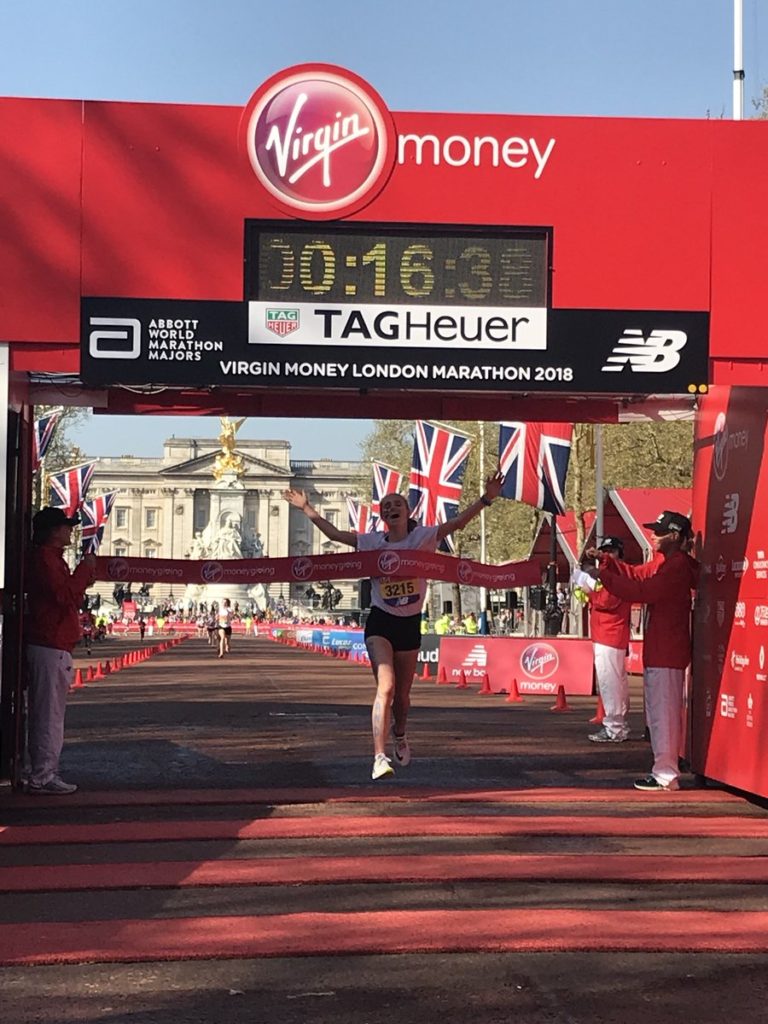 Album of photos by Neil Renton
And there was great news from the Mini Marathon event in London, too, with a Scottish winner in the Women's U17 race – as well as team golds for both the female Scotland teams.
Cera Gemmell, the East Lothian athlete, took the title in a superb time of 16.38 to repeat the success of Erin Wallace in the same race last year.
Well done to Cera, her family, her coach and Team East Lothian on helping in her development.
Eloise Walker of Edinburgh Ac was second in the race and with Sarah Calvert at 21 and Sarah Tait at 25 there were golds for Scotland in the team race!
There were also top five finishes for Lily-Jane Evans-Haggerty, in second, and Anya Maclean, in fifth, in the U15 Girls race.
In fact, coupled with eighth for Anna Hedley and 13th for Isla Calvert that helped Scotland to the team golds in the U15 Girls race. Well done to those athletes and their coaches and clubs.
The boys teams didn't fare quite so well but there were three fine individual performances.
At U17 level, Cameron Wright took fifth place and was followed home by Christian Graham at 11th. the other scorers in an eighth place for the team were Calum Young (48) and Sunny McGrath (49).
Jack Patton was 10th in the U15 Boys race with Ben Sandilands at 29th. The team finished ninth with the other counters being Harry Henriksen (34) and David Addison (41).
Well done to all the athletes who represented Scotland in London and to their families, coaches and clubs. Many thanks to those volunteers in team manager roles over the weekend for their help.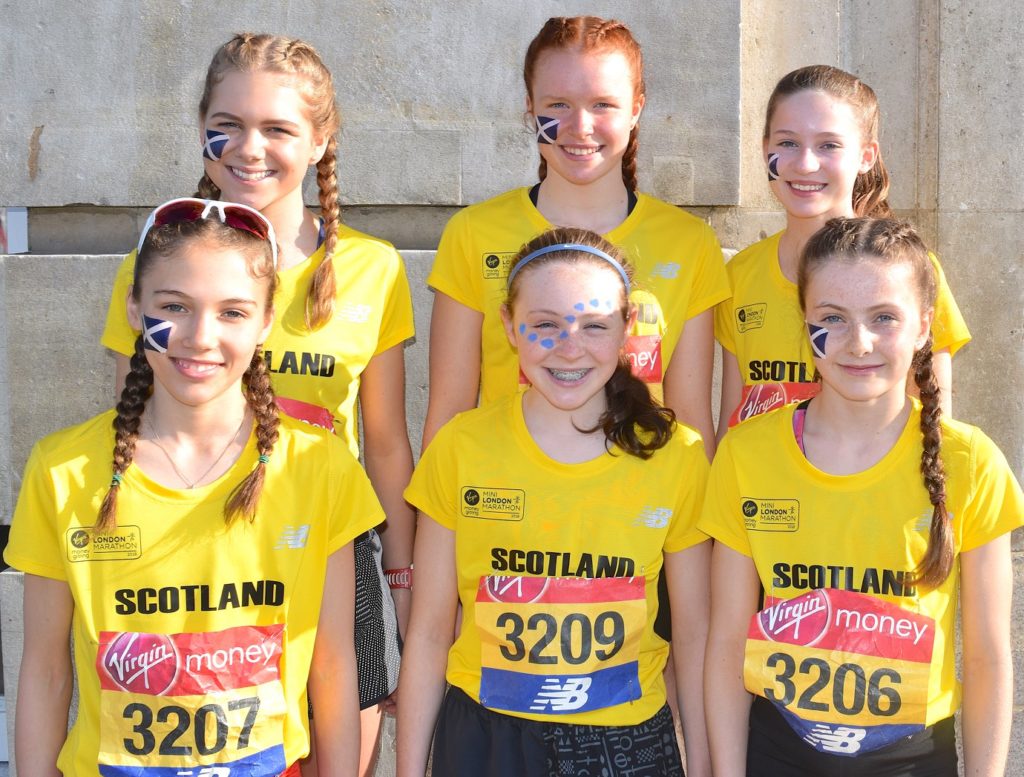 The U15 Girls team who took the gold medals in London  (photo by Neil Renton)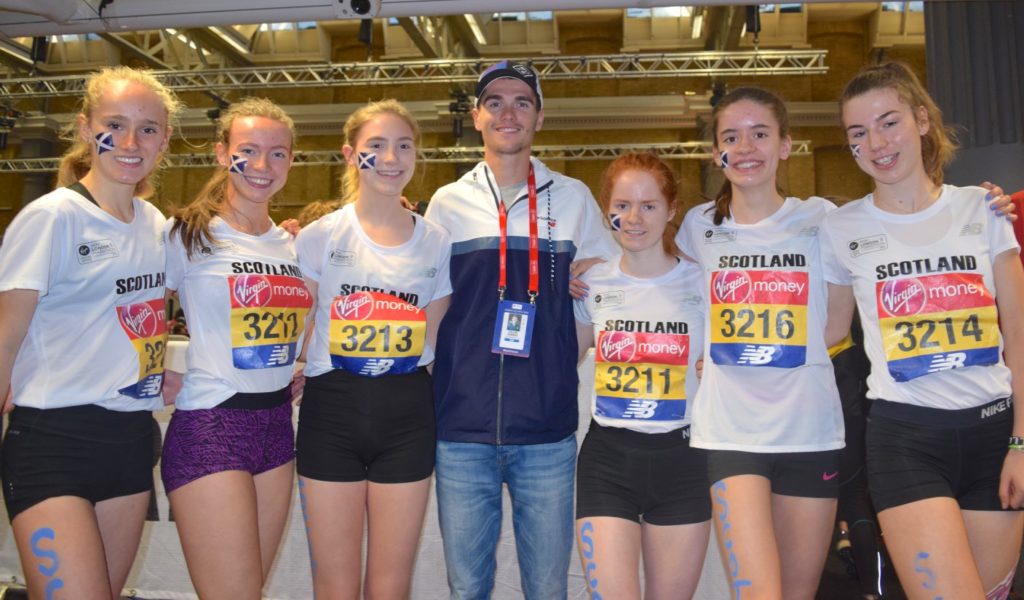 The U17 Women's team who took the gold medals in London (photo by Neil Renton)
Tags: Cera Gemmell, Derek Rae, Eloise Walker, IPC World Marathon Cup, Lily-Jane Evans-Haggerty, London Mini Marathon, Virgin Money London Marathon