Pennycook and Glen lead way XC Age Groups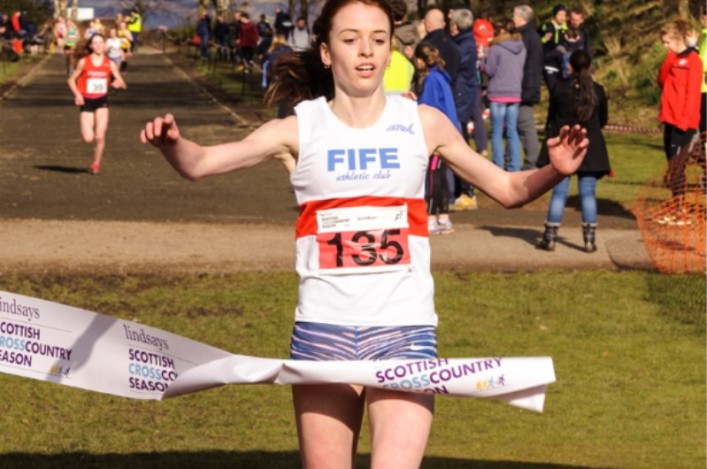 Steph Pennycook wins U20 title – photo by Bobby Gavin
All the Results on our Events section
Steph Pennycook helped Scotland lift a trophy at the Armagh International Road Race some 10 days prior to the National XC.
And the Fife AC runner doubled up that team success in Northern Ireland with individual glory at Falkirk as she won the U20 race in fine fashion – for her first-ever gold at Callendar Park – and team golds with her club.
'It is the first time I've been National XC champion and I am delighted,' she said.
'Armagh went well with a  good 3K run on the road and I guess it felt as if I was pre-race favourite for the U20 and U17 race. I wanted to get out strongly in that case and I did that and kept going.
'I did have a chance to run 1500m at the British Champs in Sheffield but I had to turn down the invitation. I will look to go to the British Champs on the track in the summer if I can.
'I wanted to be here as I knew I was in with a shout and it was a great day with Fife winning the team golds, as well. I'm 20 so this is my last year and I am not sure how I will fare over 10K for the Senior Women next year!
Fife took that race with Pennycook first and Annabel Simpson third as the silvers went to Edinburgh Uni Hare and Hounds, with Louise Mercer the silver medallist, and with Glasgow Uni in third.
Kilbarchan AAC won the U20 Men's team race from Central AC as Ronhill Cambuslang Harriers took home the bronzes.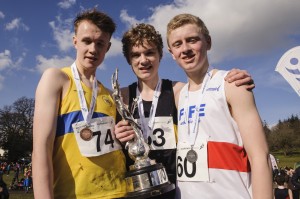 U15 Boys medallists
AT U17 level the team medals were as follows: Women: 1 Aberdeen AAC, 2 Kilbarchan AAC, 3 Giffnock North AAC. Men: 1 Ronhill Cambuslang Harriers, 2 Edinburgh AC, 3 VP-Glasgow.
At 15 level the team medals were as follows: Girls: 1 Giffnock North AAC, 2 Edinburgh AC, 3 Inverclyde  Boys: 1 Kilbarchan AAC, 2 Central AC, 3 Ronhill Cambuslang Harriers.
At U13 level the team medals were as follows: Girls: 1 Giffnock North AAC, 2 Edinburgh AC, 3 VP-Glasgow. Boys: 1 Moorfoot Runners, 2 Giffnock North AAC, 3 Ross County AC.
The U15 Boys race featured one of the most exciting finishes of the day with positions changing down the final straight at Callendar Park.
In the end, Falkirk Vics athlete Lewis Pentecost just edged ahead of silver medallist Robert Sparks of Fife AC as Hamish Armitt of Giffnock took the bronze.
Eloise Walker of Edinburgh was certainly one of the U15 Girls favourites and she won gold from Lynn McKenna (Giffnock) and Jessica Macleod (Corstorphine AAC).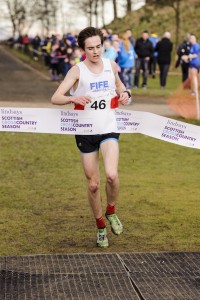 Tristan Rees- U17 Men gold medallist
In the U13 races, new champions David Addison (Corstorphine) and Lily-Jane Evans-Haggerty (VP-Glasgow) would certainly have been among those with keen aspirations of success and they were followed home by silver medallists Ethan Elder (Moorfoot) and Helen Chong (Giffnock) respectively.
Kate Richardson joined her Giffnock club-mate on the podium with U13 bronze while Chirnside Chasers had a bronze medallist in Oscar Onley.
It was superb to see so many clubs contesting the age group races and indeed quite a range of those represented on team and individual podiums. With those clubs stretching from Moorfoot and Chirnside in the Borders to Forres and Aberdeen – and a few points in between – the true nature of the National XC was exemplified.
Commentator Bryan Burnett came up with one of the quotes of the day as he covered the win for Tristan Rees at U17 from Sol Sweeney (Perth Strathtay) and  James Donald (Dundee Hawkhill).
'And there's the Scotland hill runner, Tristan Rees. He's just glided up that hill as if he was out walking to the shops . . .'
Tags: Anna Macfadyen, David Addison, Eloise Walker, Jonny Glen, Lewis Pentecost, Lily-Jane Evans-Haggerty, Steph Pennycook, Tristan Rees