Para update: Clegg; Reid; School Games; Race Running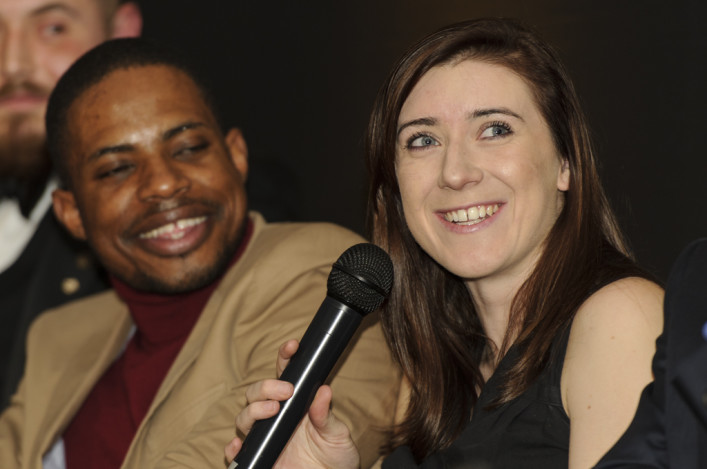 Libby Clegg and Mikail Huggins at the 2014 Annual Awards – photo by Bobby Gavin
Libby Clegg's prospects of racing at the Paralympics later this summer have risen following a new Classification for Para sprinting.
The Scot who won T12 100m gold at Hampden with guide runner Mikail Huggins will now run in the T11 class following a meeting in Berlin last weekend.
Clegg suffers from a degenerative sight condition and it is understood she is now ranked at No 2 in the World following the reclassification assessment that places her with T11 athletes.
Libby has been in good form this season following a coaching switch to join Joe McDonnell, with Chris Clarke now acting as her guide runner.
'Libby is as contented an athlete as she has been in a long time and the reclassification certainly increases her prospects for Rio selection,' said Ian Mirfin, lead coach on Para performance for scottishathletics
'Joe has a large sprints group (para and non para) at Loughborough including Paralympic sprinter Sophie Hahn and Joe has teamed Libby up with GB international Chris Clarke as her guide runner. The pair are working well together, the main learning for Libby has been running with a new guide with a different stride pattern.
'Libby won the 100m in Berlin at the final Grand Prix before Rio at the weekend.'
Two Scottish athletes, Maria Lyle and Joanna Butterfield, have already been named for the Paralympics in Rio and the full GB and NI selection will be announced next Monday (July 25).
+++
Scottish Para athlete Stef Reid, who won silver in the T44 long jump at the London 2012 Paralympic Games, has joined the board for London 2017.
The 31 year-old will bring her competition experience at the very highest level across the world to the role, as well as her experience in facing a life-changing injury to become a world-class athlete, professional speaker, fashion model and lay preacher.
Stef said:  'I am really excited to be appointed to the 2017 board! It is fantastic so see another major global championships returning to the UK.
'I will be drawing on all of my past experience to ensure that the athletes, spectators, and stakeholders leave London both inspired and proud to be part of another world class event. Britain is the leading force in para-athletics. We have another opportunity to further develop the sport and showcase it to the world.'
Reid has four other global titles to her name including European gold, which she won in Swansea two years ago. She is a five-time world record holder and, subject to ratification, reclaimed her world long jump record last week.
+++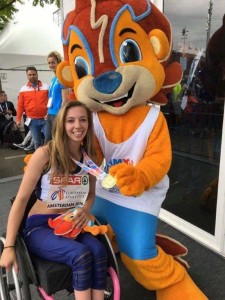 Shelby Watson – good performance in Holland
There will be a record eight Scottish para athletes competing at the UK School Games in Loughborough in September.
The Para athletes have been selected as part of the overall Scottish Schools team for the traditional end-of-season multi-sports event.
Shelby Watson, who collected a bronze medal at the IPC events at theEuropean Championships in Holland, is among the eight athletes listed.
Those are: Nathan Fleetwood: 100m/Long Jump/200m; Ross Paterson: 400m; Luke Deighan: Wheelchair racing 100m; Kyle Brotherton: Wheelchair racing 800m;  Connaire McLindon: Shot/Discus;  Abbie McNally: 100m/200m; Margaret Newell: 400m/Long Jump; Shelby Watson: Wheelchair racing 100m/800m.
With thanks to Ian Mirfin
+++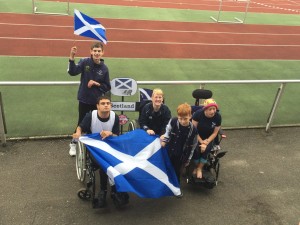 For the past 19 years, an annual Race Running Camp and Open competition has been held in Copenhagen, Denmark. This year was the 20th anniversary of the event and also incorporated the 3rd Open European Race Running Championships.
A team of five Scottish athletes took part in the camp and Championships. Alongside the Scottish athletes, coaches and supporters were a team of researchers from Edinburgh and Queen Margaret Universities who collected data using a variety of tests as the start of developing the evidence based classification system.
The athletes who attended were Matthew Doig, (Perth and Perth Strathtay Harriers), Gavin Drysdale (Ayr and Red Star AC), Lauren Gallagher (Glasgow and Red Star AC), Harris Menshawi (Forth Valley Flyers and Red Star AC) and Elaine Boyd (Edinburgh).
All five athletics set at least one personal best and Gavin, Matthew and Elaine were multi-medallists (Matthew and Gavin five golds each and Elaine one gold and two silvers). For Lauren and Harris, it was their first time at the Camp and Championships. Both were internationally classified and set multiple personal bests.
With thanks to Janice Eaglesham
Tags: Ian Mirfin, Libby Clegg, Para athletes, Shelby Watson, Stef Reid, UK School Games