Team Scotland name five Para selections for Commonwealth action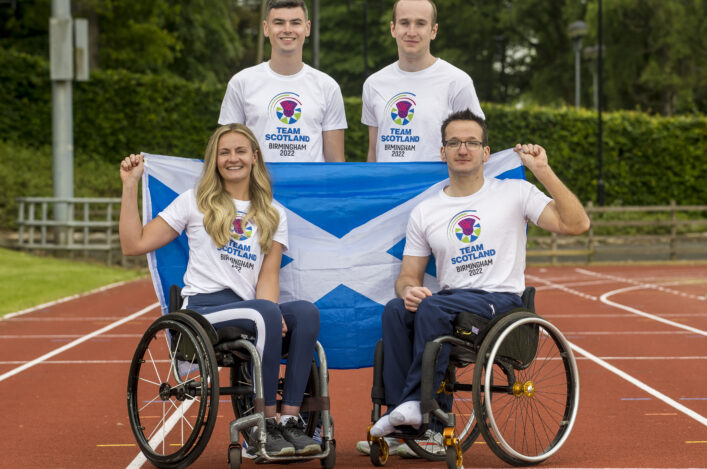 Sprinters Ross Paterson and Alexander Thomson are joined by wheelchair duo Mel Woods and Sean Frame at a Team Scotland photo-shoot at Stirling (photo by Craig Watson)
Check out our Birmingham 2022 section
Five Scottish Para athletes have been selected to represent Team Scotland at the Commonwealth Games.
It's another highpoint for Para track, field and marathon in this country as the quintet prepare for the Games in Birmingham at the start of August.
Paralympic double medallist Sammi Kinghorn leads a selection of three wheelchair athletes and two T38 sprinters.
The five selected is up on the three Para athletes who were picked for Gold Coast 2018 and the same as five for Glasgow 2014.
Kinghorn for her part is picked by Team Scotland for the third time for Commonwealth duty after appearing in both Scotland and Australia for the last two Games. Sammi is more at home with the sprint events but races again this time at 1500m as she did at Hampden and in Gold Coast.
Team-mate Mel Woods, who competed at the Paralympics last summer, shares the same coach in Rodger Harkins while Games debutant Sean Fame will contest the marathon.
Sprinters Ross Paterson and Alexander Thomson will both compete in the T38 100m event.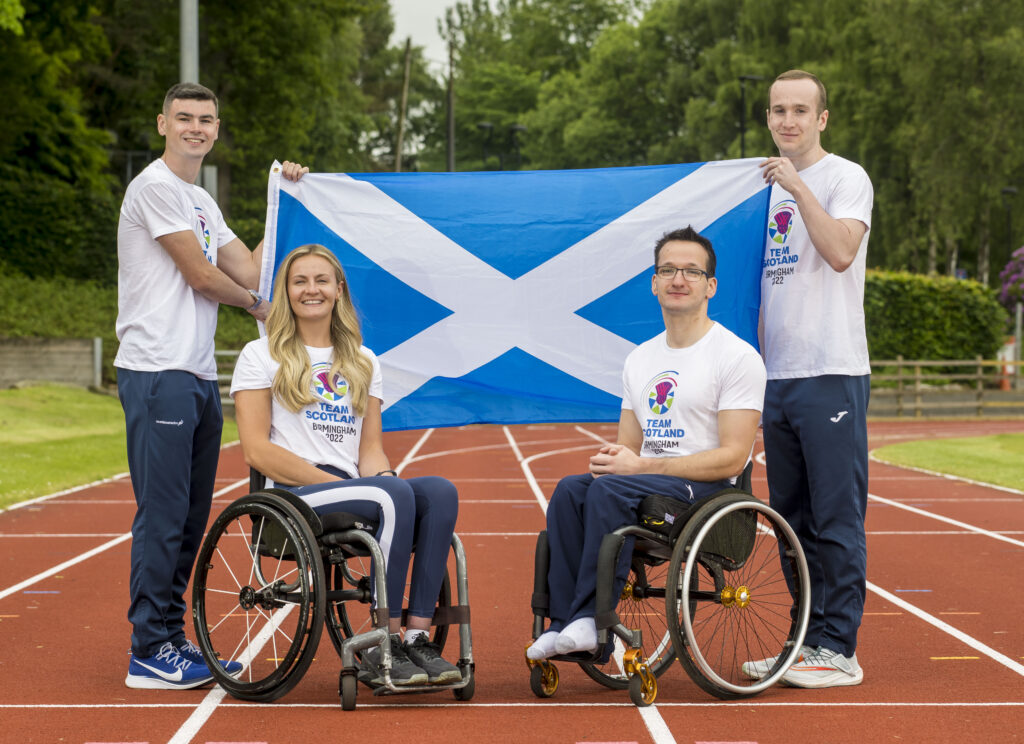 Ross, Mel, Sean and Alexander savour the moment at a photo-shoot at Stirling (photo by Craig Watson)
Here are the Team Scotland Para selection in track and field and marathon for Birmingham 2022 (in alphabetical order and with coach in brackets)
Sean Frame (Joyce Rammell) Men's T54 Marathon
Samantha Kinghorn (Rodger Harkins) Women's T54 1500m
Ross Paterson (John Kinder) Men's T38 100m
Alexander Thomson (Chris Baillie)  Men's T38 100m
Mel Woods (Rodger Harkins) Women's T54 1500m

'We're delighted five athletes have been selected by Team Scotland to compete in the Para events,' said Team Scotland athletics team manager Julie Mollison.
'We send our warm congratulations to them, their families, their coaches and their clubs and support teams.
'With the Games being in the UK, it is very exciting for everyone around these athletes as there is a chance to travel to Birmingham to cheer them on.
'Five athletes is up on the three from Gold Coast 2018 and that's very pleasing.
'The overall selection reflects progress by these athletes as individuals and arguably also more opportunities and more integration by our clubs to create the right kind of pathway for Para athletes.
'We feel sure the Para community will take great encouragement from these selections.'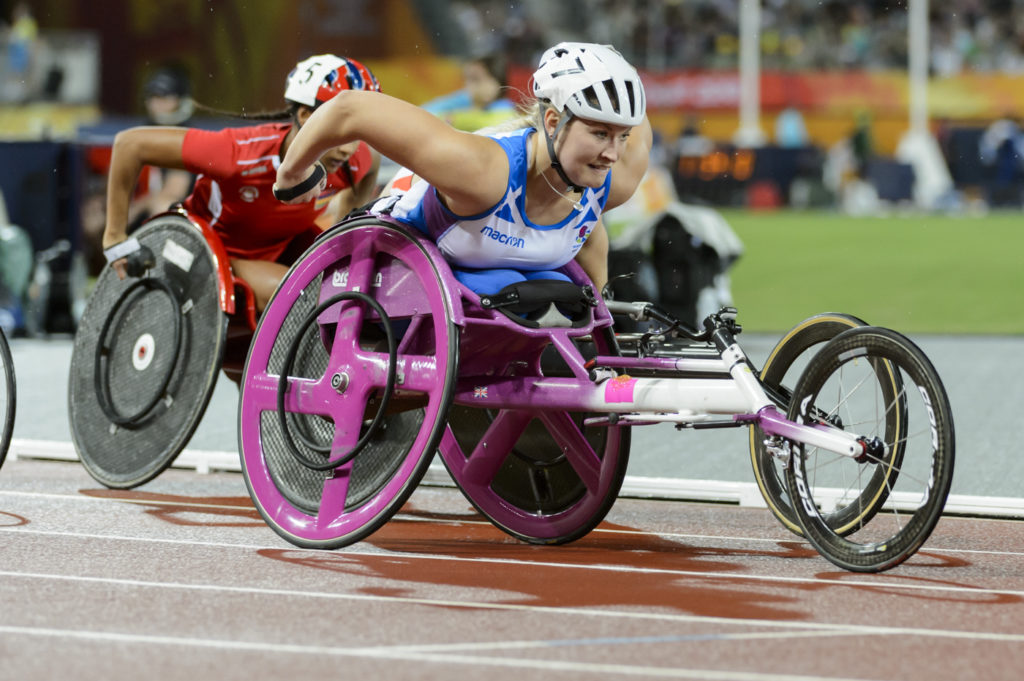 Sammi Kinghorn in track action in Australia in 2018 (photo by Bobby Gavin)
'I'm very excited as it is going to my third Commonwealth Games,' said Sammi.
'I was fifth in Glasgow and fourth in Gold Coast, so obviously my aim is to try and make it on the podium. It's not my event as it's the 1,500m but I'm feeling a lot stronger and a bit more tactically aware.
'I'm really looking forward to it and I'm incredibly lucky to have a Games in Britain where friends and family can come along and cheer me on. It's going to be incredible.'
Check out our Birmingham 2022 section
*Para selections Gold Coast 2018: Amy Carr, Maria Lyle, Samantha Kinghorn.
*Para selections Glasgow 2014: Samantha Kinghorn, Libby Clegg, Meggan Dawson-Farrell, Lewis Clow, Jason Maclean.
+++
Tags: Alexander Thomson, Birmingham 2022, Mel Woods, Ross Paterson, Sammi Kinghorn, Sean Frame, Team Scotland