O'Hare and Wightman in superb 1500m form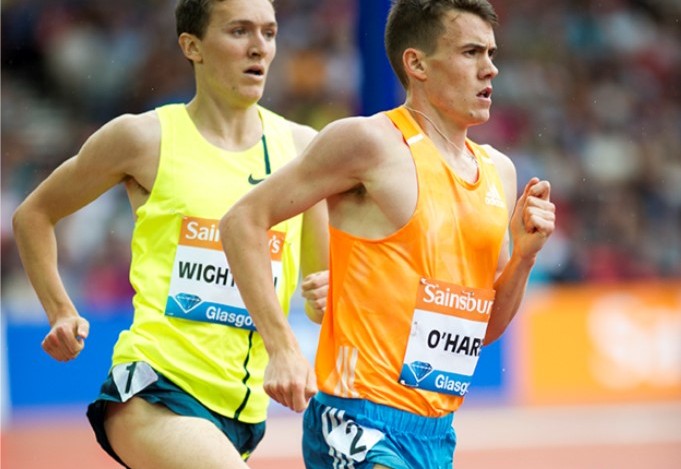 Chris O'Hare savoured his first Hampden experience with a 1500m PB which could yet land him a European Championship slot.
The Team Scotland athlete clocked 3.35.06 to finish fifth in a race won in a Scottish all-comers record by Silas Kiplagat in 3.32.84.
And Jake Wightman just edged the bunch behind O'Hare to take sixth place and post a massive PB – as he recorded 3.35.49.
The 1500m runs were the highlights from a Scottish perspective on a second day of exciting action at Hampden in the Sainsbury's Grand Prix Diamond League meeting.
O'Hare's run at 3.35.06 also claimed a Scottish Native Record – beating a mark set by Graham Williamson some 31 years earlier at Meadowbank at 3.37.1.
Chris and Jake were inside the 3.37.50 standard for Zurich and O'Hare is hopeful of selection – he missed the British Champs and Trials through injury – but his main focus is the Commonwealth Games.
'If it happens it happens,' he said, a day when David Rudisha delivered an equal  World Lead in the 800m with an imperious run to 1.43.34.
'I have posted the time now and I was cleared for the trials in terms of the injury. So I have done what I can. It was always the plan to do Hampden and then Zurich if that was possible.
'I had no idea beforehand that I was in PB shape. The plan was to kind of hang back for a bit and see how things went. With two laps to go I just went for it a bit and I kept going although the last 100m was pretty tough.
'It is a great run and PB by Jake as well. I've known him for a number of years and the signs are good for Scottish athletics at the minute.'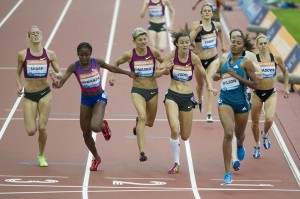 The Women's 800m saw American Ajee Wilson win in 1.59.68 with Lynsey Sharp taking sixth place (after a photo for places 4, 5 and 6) with her time 2.00.08. Lynsey's run was also a Scottish Native Record.
She said: 'I didn't execute the race quite the way I had hoped. The crowd was great, cheering us on, and I can't wait now to come back here for the Commonwealth Games.'
Laura Muir finished ninth in the race at 2.02.92 – a Season's Best.
There was also a Season's Best for Eilish McColgan in the 3000m steeplechase with her 9.44.69 an improvement on the previous week in Paris.
The British champion missed out on the European qualifying time (9.43.00), however.
Despite claiming a Scottish Native Record, Eilish said: 'To be honest, I couldn't be any more devastated. After all the injuries I have had, I should be happy but I'm absolutely gutted to miss the European qualifying standard by two seconds.
'I know it's there but I lost confidence a bit today.
'It is teaching me that maybe I should be up near the front at the very start. I've gone from everything going well last year to everything going wrong this year.
'If someone had told me two months ago I would have been outside the standard, I wouldn't have believed it. I've worked so hard to get here and I'm not usually emotional but I could have cried at the end.
'My family have watched me for the first time today so it is nice that they were here to watch me anyway.'
Lennie Waite was 14th in the same race as she clocked 9.54.62.
Libby Clegg had been the first Scot on the track, taking part in the T11-13 100m. The Scot, who will be back at Hampden for the Games, clocked a season's best 12.40m to finish third in a tight race that was won by German Katrin Mueller in 12.29.
Jayne Nisbet cleared 1.80 in the women's high jump but failed with her three attempts at 1.85m.
In the 4 x 100m relay, the Scotland team finished fifth in 40.30 – with eight teams having been involved. The team was Allan Hamilton, Ross Maxwell, Ryan Oswald and Stephen Dunlop.
There were Club Connect relay wins for Glasgow School of Sport in the women's race and Giffnock North AC in the men's
Tags: Chris O'Hare, Diamond League, Eilish McColgan, Hampden, Jake Wightman, Jayne Nisbet, Laura Muir, Libby Clegg, Lynsey Sharp