Noticeboard: British XC dates; Sammi; Dumfries Half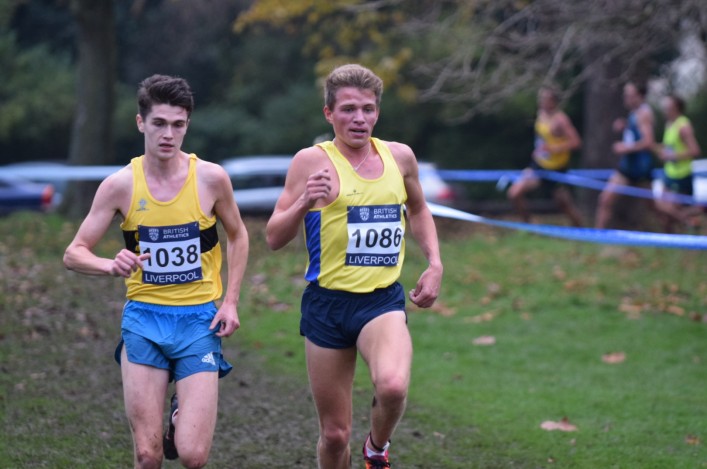 Action from Liverpool last year – with Andy Butchart and Callum Hawkins at the front (photo by Gus Oakley)
British Athletics  has announced the dates and locations for the 2015/16 Cross Challenge – and we would urge Scottish athletes to take part and test themselves in these races where appropriate.
The Liverpool race on November 28 has indeed become a very popular Challenge event for our clubs with more than 100 Scots making the journey last winter.
Callum Hawkins and Andy Butchart took 1 and 2 that day with Andrew later also winning in Birmingham at the Inter-Counties event – while Inverclyde AC's Jonny Glen won the overall U20 title for 2014-15.
With nearly £30,000 in prize money up for grabs across the course of the Challenge, there is an extra incentive to take part in the series which offers quality and competitive cross country races over the coming months.
The Challenge will cover the length and breadth of the country on the search for the finest cross country runners in Britain from the U13 age group to the senior level.
The series kicks off in Milton Keynes on Saturday November 7, returning to Tear Drops Lake after playing host during last year's edition of the competition.
After the first leg in Buckinghamshire, the Challenge moves onto familiar territory at Sefton Park in Liverpool on Saturday November 28, which will also incorporates the trials for the European Cross Country Championships which take place in France this December.
There will be two events held in January 2016, one heading to Antrim in Northern Ireland on January 16, before moving onto Cardiff a week later on January 24. The series finishes at Cofton Park in Birmingham for the Cross Challenge Final on March 12 which incorporates the annual UK Inter-Counties Championships.
Dates and venues for 2015-16
Saturday 7 November 2015:  Tear Drops Lake, Milton Keynes
Saturday 28 November 2015: Sefton Park, Liverpool
Saturday 16 January 2016: CAFRE, Greenmount Campus, Antrim
Sunday 24 January 2016: Blackweir Fields, Cardiff
Saturday 12 March 2016: Cofton Park, Birmingham (UK Inter Counties Cross Country Championships and Cross Challenge Final)
More information on the British Athletics website
+++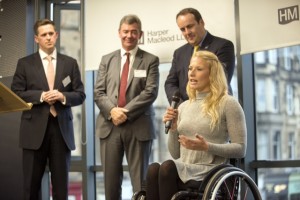 Sammi Kinghorn – important sponsorship support
Law firm Harper Macleod has extended its support for Scottish wheelchair racer Sammi Kinghorn as she aims for IPC World Championship and Paralympic success.
The firm announced the news at the official launch of its new Edinburgh office, which was opened by the Minister for Community Safety and Legal Affairs, Paul Wheelhouse MSP, last week.
Earlier that day, Sammi (19) had been named in the British Athletics team for the upcoming IPC Athletics World Championships in Doha.
Sammi, Harper Macleod's Athlete Ambassador since 2013, said: 'Though I hoped to be selected for Doha, I can still hardly believe that I've made the team and will have the chance to experience the World Championships.
'It's taken a lot of hard work and wouldn't have been possible without the backing of my family, friends and those who help me be a full-time athlete. I'm extremely thankful for all the support I have been given and I really feel part of the Harper Macleod family after all we've experienced together.'
Martin Darroch, Chief Executive of Harper Macleod, said: 'The timing of Sammi's selection couldn't have been any better as we announced our continued relationship in front of the whole firm and many of our friends.
'The next year is going to be an incredibly exciting one both for Sammi and for the many people who follow her progress, with both the World Championships and Rio Paralympics taking place, and we are thrilled to continue our support.'
+++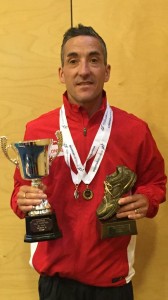 Wilson – picking up West trophies again
The West of Scotland Half Marathon Champs were held in Dumfries and there was a senior and masters success for Kerry-Liam Wilson of Ronhill Cambuslang Harriers.
Wilson clocked 72.02 to win it from Matthew Sullivan of Shettleston Harriers. With the third athlete home from an English club, the West bronze went to fourth-placed Chris Macdonald of Motherwell AC in 77.35.
It was a similar story in the women, with second-placed Emma Knowles of Dumfries Harriers taking the West gold with a run of 91.43 to medal from club-mate Lesley Jeffrey and Caroline Moles, also of Dumfries Harriers.
Full results are on the Dumfries RC website with thanks to them as the host club for the event.
There are a number of road races at this time of year and Alastair Hay of Central Ac won the Linlithgow 10k with a (chip) time of 31.31. Hay won it from Patryk Gierjatowicz and Paul Sorrie with Karen Kennedy of Carnegie Harriers the first woman home.
Results for Linlithgow are online.
At Cumbernauld, Robert Gilroy of Ronhill Cambuslang won the 10K there in 31.29. Results are online
Tags: Alastair Hay, Birmingham, British XC Challenge, IPC World Champs, Kerry Liam-Wilson, Liverpool, Robert Gilroy, Sammi Kinghorn, West District Half Champs