Nick lands discus record with NCAA gold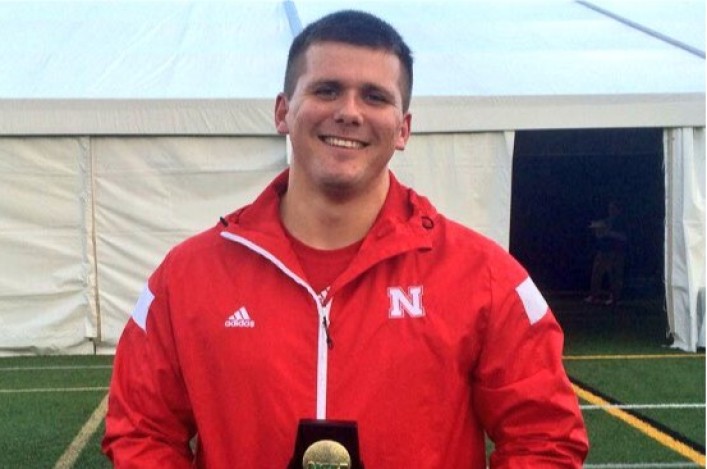 Nick Percy took the Scottish discus National Record once again – as he claimed gold at the NCAA finals in Eugene.
The Nebraska-based thrower improved his own recent record to 61.27m and complete a remarkable week in track and field in terms of Scottish records.
Andrew Butchart landed the Men's 3000m record last Sunday in Birmingham before Laura Muir then eclipsed the Women's Mile mark in Oslo on Thursday night.
Percy made it a hat-trick and in doing so also became the first Scottish athlete to win an outdoot NCAA title, with only Meg Ritchie having that honour after taking the women's shot and discus in 1982. Chris O'Hare has an indoor title to his name.
Percy took the early lead in the discus with his first throw in flight two 61.27m.  His mark held up for the rest of the competition to win him the national title, fending off three competitors who were within two inches of his mark.
Nick, the Big Ten champion in the event, finished 15th last year as a freshman and was seeded eighth entering this week's championships. It is only the 2nd time since 2004 that the winner has thrown over the 200 feet distance.
'I was absolutely shocked,' Percy said.
'The conditions weren't very good today. The wind was swirling a lot. To throw nearly a three-foot PB on the day, at nationals in the first round, I couldn't really ask for more.
'It was good enough to win and I couldn't ask for any better way, in the first round, to just get it in the bag and relax.'
'I've had great practices here the last couple of days. I knew if I could get a big throw, around 61m then I had a chance. But I at least wanted to get a throw in the first round because last year I had two fouls.'
*Jax Thoirs was fifth in the NCAA pole vault final with 5.45m and there was a 10th place finish in the 1500m by Josh Kerr at 3.50 after a 3.41.08 PB run to reach the final. Neil Gourley ran 3.41.33 to just miss out on the final, while Luke Traynor was 13th in the 10,000m final and Allan Hamilton 23rd in the long jump.
Tags: