National Open preview and link for live results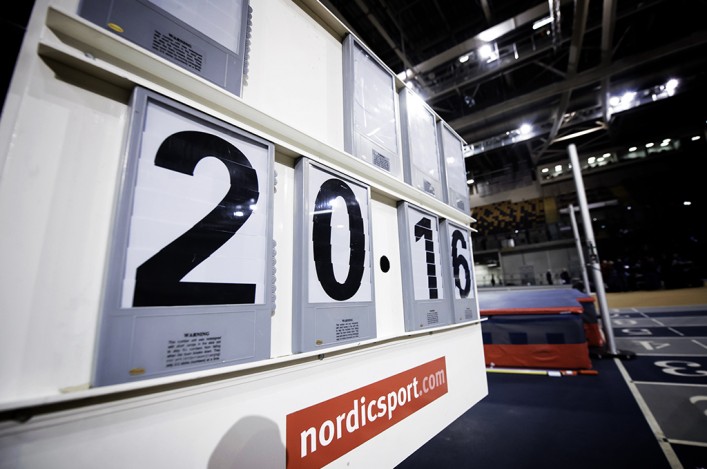 Photo by Bobby Gavin
Timetable and other key info for Saturday
The National Open takes place at the Emirates Arena on Saturday – as the 2016 indoor season begins in earnest.
And scottishathletics Director of Coaching, Rodger Harkins, believes the traditional early open graded event gives athletes a great opportunity to lay down markers for the year ahead.
GB international Laura Muir will swap her cross country spikes for the indoor track where she trains for runs at both 800m and 400m, with Glasgow-based GB international James Bowness another name to look out for.
Hundreds of athletes, in fact, are now on start-lists for events and the National Open has become such a popular fixture that the decision was taken to 'cap' four events in order to try and ensure the programme schedule runs smoothly.
Those start-lists are available online here:
http://www.janetnixon.info/scottish/2016/IndoorOpen/index.php
Following on from track and field National events last season, our Events team and officials have been working hard to find a way to supply live results from certain fixtures.
This will be in operation again this Saturday at the National Open and please follow the link above – once the event is underway, obviously – to track results from the Emirates.
Commonwealth Youth Games medal-winners like Cameron Tindle, Alisha Rees, Rachel Alexander and Ben Greenwood are due to compete and there are welcome comebacks for Jade Nimmo and John McCall.
'The National Open marks the start of the indoor season for many track and field athletes, although the 3000m Champs at the Glasgow Athletics Association Miler Meet has already witnessed some good performances,' said Rodger.
'At this time of year it is probably about finding out where you are at after periods of winter training and seeing if you can get a good indication of what is to come later in the year.
'We've the Seniors and U17 Champs coming up a fortnight later and then other indoor events like the British Champs for our higher-ranked athletes and the Scottish Age Groups  (U20, U15 and U13) at the start of March.
'For many athletes, getting an indoor PB at this time of year can help give encouragement for the outdoor season and we are urging them to try and give their best at the National Open.
'There's barely two years to go now to the Commonwealth Games in Australia – which are in early April 2018. Those with serious ambitions to qualify for Scotland for the Gold Coast will already have a coaching and competition plan and will be working towards that.
'I'm encouraged by a lot of the work that is happening around the country and it has already been a good start to the New Year with the Great Edinburgh XC last weekend. We've a trophy in the bag with the 4 x 1K International Relay win to lift the Stewart Cup!'
Among the athletes on start-lists for the weekend are: Anthony Young, Donald McLeod (400m); Jack Walker, Dale Colley, Cameron Steven (1500m); Adam Thomas (200m); Stephen Dunlop, Ross Maxwell (60m); Angus McInroy (shot); Mhairi Hendry, Jenny Tan (800m);  David J Martin, Pete Muirhead, Sarah Warnock (long jump).