National Academy – our 2018 intake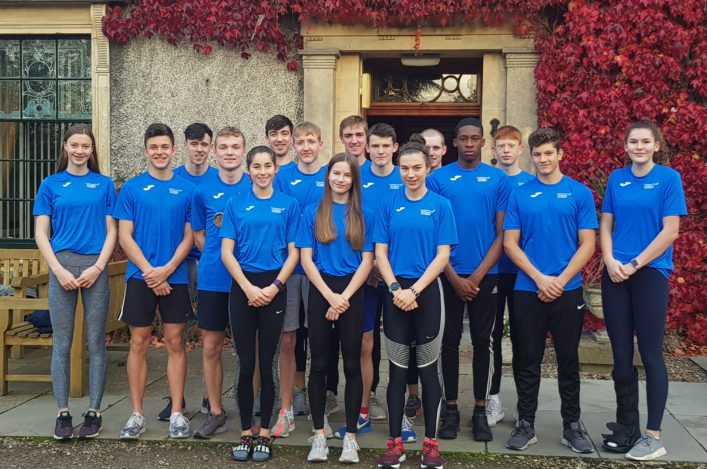 National Academy athletes gather at Carronvale House this week (photo by Julie Mollison)
scottishathletics has launched the next 'year' of our key development programme, the National Academy – and are delighted to welcome 13 new recruits.
The original project was set-up and started back in 2013 with the intention being to better support and direct young athletes, their coaches and parents as they progress towards senior status.
Two residential camps each year plus on-going work and support are provided for athletes in the Year 1 and Year 2 bands with certain performance standards required before invitations are made to join.
For autumn 2018, we have 13 young athletes and their coaches and parents coming on board via the various event groups with five from Jumps, five from Endurance, two from Combined Events and one from Throws.
Congratulations from all at scottishathletics to these athletes and their coaches and clubs on making the National Academy and to the clubs involved in their development over recent years.
| | | | |
| --- | --- | --- | --- |
| Athlete | Coach | Event Group | Club |
| Eloise Walker | John Lees | Endurance | Edinburgh |
| Kane Elliott | William Sharp | Endurance | Falkirk |
| Joe Ewing | Carol Sharp | Endurance | Edinburgh |
| Scott Brindley | Mark Stringer | Jumps | North Ayrshire |
| Bera Ajala | John Scott/Keith Ridley | Jumps | Edinburgh |
| Isla Calvert | Sandra Hardacre | Endurance | Livingston |
| Carmen Neat | Ken Allan | Jumps | Aberdeen |
| Keira Waddell | Douglas Cameron | Throws | Edinburgh |
| Murray Fotheringham | Colin Sinclair | Mulit Events | Giffnock North |
| Ellie O'Hara | Linda Nicholson | Jumps | Edinburgh |
| Reuben Nairne | Brian Donaldson | Jumps | Glasgow City/Giffnock North |
| Georgina Ledingham | David Arnott | Endurance | Corstorphine |
| Callum Newby | Derek Johnston | Multi Events | Edinburgh |
Julie Mollison is now our National Academy leader (and Team Logistics Manager) after being involved in the Performance Team for the past year or so and having held Team Manager roles at Glasgow 2014 and Gold Coast 2018.
'The National Academy camp at Carronvale always gives us an opportunity to welcome the new Year 1 Athlete 'Teams' into the programme – providing a busy few days of education, training and team building which will set them up well for the winter season ahead,' said Julie.
'Equally it was great to catch up with some of our Year 2 Athlete 'Teams', to see how they have progressed in the past 12 months and develop the education themes further with them as they take another step towards Senior athletics.
'The clear goal of the National Academy is about retaining our best young athletes so they are in the sport to make an impact at Senior level. It is pleasing to note we are seeing strong retention figures.
'It is also about working with the Athletes, Coaches and Parents involved to develop knowledge and provide tools around a range of performance factors (in partnership with the Scottish Institute of Sport), as well as sharing in the experiences of those who have navigated the performance pathway before.
'All of that will hopefully stand these youngsters in good stead to achieve the outcomes of the programme in the years ahead.'
scottishathletics regard the targets of the programme to be as follows:
*Improving the retention rate of our best age group athletes into the Senior ranks
*Increased representation on GB U18, U20 and U23 teams
*Increased representation on GB Senior teams and GB Performance Programme
*Greater number of young athletes on CWG 2022 team and beyond
*More medals at CWG 2022 and beyond
scottishathletics regard the benefits of the programme (as appropriate) as follows:
*Coach Education Opportunities
*Athlete Education Opportunities
*Parent Education Opportunities
*Subsidised Event Specific Competition Opportunity
*Physiotherapy / Functional Movement Screening Support
*Subsidised Training Camp Opportunity
*Physiotherapy Support

Tags: Carronvale, Julie Mollison, National Academy