Muir will bid for another Holmes record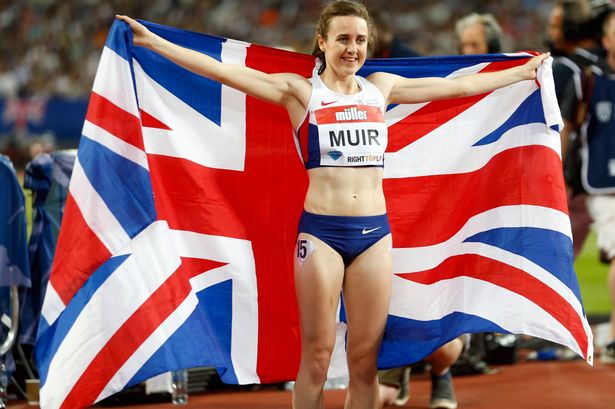 Muir broke the British 1500m record in London – before then doing so again in Paris
Muir breaks British and Scottish Records in London
Record bid coverage in The Herald
Laura Muir will look to rewrite the record books when she runs in the 1000m at the Muller Indoor Grand Prix in Birmingham in February.
The 23-year-old Scot will seek to better the British record held by Dame Kelly Holmes at of 2:32.96, which was set in Birmingham 13 years ago.
And Laura, currently training in South Africa with her coach Andy Young, will also have an eye on Maria Mutola's long-standing world record of 2:30.94.
Muir, who finished seventh in the 1500m at the Rio Olympic Games after a heroic effort, broke Holmes' British 1500m record in July with an incredible performance at London's Müller Anniversary Games in a time of 3:57.49.
An astonishing run at August's Paris Diamond League then saw Scot lower the record by two seconds as she sprinted to victory in 3:55.22. She now has her sights set on breaking another record at the Barclaycard Arena on 18 February.
'I'm really looking forward to the Muller Indoor Grand Prix Birmingham, it's a great opportunity for me to have a competitive race and go for a British record which would be a huge achievement,' said Laura.
'Kelly Holmes was a big inspiration for so many British athletes so to break another of her records would mean a lot to me and show that I'm progressing well.
'I'll also have one eye on Maria Mutola's world record; that will be tough but to be a world record holder would be incredible.'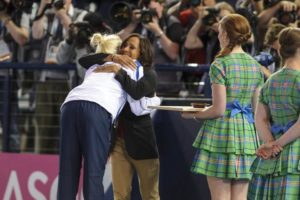 Dame Kelly Holmes pictured at Hampden with Lynsey Sharp at Glasgow 2014
Muir was victorious the last time the Indoor Grand Prix was held in Birmingham, winning the 1500m in 4:05.32 against a world class field, and is looking forward to returning to the Midlands for her first ever 1000m race.
'We don't get the chance to run 1000m very often so it will be good to do something different, especially in front of a British crowd at such a great event,' she added.
The Müller Indoor Grand Prix, the final of the prestigious IAAF World Indoor Tour and ranked as the No 1 indoor grand prix event in the world, returns to the Midlands in February having been held in Glasgow for the first time in 2016 as the city alternates hosting the event with Birmingham up to 2020.
It will be a vital event for British athletes as they prepare for a year which will include two global championships in the UK; the 2017 IAAF World Championships in London and the 2018 IAAF World Indoor Championships in Birmingham.
Tickets are available on the British Athletics website
*Check out our video interview with Laura on her 2016 as part of our Athlete of the Year package
Tags: Dame Kelly Holmes, Laura Muir, Muller Birmingham Grand Prix