Mo to race in Edinburgh XC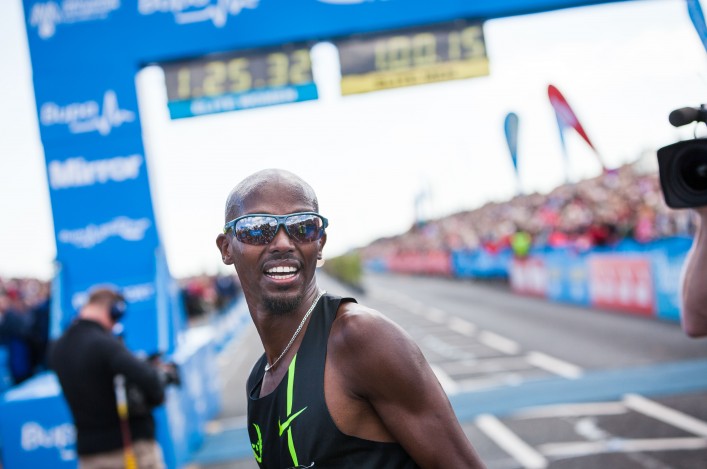 Watch Mo in the snow in the Edinburgh XC in 2010
Double OIympic champion Mo Farah will return to his cross country roots when he opens his 2015 racing schedule at the international Great Edinburgh XC at Holyrood Park in Edinburgh on Saturday 10 January.
Farah, who forged his distance running reputation as a winter mudlark and the reigning World, Olympic and European 5,000m and 10,000m champion will be contesting his first cross country race for four years when he lines up in the televised New Year IAAF event in the Scottish capital.
As a 15-year-old, Farah made his name on the national scene as a runaway winner of the intermediate boys' race at the 1999 English Schools' Cross Country Championships in Luton.
Seven years later, in 2006, he claimed his first international title when he won the senior men's race at the European Cross Country Championships at San Giorgio su Lugano in Italy.
Now, as he prepares for a 2015 summer track season in which he intends to defend his World Championship 5,000m and 10,000m crowns in Beijing, the 31-year-old home hero of London 2012 will be laying the groundwork with his first cross country race since he triumphed in the 8k Great Edinburgh International race in January 2011.
'Next year will be an important year for me and I'm looking forward to returning to the Great Edinburgh Cross Country to kick off my season,' said Farah.
'For many years I ran cross country to build my base for the summer track season and it will be nice to return to Edinburgh and try to repeat my winning run of 2011 there.'
Farah's US coach Alberto Salazar was best known as a marathon man – a three time winner of the New York City Marathon – but he was a firm believer in the benefits of cross country during his own trailblazing distance running career. He won the US title three times and finished runner-up to Mohammed Kedir of Ethiopia in the 1982 World Cross Country Championships in Rome.
Salazar played a key role in guiding Farah through a testing time this year, helping him back to international prominence. After finishing eighth on his testing marathon debut in London in April and then missing the Commonwealth Games in Glasgow because of illness, Farah won the 5,000m and 10,000m at the European Chamionships in Zurich in August, adding to the double golds he achieved at the 2012 Olympics and 2013 World Championships.
He then broke Steve Ovett's 36-year-old British two miles best time in Birmingham before ending his racing schedule for the year on a high, becoming the first British man to win the Great North Run since Steve Kenyon back in the mists of 1985.
'It was a fantastic feeling winning the Great North Run in front of a home crowd in September and I'm sure there will be plenty of support in Edinburgh for my first event in 2015,' said Farah.
The Great Edinburgh XCountry, televised live on BBC, is part of a New Year festival for runners of all abilities, based at Holyrood Park, next to the Scottish Parliament in Edinburgh.
The popular Great Winter Run, held on a scenic 5k course that loops around Arthur's Seat, provides the public with a perfect opportunity to dust off the New Year cobwebs before watching the world's best test themselves in the international cross country races.
For entry to the Great Winter Run visit the website
It is always a special day with the mass participation races, the International element and of course Scottish Inter-Districts races when select teams from East, West and North meet in Edinburgh.
Tags: Great Edinburgh XC, Holyrood Park, Mo Farah