Mark returns to Kilmarnock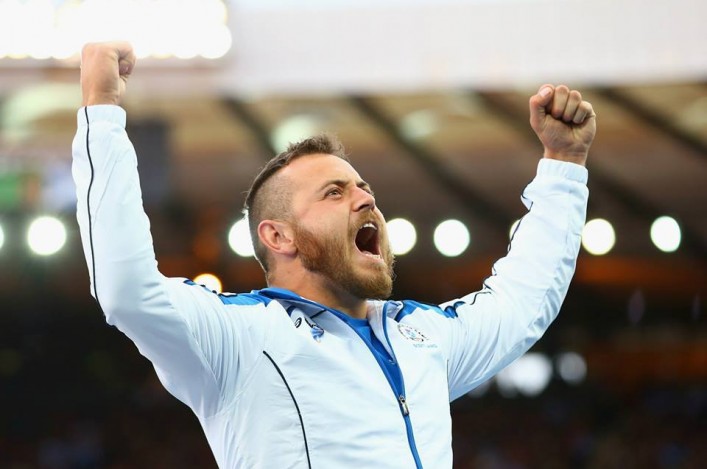 Hampden hammer hero Mark Dry will bid for his third successive Senior Scottish title at Kilmarnock this weekend.
The Commonwealth Games bronze medallist plans to savour the Athletes Parade in Glasgow on Friday but on Sunday it is back to business at the Ayrshire Athletics Arena.
Dry and around 20 others of the Team Scotland track and field squad from Glasgow 2014 are expected to compete at the scottishathletics Senior and Para Success Champs.
It marks the pinnacle of the season for many club athletes in Scotland with more than 300 entries received and Para events are integrated into the programme just like at Hampden.
'With Lynsey Sharp and Eilidh Child in Zurich and Libby Clegg preparing for the IPC Europeans  next week, I will be the only athletics medallist there,' said Dry, who faces his Team Scotland rivals Chris Bennett and Andy Frost.
'I'm coming north for the Athletes Parade and the Commonwealth Games Scotland dinner on Friday but Sunday is all about competition.
'I've won the title the last couple of years but I am sure Andy Frost and Chris Bennett, my team-mates at Hampden, will be busting a gut to beat me.
'In 2012 I won it with probably the best series of throws I've put together in a competition – four of them beyond 74m. Last year, there wasn't much in it between myself and Andy at Scotstoun.
'It will be very different from throwing in front of 40,000 at Hampden and everyone screaming their heads off for us. My preparation for this one will be more along usual lines.
'Kilmarnock is a great facility and we all enjoyed being there prior to the Games. The people are good and hopefully the Seniors will be a successful event. For the throws, a lot depends on the wind direction on the day.'
Three Commonwealth Games finalists meet in the women's hammer in the person of Susan McKelvie (6th at Hampden), Rachel Hunter (7th) and Myra Perkins (10th). World Juniors finalists Kimberley Reed will challenge that trio.
There is a big club element to the weekend, as well, with a points competitions across the event groups for both the Scottish Seniors and then the Age Groups at Aberdeen the following week.
We're delighted that our partnership with East Ayrshire Leisure and VincoSport will mean you can watch the action live from Kilmarnock on Saturday and Sunday afternoon.
All the start lists and timetable are now online on this website. The actions is from 12.45pm to 4.45pm on Saturday and from 12.45pm to 4.45pm on Sunday and we are urging clubs in particular to come along.
It is £3 for adults on the day to spectate with children under 16 free. All scottishathletics coaches and competing athletes are free.
.
Action starts at Kilmarnock at 12.45pm on Saturday and Sunday with most of the finals on the second day.
Tags: Kilmarnock, Mark Dry, Scottish Senior Champs