Making Hay at the GAA Miler Meet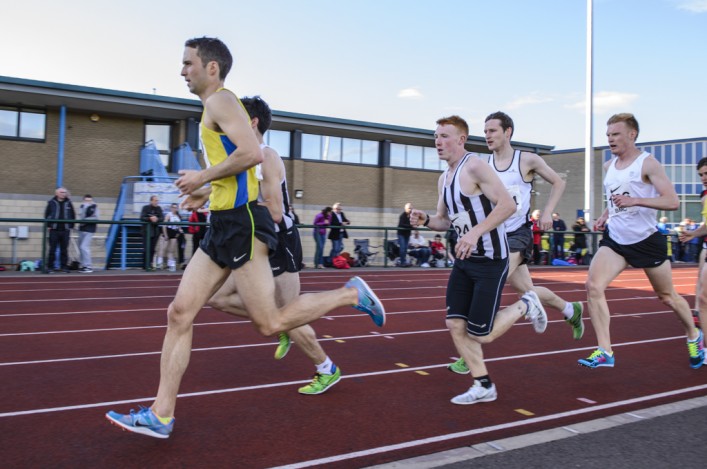 Hay leads the 3k race en route to 8.22 win – photo by Bobby Gavin
Alastair Hay won the main 3000m race at the GAA Miler Meet at Hutchesons' Grammar in Glasgow and then revealed he is revelling in a Central AC feelgood factor.
The Delhi Commonwealth Games representative recently set a PB for 5000m and he won in 8.22.79 from U20 Scottish gold medallist, Inverclyde's Jonny Glen, and third-placed Calum McKenzie of Corstorphine AAC.
Maddie Murray of Edinburgh AC won the top Women's 800m race in 2.05.69 and Cameron Steven of Lasswade was the fastest in the Men's A race at 1.53.52 for a PB. Stornoway's Eilidh MacKenzie set a PB to win the Women's 3000m race in 9.48.01.
Hay took his turn as a pacemaker, too, with these GAA Miler Meet events now hugely-popular with 14 races at 800m and four at 3000m in what was a record number of competing athletes.
There was a good turnout of spectators, also, and thanks to all clubs, parents and coaches who are supporting the event. Again, all at the GAA and scottishathletics would like to record their appreciation for volunteer helpers, officials and hosts Hutchesons' Grammar School in what was duly described as a 'slick' event on social media.
'It was good to win the race and I enjoyed it,' said Alastair, with his Central AC club-mate Kate Gallagher a gold medallist at U17 for the 3000m with one of the biggest PB performances on the night.
'The wind made it quite tough tonight but it was a pretty decent race. The Miler Meet events are proving really good for endurance athletes.
'I ran a PB recently at 5000m and the last one had been a number of years ago at that distance. I am now planning another crack at 5000m.
'Things are going well just now for Central AC. We have Andrew Butchart being selected for GB for 10,000m and the Euro Team Champs at 3000m and then this week Ross Houston was picked for the World 100k.
'It is great to see guys I know so well and have trained and raced with getting their reward. I'm delighted for Ross and Andrew really has been flying these past few months – he keeps everyone going at training with his banter.
'The progress and the selections rub off on others in the training group and reflect well on the club and that's great.'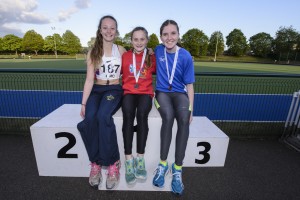 U17 Women 3000m medallists 
Scottish medals were on offer at U20 and U17 level for the 3000m races and Glen took gold with 8.29.06. Ryan Thomson of Ronhill Cambuslang took the silver with 8.36.13 and Alex Carcas of Edinburgh landed the bronze at 8.42.73 – with PBs there for Jonny and Alex.
That theme continued with Adam Scott a fine U17 gold winner at 8.38.39, with Sol Sweeney of Perth Strathtay second with 8.50.70 as he won his particular race. John Law of Glasgow School of Sport took bronze with 9.11.59.
Annabel Simpson won the U20 women's gold with a PB of 9.49.40 as she finished just behind race winner Mackenzie. Kirstin Oakley (Ayr Seaforth) and Gillian Black (VP-Glasgow) were the other medallists at 10.11.25 and 10.11.69.
The U17 top three were Kate Gallagher (Central AC) in 9.53.85; Lauren Dickson (Lasswade) in 10.27.07; and Heather Addison (East Kilbride) 11.08.90.
F1or Fife AC athlete Simpson is was a good way to end a tough week – Annabel having finished fourth in the GB Euro Hill trials last Sunday.
'That was an uphill only 4.4k race so I am pretty tired now,' she said.
'It was a good experience at Glenridding and I've gone very close to selection (with Catriona Graves of Garscube given the nod for Madeira) by finishing fourth on this occasion. Tonight I've managed to a couple of seconds off my 3000m PB and I will look to the Scottish Schools next week.'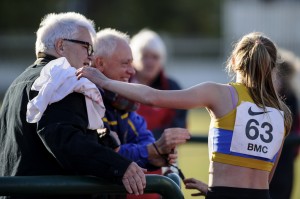 Erin Wallace celebrates a great 800m run with coach Dudley Walker
In the 800m races, Steven shaved his PB as he chases Commonwealth Youth Games selection. In that top race, he was followed home by Jamie Doris and Aidan Gilbride.
Murray won a closely-contested women's race from Philippa Millage and Jenny Tan.  Five athletes went under 2.10, and indeed there were four PBs out of those top five athletes.
And one of the best performances of night came from Erin Wallace in the Women's B race as she clocked a superb 2.07.74.
That was a British rankings lead at U17 for the 15-year-old from Giffnock North AAC and was also inside the 2.08 being asked for World Youth Games.
But the British Athletics selection policy confirms Erin will be considered too young for the event in Colombia as a 2000 year of birth, with those from 1999 and 1998 being considered.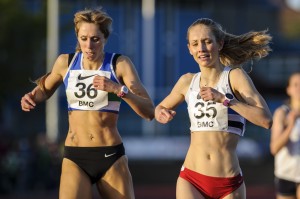 Good finish at 800m between Philippa Millage (left) and winner Maddie Murray
*The next GAA Miler Meet – the third of a summer series – is back at Hutchesons on Friday 24 July.
Races that evening are over 1500m and 5000m and entries are now open online via the British Milers Club website. There are up to 140 spots in the 1500m and 40 over 5000m.
This event doubles up as the scottishathletics District Champs for 5000m for Seniors – with East, West and North medals awarded depending on times and the geography of the athlete's club.
If you are among those competing this Friday or indeed missed out on the 800/3000m event, then why not enter now for 1500/5000m – with the July 24 event scheduled appropriately to fit with forthcoming Scottish Senior and Age Group Champs at Aberdeen and Grangemouth respectively in August.
Tags: Adam Scott, Alastair Hay, Annabel Simpson, Cameron Steven, Eilidh MacKenzie, Jonny Glen, Kate Gallagher, Maddie Murray