Noticeboard: GP; Butchart; Town of Runners; Pavey; East Lothian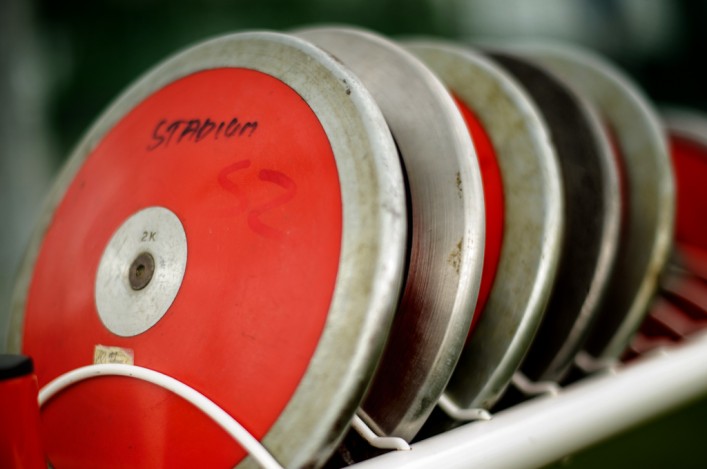 The second of the scottishathletics Throws and Jumps Grand Prix meetings takes place this weekend at Livingston.
Following a successful first event back in April, there's a good entry for the return to Craigswood with around 150 athletes on start-lists.
The timetable has been altered following a couple of issues in the opening of the four-event series, which continues later in the summer.
We hope that these changes will make it a better experience for athletes, coaches, parents and indeed the scottishathletics officials who make these events possible.
Up-dated start-lists are online on the Events section of this website and also available here.
The other remaining two date for the Throws and Jumps Grand Prix events are as follows (both at Livingston): July 25/26 and the GP final on September 5/6.
Andrew Butchart: 10,000m European Cup
Andrew Butchart has thanked British Athletics for taking a 'gamble' on him as he prepares to represent GB and NI in Italy and Russia this month.
The Scottish National Cross Country champion has featured at the Euro Cross and the World Cross in the past few months but is now making a significant impact on the track.
Butchart is headed for Sardinia to compete in the European 10,000m Cup on Saturday and then, a fortnight later, is one of six Scots who will travel with GB to the Euro Team Champs in Cheboksary. The Central AC athlete will race at 3000m in the June 20/21 event.
'I have to thank them for taking a long-shot on me,' said Butchart.
'I've never actually run a 10,000m race on the track before now and yet I've been selected for the European Cup! I've done well in cross country and in 10ks on the road, however, and had good times at 1500m and 5000m. I've spoken a lot to them about the transition.
'I came back from the World Cross in China in March and sat down with my coach, Derek Easton, and we targeted certain things on the track. But I have to admit it has been even better than I could have hoped for and I'm delighted to be racing for GB in Italy and Russia.'
A recent 5000m run in Belgium at 13.33 proved emphatically Butchart is in great form – it was the seventh best at the distance of all-time by a Scot.
'We knew if I could get a good time there then the 3000m slot for the Euro Team Champs might be a possibility. There are still others who could have been selected, though, so again it is good to get the nod.
'It will be the first time I've been away with sprinters, throwers and jumpers which is exciting for me. Normally I am just with the endurance athletes!  This is a strong GB team with some big names and you look to pick up things from speaking to and training with experienced people.'
What do Kenenisa Bekele, Tariku Bekele, Tiki Gelana, Tirunesh Dibaba and Genzebe Dibaba all have in common?
Apart from being championship medallists they were all born and raised in Bekoji, Ethiopia, and started to run under the guidance of legendary coach Sentayehu Eshetu.
Now there is a great education opportunity coming up for the endurance community in Scotland – and indeed all athletics fans – to watch the award-winning film 'Town of Runners' and meet coach Eshetu. It is happening in Edinburgh on Tuesday 16 June from 6.30pm to 8.30pm and is FREE.
All you have to do is register in advance that you plan to attend and there are more details about how to do that online.
+++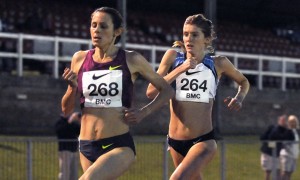 Jo Pavey on track with Beth Potter
Jo Pavey, the inspirational European 10,000m champion, is to make an emotional return to Glasgow for the 2015 Bank of Scotland Great Scottish Run as she prepares to challenge for a fifth Olympic appearance.
The 41-year-old Exeter Harrier has decided to include the popular half marathon, which takes place on Sunday 4 October, in her autumn racing schedule as she maps a potential path towards next summer's Olympic Games in Rio de Janeiro.
It will be Pavey's first race on Scottish soil and back in Glasgow since she captured the imagination of the British sporting public by battling to a Commonwealth Games 5,000m bronze medal as a fortysomething mother of two on 2 August last year.
Just ten days after charging up the home straight at Hampden Park to secure a podium place at Glasgow 2014 behind Kenyans Mercy Cherono and Janet Kisa, the super-mum from the English west country hit the headlines again as she stormed to 10,000m gold at the European Championships in Zurich.
'It means a lot to me to be coming back to Glasgow for the Bank of Scotland Great Scottish Run,' said Pavey, who will be back in a Great Britain vest this Saturday (6 June), competing in the European Cup 10,000m race in Chia-Pula, Sardinia.
'I really wanted to run last year but it was not possible because of injury. I think it will be quite emotional for me to be back in Glasgow again. I'll never forget the deafening noise that night I ran at Hampden. It felt like a repeat of London 2012. It will be great to come back to run a half marathon through the city.'
The Bank of Scotland Great Scottish Run is open for entries at www.greatscottishrun.com
*On the subject of Great Scottish Run – the race is the Scottish Half Marathon Champs as part of the Road Running Grand Prix Series for 2015.
And scottishathletics would like to flag there are elite athlete places on offer for a half marathon run on October 4 – if athletes meet certain standards.
These are outlined on the link here with the basic 10k standards being an ability to run under 31 minutes for me and under 36 for women. There are other criteria for 10-mile, half marathon and marathon and we would urge Scottish athletes who meet the standards to take up the option on what is recognised as a course where fast times are possible.
The 'Team East Lothian Track Time Trials' take place at Meadowmill on Tuesday 23 June – and this is another Open Graded opportunity for athletes from all ages from U13 to Senior.
There were around 250 athletes at the first of the series and there is now a limit being applied to events  (with each athlete at the moment allowed to enter a maximum of two events).
Hurdles races are proving popular with development races, with low height/non-competition height sprint hurdles taking place, as well as a 200m Hurdles and 400m Hurdles. As well as 100m, 200m, 300m, 400m, 800m and 1mile. This particular event is track only (there is a field event on August 11).
Online pre-registration is required and people can sign up online. The pre-registration is free online, but an entry fee is payable on the day by donation (suggested amount of £3 per event)
Tags: Andrew Butchart, Great Scottish Run, Jo Pavey, Livingston, Throws and Jumps Grand Prix, Town of Runners