Lynsey has Sum's number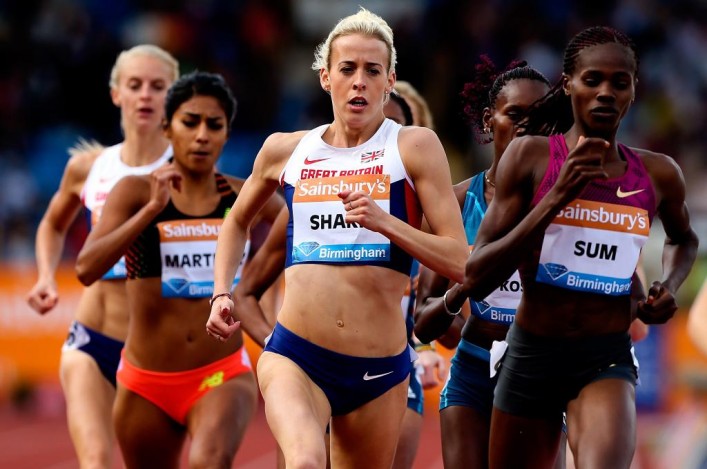 Lynsey Sharp may now be close to exhaustion after a thrilling summer but not before she posted one of the finest vistories of her career in the Sainsbury's Birmingham Grand Prix.
A first win in the Diamond League is impressive in itself and there was the significant added bonus of taking the scalp of World and Commonwealth champion, Kenya's Eunice Sum, as the Scot 'avenged' her Hampden 800m final and beat the women who forced her into second that memorable night.
Sharp did so with a terrific finishing surge over the last 20m and there was further encouragement for Scotland with Laura Muir taking fourth in the race and posting a new PB at 2.00.67.
Lynsey won it in 1.59.14 as she once again went under the two-minute mark which not so very long ago looked something of a barrier to the Edinburgh AC athlete.
'I have very tired legs and it's been hard to pick myself up after the Commonwealths and Europeans and carry on,' said Lynsey.
'It's amazing to have a full crowd cheering you on – to come back and run in front of a home crowd at the end of the season is brilliant.
'I'm also running in Brussels next for the final Diamond league event but then I will need a bit of a holiday. I think I am due one!'
Lynsey was interviewed post-race by GB athlete Christian Malcolm for British Athletics. Laura was also interviewed on camera.
Fresh from European Championship glory, Eilidh Child couldn't quite catch rival Kaliese Spencer who beat her to Commonwealth Gold in Glasgow.
Spencer has all but secured the 400mH Diamond League title with a 53.80 clocking ahead of Child's 54.89. Eilidh is now placed and she was pleased with her efforts on the day.
Eilidh said: 'I tried a new stride pattern today and it went well. Majors are now over so it's all about having fun now.
'I enjoyed Glasgow and ran well and then had to keep focussed in Zurich. It's very positive going into the next few years as I dealt with the pressure.
'The Diamond League is really going well for me this year and one of the plans this season was definitely to race more there and become accustomed to racing at that level consistently.'
Later, Eilidh spoke to Christian Malcolm in a video interview for British Athletics.
In a 600m race dominated by 800m World Record Holder David Rudisha, young Briton Kyle Langford broke the British junior record with 1:16:30 to finish in seventh place, with compatriot Guy Learmonth in ninth in 77.13.
Laura Whittle was the other Scot involved at Birmimgham on Sunday and she finished 13th in the women's two-mile race in 9.49.17.
*The IPC Athletics Grand Prix Final followed on immediately from the IAAF Diamond League action in Birmingham and there were a number of Scots in action.
Stef Reid  jumped out to 5.26m in the third round to accumulate 949 points, coming third overall in the T42/44 long jump behind a new T42 World Record of 4.60m for Germany's Vanessa Low.
Stef said: 'It was frustrating – I had big jumps which were fouls but had lots of fun and it's good to walk away hungry for more.
'Overall 2014 has been an awesome year – beyond my expectations. There has been lots of progression which has been positive. This is my last competition of the summer so I can have four to six weeks off now.'
Other Scottish performances were: Lee Lower (seated shot) 3rd place and season's best; Jo Butterfield (seated club) 1st ; Owen Miller T20 1500m 6th; Sammi Kinghorn T54 1500m 5th; Meggan Dawson Farrell T54 1500m 6th .
*Dublin staged the Frank Duffy Memorial 10-Mile race on Saturday with Scotland having sent seven athletes to Ireland to compete.
And there was good success with Andrew Douglas winning the men's race and our three women picking up second, third and fifth place in the women's race with fine performances.
Inverclyde AC's Douglas has been in fine form this summer as a newcomer to the British hill running scene and the switch to the roads proved no problem as he won in 49.59.
Neil Renault finished sixth in 50.59 and Max McNeil was ninth in 52.21. Derek Rae ran 54.45.
In the women's race, the places were as follows: Megan Crawford of Fife AC took 2nd in 57.28 with Central AC's Jennifer Emsley 3rd in 57.38 and Shona McIntosh (HBT) 5th in 59.09.
Well done to those representing Scotland in Dublin over the weekend and thanks to Ron Morrison for the team picture.
Tags: Andrew Douglas, Birmingham Diamond League, Eilidh Child, Guy Learmonth, Laura Muir, Laura Whittle, Lynsey Sharp, Meggan Dawson-Farrell, Sammi Kinghorn, Stef Reid