'Legacy in advance' at the Scottish Schools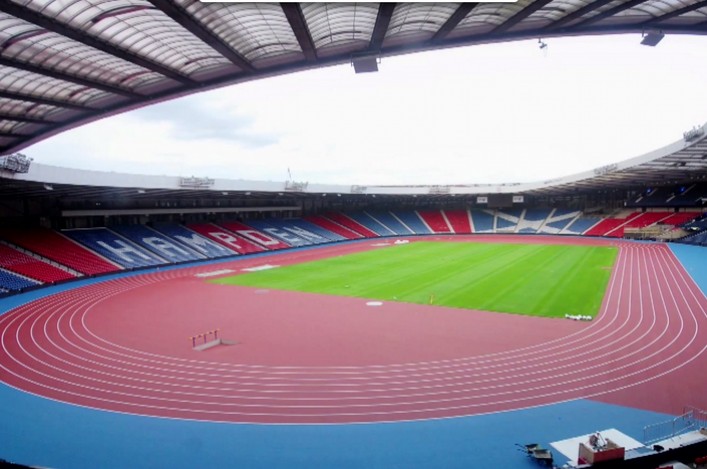 Hampden provided a magnificent backdrop for the Scottish Schools Secondary track and field finals over Friday and Saturday.
The warm weather conditions certainly helped performances as 'testing procedures' were undertaken ahead of the Commonwealth Games.
Ciaran Wright picked up the Eric Liddell Memorial Trophy for the best male performance for setting an U20 age group championship best in hammer and collecting gold also in discus and silver in the shot.
He was presented with the trophy by Hugh and Chris Baillie with the father-and-son duo both former winners (50 and 15 years ago). Mhairi Hendry collected the Frances Barker Shield for the best female performance after winning a 400m and 800m double. Sheila Baillie made the presentation to Mhairi.
Three northern athletes also came up with fine performances with Andrew McFarlane, Alisha Rees and Dionne Milne in good form.
McFarlane bettered his own U15 record in pole vault with a 3.70m clearance. Rees duly recorded a sprint double at 100m and 200m in 12.05 and 24.54 – both of those times inside the U17 all-time top 10 and bettered only by Kathryn Christie at senior level this year. Thrower Milne reached 44.09 in the discus and that was just 25cms off Alison Grey's Scottish U17 record.
For everyone, the very participation in the first track and field competition at the Glasgow 2014 venue was an exhilarating experience and hopefully one which helps keep many of our teenagers in the sport over the next few years.
In the younger age-groups, of course, there had been the added issue of qualifying for Hampden via a preliminary event at Grangemouth a couple of weeks earlier in order to try and make numbers more manageable.
As always on these occasions, a big thank-you is due to the scottishathletics officials who were on duty throughout Friday and Saturday and the volunteers who staffed areas such as delcarations, call room and so on.
Event gold medallists are listed on the Scot Stats website here
http://www.scotstats.com/sats/index.php?page=results
Full results will appear in due course on the Scottish Schools website itself here www.ssaa.co.uk
And it is well worth checking out photographer Bobby Gavin's website for pictures from Friday and Saturday. See http://www.thatonemoment.co.uk/
Tags: Chris Baillie, Ciaran Wright, Hampden, Mhairi Hendry, Scottish Schools