Legacy? 1097 enter Age Groups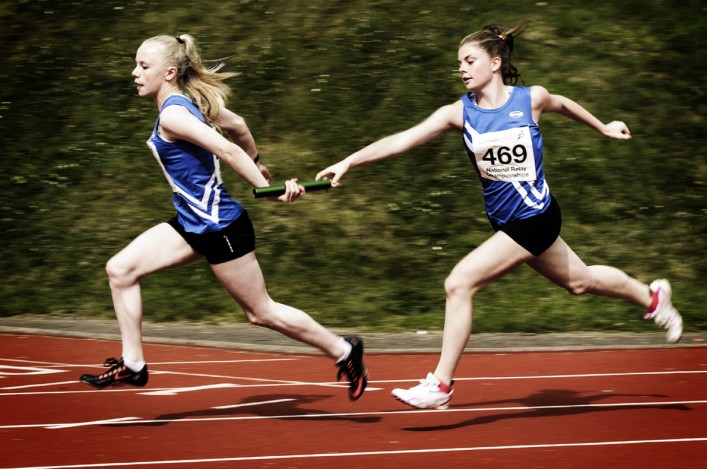 Clubs: grabbing the legacy baton – photo by Bobby Gavin
Young Scottish athletes have delivered a huge seal of approval for the sport and handed further evidence of a Hampden sporting legacy.
Entry numbers for the our Age Group Championships at the Emirates Arena in Glasgow later this month are at record levels with an incredible 1097 names on start-lists.
That's just 17 shy of double the 557 total number of young athletes who entered the same event three years ago when it was staged for the last time at the Kelvin Hall early in the Olympic year of 2012.
It is a remarkable endorsement of a commitment to competition by our young athletes in the wake of London 2012 and Glasgow 2014 and reflects growth across the sport with membership increases, more coaches qualified and new recruits being retained.
And there's huge encouragement for the sport and the governing body with scottishathletics revealing that the combined tally of entries for U17 and U20 age brackets at the Emirates is 547 – just 10 short of the total figure across four age groups for that 2012 event at the old Kelvin Hall indoor track!
Here's the breakdown on the four age group athlete entry figures for February 14/15 at the Emirates Arena:
U13 218; U15 332; U17 326: U20 221
It should be noted that the younger athletes in our U13 bracket were encouraged to compete at the U12 superTEAMS last month, when around 400 youngsters representing 100 teams each competed in four different disciplines.
So once again we're delighted to offer a huge 'thank you' to clubs, coaches, athletes and parents for showing such a desire to compete for PBs at the Emirates and raising our participation numbers.
National agency sportscotland have already revealed figures which suggest the impact of the Commonwealth Games is being felt across all 17 sports which featured at Glasgow 2014 – with athletics enjoying a 25 percent rise in governing body memberships over a four-year period as clubs welcome in the next Lynsey Sharp, Eilidh Child, Libby Clegg, Mark Dry or Chris O'Hare.
'To me there are a couple of clear reasons why we are seeing this staggering rise in entry numbers for our Age Group Champs – young athletes demonstrating a big commitment to competition,' said chief executive Nigel Holl.
'I want to take this opportunity to recognise those that are enabling this tremendous growth.
'First of all, it's down to athletics clubs in Scotland (there are around 150) and their hard-working coaches. They have prepared for and coped with the catalytic impact of both the 2012 Olympics and the 2014 Commonwealth Games.
'The clubs and coaches have welcomed new young athletes in . . . nurtured them, motivated them and inspired them. They do it in their spare time as dedicated volunteers and these numbers demonstrate what a cracking job they are doing – the length and breadth of Scotland.
Secondly, people don't come back if they don't enjoy the experience, so enormous credit must go to our officials and competition organisers.
'We are fortunate to have an excellent competition venue at the Emirates Arena for indoor athletics; but the environment is made by the people on the day. I salute our officials who week in, week out spend long days giving athletes of all ages the competitive opportunities. Again, these people are volunteers and they are the very fabric of the sport.
'So, I think we're seeing clear evidence that 'legacy lives'. It lives because people in athletics have made it happen. It's not by chance, but it has taken hard work – and that hard work will continue for years to come.
'Let me offer both a collective thank-you from scottishathletics as a governing body and from myself as supporter of the sport to all those athletes, clubs and parents who took the time to enter. And, in advance, to our officials who are set for a very busy – but hopefully rewarding – weekend at the Emirates.'
We will be on Twitter at the Age Group Champs with the hashtag  #SALAgeGroups
sportscotland media release around Membership rises at Glasgow 2014 sports
Tags: Age Group champs, Chris O'Hare, Eilidh Child, Emirates Arena, Lynsey Sharp, Nigel Holl