Laura is looking so strong – Eilidh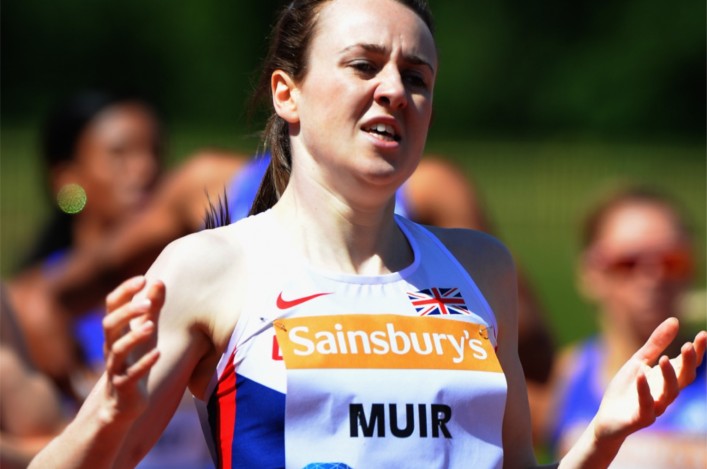 Laura Muir crosses the line for 800m PB – photo Getty Images/British Athletics
Eilidh Child was in the warm-up area at Birmingham's Alexander Stadium when Laura Muir delivered the latest compelling evidence that she has 'moved on' from a tough 2014.
But the European 400m hurdles champion wasn't the least bit surprised to hear her regular Diamond League room-mate had set a second PB in three races at three different distances in a great start to the season.
Laura clocked 2.00.42 to finish second in a high class 800m race in Birmingham behind World and Commonwealth champion Eunice Sum.
It followed a PB at 3000m in Holland and a really fine run at 1500m in Rome last Thursday when she went close to her own Scottish record – on a trip where she shared a room with Child.
'I didn't see Laura's race today as I was getting ready for the hurdles but she's getting so close now to getting under two minutes,' said Eilidh, who with 55.14 was fourth in the hurdles in a field which featured Kaliese Spencer and Zuzana Hejnova setting season's bests just ahead of the Scot.
'Laura is going so well and what versatility again – 3000m, 1500m and 800m. She had a few blows last year in terms of the championships and she has said herself she had nothing left mentally after the Commonwealths.
'It was so unfortunate because she ran some very good times in 2014. In athletics, people always want to win the next race and don't show a great deal of patience.
'Laura is getting experience now and she is doing that at a very young age. I didn't do anything like that at her age and when I room with her now I think of her as similar age to me! Because she is so professional about everything she does.'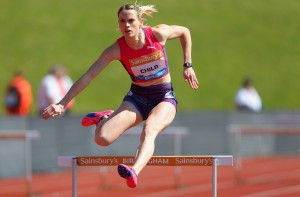 Eilidh Child in action in Birmingham – photo Getty Images/British Athletics
Spencer won Child's race with 54.45 and it is clear the quality in the event for 2015 will be strong.
'It was quite close and I am happy technically although it was quite windy,' added Eilidh.
'I faded off the first hurdle but that is due to a lack of fitness as it is only my third race of the season.  I ran well in Rome last week – I was happy with the race rather than the time.  It is a busy year for me as I am planning my wedding as well!
'There's a lot of quality now with Kaliese, Zuzana Hejnova, a couple of Americans and others. If people think I am going to breeze into the final at the Worlds easily just because I did two years ago then they may have to think again – it is a different year and it will take a really big effort to do that.'
Muir was delighted with her run and rightly so. Her  erstwhile PB was 2.00.67 but she shaved that again – and that with running wide on occasion simply to get to where she hoped to be.
'I didn't really know how the legs would fare today after racing in Rome but I was really please with my performance out there,' said Laura. 'I knew I was in PB shape and to do it on tired legs is a bonus.
'I am racing a 1500m in Oslo on Thursday night and then after that we will put all the focus on the British Champs trials for Beijing. I've not won the outdoor British title yet and was second last year so I have to set my sights high and look to win that weekend in Birmingham.'
Unfortunately, the men's 800m was less positive from a Scottish perspective as Guy Learmonth ended up face-down on the track just at the bell after a collision. And this in the week he was picked by GB for the Euro Team Champs following a training spell with the man who won the race in Birmingham – Nijel Amos.
'I got tripped at 400m so I don't really know what to say,' said Guy.
'I'm really disappointed as I'm in great shape but I'll move onto the next race.  Sport is always a rollercoaster and I was on a high after the GB selection for the Euro Team Champs.
'Now I am going to have to find a race in the next couple of weeks and the irony is I turned down one in Paris on Tuesday because of Birmingham.'
Jake Wightman finished 11th in the men's 1500m with 3.45.07 and Luke Caldwell was in the same finishing position in the men's 5000m with 14.27.33.
Tags: Eilidh Child, Guy Learmonth, Jake Wightman, Laura Muir, Luke Caldwell, Steph Twell