Kerr savours superb NCAA Mile title gold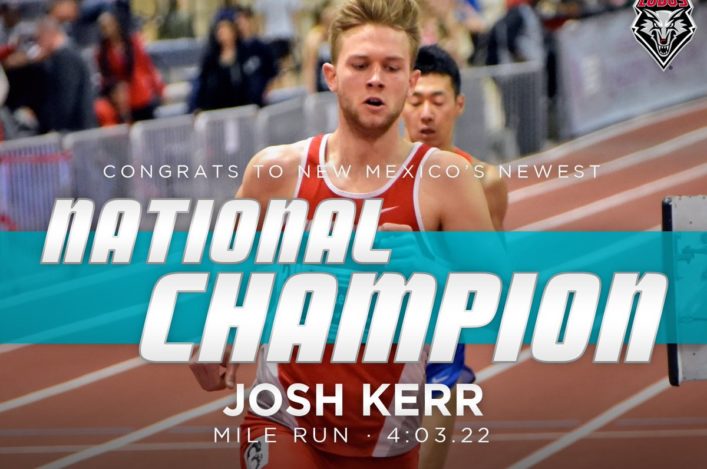 Josh Kerr put another huge marker down on his burgeoning track career with a superb win in the NCAA finals in Texas.
The young Scot, who is studying at New Mexico University, took the coveted indoor Mile gold with a run of 4.03.22.
Josh beat the strongly-fancied, and multiple NCAA medallist, Edward Cheserek into second place with a wonderful performance to add this title to the European U20 1500m crown he won a couple of years ago.
'I am pretty shocked at the moment but I knew how fit I was and I stuck to my race-plan so it is great the way it turned out,' said Josh.
'Scottish athletics is going pretty well at the moment so I'm delighted I've been able to weigh in and do my bit for that, as well.'
Kerr becomes the fourth cot to win an NCAA indoor title, Meg Ritchie having won the shot in 1983, Chris O'Hare the mile in 2012 and Jax Thoirs won the pole vault last year. Outdoors, Ritchie took the shot and discus titles in 1982 and Nick Percy won the discus title last year.
Neil Gourley was close to the medals, as well, with a fourth place finish in 4.06.26.
Congratulations to Josh, his family and his coach on another performance and which gives Scottish endurance a huge boost. Well done to Neil, too.
Josh, of course, is a product of the Edinburgh AC club and was coached in his formative years there by Dave Campbell. Mark Pollard was also latterly influential with Josh now a Freshman at New Mexico Uni where he is coached by Joe Franklin.
Both Scots had run faster in the heats with Neil at 4.00.1 and Josh at 3.59.90.
Those are very fine performances in an all-time context in terms of the Scottish Indoor ranking list for the Mile – where five of the top seven are current athletes.
Tags: Chris O'Hare, Josh Kerr, Meg Ritchie, NCAA, Neil Gourley, Nick Percy