Keeping Track . . . our new column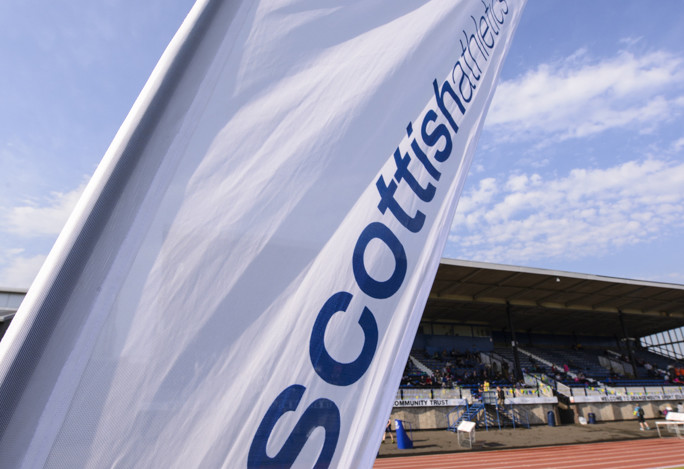 Photo by Bobby Gavin
By Peter Jardine
Keeping track on what's happening right across the board in athletics in Scotland (and beyond) can be difficult at times.
Five years ago, we set out to make the scottishathletics website the go-to place for as much information as possible that was pertinent to athletes, coaches, clubs, Officials and volunteers – as well as those with even only a passing interest in our sport.
We'd like to think that's being achieved and, although our social media pages on Facebook and Twitter have undergone an 'explosion' of interest, much of the material links back to here.
In the hope that there's always an appetite for more, therefore, today we 'launch' what may become a regular or occasional feature which seeks to highlight a few more points of interest (similar to our Noticeboard stories, but in a slightly different style).
If you enjoy, or otherwise, any of the below and feel inclined to comment or inquire then please email peter.jardine@scottishathletics.org.uk
+++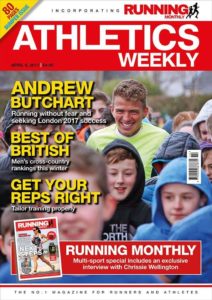 Our Olympians are as good a place to start as any. It really has been great to see in recent months how that record representation of 15 athletes in Rio for the Olympics has sparked more coverage in the mainstream (and athletics) media.
As just one example, there is now barely a month passes without a Scot making the cover of Athletics Weekly – with Andy Butchart featuring in the slot a couple of weeks ago.
Inside the magazine, Andy spoke again about his own athletics journey – he was by no means an outstanding performer while at school – and also about the current no-fear attitude coursing through our top Scots.
'I watched Laura Muir and Eilish McColgan at the European Indoors on TV and they both performed so well that it just inspired me to get out the next day and smash out a run,' he said.
'It is inspiring watching them so, for the general public, hopefully it does the same to them as it does for me. I think Scottish athletes are the moment kind of have, I dunno . . . We're not bothered if it goes wrong so long as we know we have given 100 percent. I think everyone in Scotland thinks like that, it's just the way we have been brought up.
'I am always going to give 100 percent from the gun and I am not going to let someone push me around. I am going to try and be in charge and I guess every athlete in Scotland is looking at it right now because that's what is happening at the moment.'
+++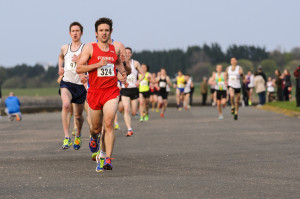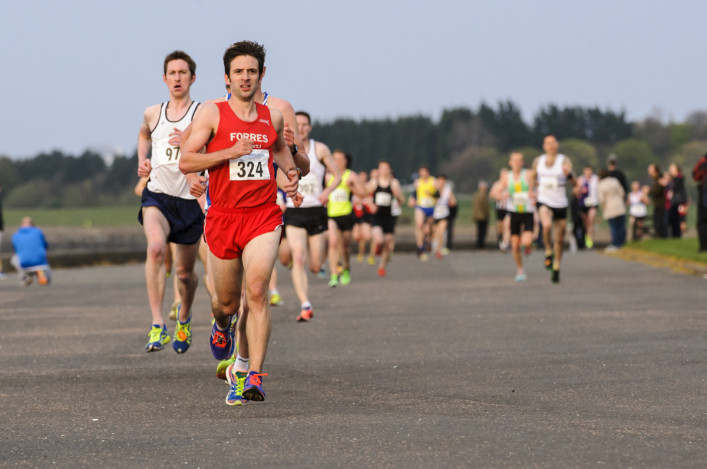 Mark Mitchell won Scottish 5K Champs last year
Talking of Butchart, it is not so very long ago that winning the Scottish 5K Champs was one of his main achievements. That happened back in 2013, with a time of 14.35. Callum Hawkins then raced it in 2015, with a course record of 14.17 at Silverknowes, with Mark Mitchell taking gold in 2017.
The Run and Become event is on Friday 5 May again this year and the race's reputation for PB performances precedes it.
Entry numbers are growing rapidly, also, as has been the case with so many Scottish National events (and club races, too) over the past couple of years.
The finishing numbers for the past three years are: 2014 – 271; 2015 – 327; 2016 – 387.
With over 450 entries for this year already, there's more evidence of healthy growth in our sport and a week prior to that, on Friday 29 April, a record entry will compete in 10,000m on the track at Crownpoint at the GAA Meet.
Very positive signs and thanks for the support of these events.
+++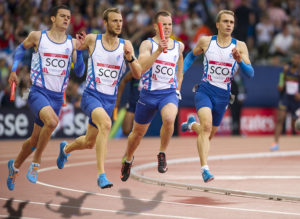 While a number of top level careers blossom, others come towards an end. It is the very nature of sport.
Jamie Bowie has 'hung up his spikes' to focus on coaching and his role with Scottish Gymnastics, where he will be team manager for Gold Coast 2016.
The Team East Lothian athlete, raised by Inverness Harriers, has made a big contribution to 400m running in recent seasons and in the Press and Journal told Fraser Clyne about his decision to quit.
'I was spreading myself too thinly. I give 100 percent commitment to everything I do and I am very meticulous. It was difficult to do that across so many different interests – now I have stopped any structred training and will focus on coaching. It is still a bit raw and I am frustrated and disappointed but I think I had to do it.
'It is time to give something back to the sport and hopefully I will get as much out of that as I have from being a competitor.'
Jamie's 46.06 PB has him fourth in the Scottish all-time list outdoors and he is second on the indoor rankings with 46.58. He won GB vests, international relay medals and Scottish titles. Jamie was also involved in the 4 x 400m National Record run at Hampden at Glasgow 2014.
We wish Jamie well for the future.
*Incidentally, no harm in mentioning what a terrific job well-known former athlete Fraser Clyne does in the Grampian region covering our sport.
As well as recently covering Jamie's retirement, Fraser is this week tracking Kelsey Stewart's Euro U23 ambitions for the summer; RunBalmoral and Robbie Simpson's marathon bid in London. Suspect that Robbie would be delighted to get within three minutes of Fraser's marathon PB of 2.11.50.
+++
Photo via Twitter (Tom Chandler)
Scanning coverage of athletics in Scotland (part of the daily routine for scottishathletics comms), notice the Stirling Observer reporting on work on a £90,000 project at Balfron High School.
Stirling Council are heavily involved in backing the plan for 100m straight track plus long jump and throws areas, in what is known as an Athletics Compact Sports Facility.
Here are comments from our chief executive, Mark Munro, from the story: 'Compact Athletics Facilities are a key component with our National Facility Strategy with Balfron being one of those targeted projects.
'Balfron HS and Central AC operate a satellite centre from the school which has a strong tradition of developing athletes of all levels to their potential with extremely limited facilities.
'We are delighted that Stirling Council have invested in this project along with support from local community organisations and Central AC. It will provide a great opportunity to grow the sport both through the school and within the local community as a whole.'
We are aware of other track projects at venues like Cumbernauld, Bishopbriggs, Fraserburgh and others and hopefully those will help fill facility gaps in certain regions.
+++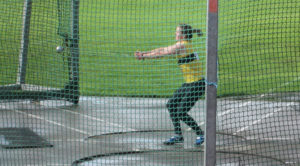 Photo by Kirsty's coach, Jim Green
Regular observers of our output may have noticed that there's a strong emphasis on Senior or U20 athletes in our coverage.
We tend to draw an (imaginary) line at around 16 years of age and put most of our focus on those who are older than that and have been in the sport a bit longer than just a couple of years. (And, yes, we're making an effort to do more on Masters athletics, in a crammed field of available content!).
We're absolutely committed to supporting events and helping clubs in the development work in the younger age groups but, for all sorts of reasons, don't always think it is appropriate to 'major' on winners.
National Records would be something of an exception on that loose policy stance, however. So it is well worth saying well done to young Kilbarchan AAC thrower, Kirsty Costello.
Kirsty is making a big impact on the U15 hammer at the moment. Her most recent throw, at the Linwood Open Graded event on Tuesday evening, reached 54.90m and that is now awaiting ratification as a new Scottish U15 Record in that discipline. She previously threw 54.02 in Blackpool earlier this month.
Many congratulations to Kirsty, her family and coach and those at the club helping in her development as a promising young athlete.
Tags: Andy Butchart, Athletics Weekly, Balfron High School, Fraser Clyne, Jamie Bowie, Kirsty Costello, Mark Munro, Scottish 5k Champs