Meet George Black, Fife AC's 'stenturion'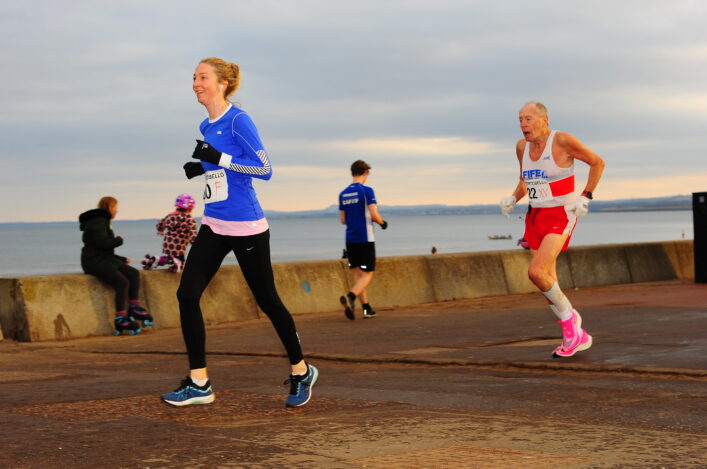 George Black on his way to an age group World best at Portobello in January (photo by Bob Marshall)
By Katy Barden
'I'm an Arthur Lydiard man,' explains 80-year-old George Black, when asked about his training.
Lydiard, whose training methods are based on building a strong endurance base and periodisation, has been referred to as one of the outstanding athletics coaches of all time.
'I had the pleasure of meeting the great man,' says Black.
'Henry Mutchamore brought him up to Meadowbank to do a talk. I had bought Lydiard's book when I first started running in 1982 and everything I did was based on that.'
Lydiard's training is governed by a set of five principles that apply to runners of all abilities – general conditioning (marathon type training); hill repetitions; strength endurance; speed endurance; and peaking. Such principles have served Black well.
His successes over the years – which are varied and many – include British and Scottish Veteran Half Marathon titles, a series of international cross-country podium finishes and a range of national records across the age groups, as well as a European Duathlon title (over-65s) and twice World Duathlon Championships silver medal (over-70/80).
The Fife AC runner kicked off 2020 with a well-publicised age-group world record for four miles, clocking 30:10 at the Portobello Promathon. His end of year target is the World Duathlon Championships.
Not bad for a man who only started running at the age of 42 after a 20-year break from any sort of sport, then had a heart attack six years ago.
'I was out on my bike and although I had no pains or anything, I knew something wasn't right,' says Black, a former racing cyclist.
'I cycled home, went to bed and I felt horrible. I phoned my pal, a doctor, and it turns out it was a heart attack. Sometimes you just don't know you're having one.'
While that may be the case, Black is arguably one of a kind.
He has previously endured the agonising pain of multiple vasovagal attacks, episodes so intense they can cause him to pass out, covered in sweat.
'I had one at work once and my secretary thought I was dead,' he says, matter-of-factly.
The heart attack, it seems, was just a mild inconvenience in comparison, and it certainly hasn't held him back.
'I know not everybody can come straight back to exercise from a heart attack and, of course, you should get the ok from your doctor first. But they took me in, fitted a stent, and I'm fine.
'There's a group of us at Fife AC, the 'stenturions'. We've all had stents fitted and the group's gradually increasing. We've all had the operation and we're all back exercising again.'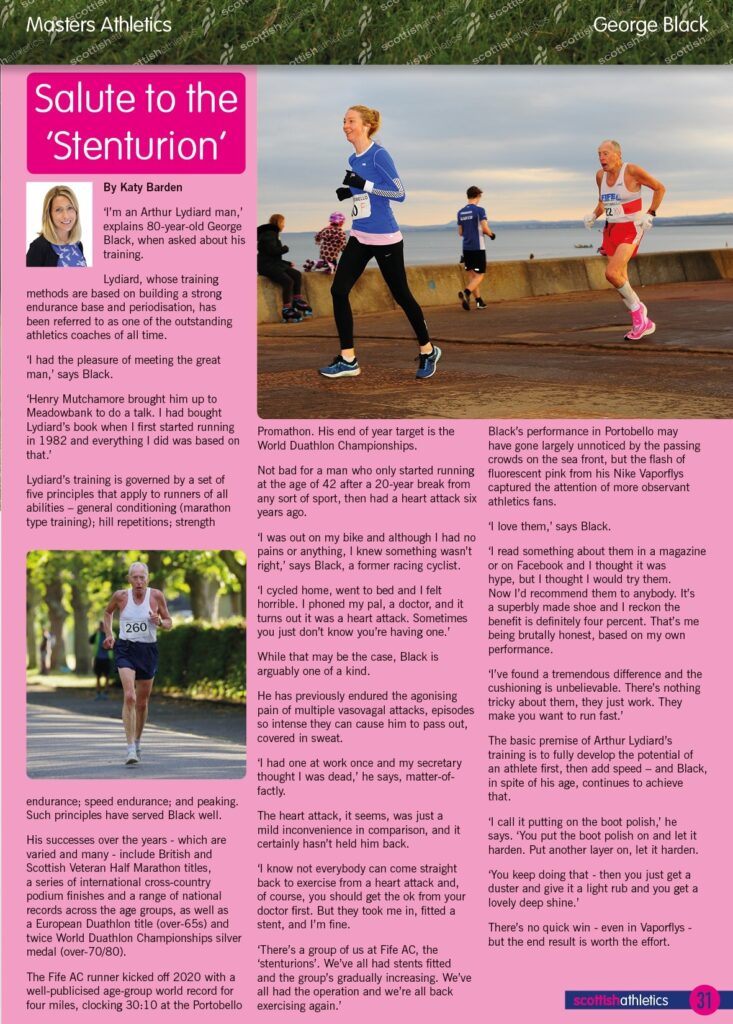 Katy Barden's interview with George features in the current edition of PB magazine
Black's performance in Portobello may have gone largely unnoticed by the passing crowds on the sea front, but the flash of fluorescent pink from his Nike Vaporflys captured the attention of more observant athletics fans.
'I love them,' says Black.
'I read something about them in a magazine or on Facebook and I thought it was hype, but I thought I would try them. Now I'd recommend them to anybody. It's a superbly made shoe and I reckon the benefit is definitely four percent. That's me being brutally honest, based on my own performance.
'I've found a tremendous difference and the cushioning is unbelievable. There's nothing tricky about them, they just work. They make you want to run fast.'
The basic premise of Arthur Lydiard's training is to fully develop the potential of an athlete first, then add speed – and Black, in spite of his age, continues to achieve that.
'I call it putting on the boot polish,' he says. 'You put the boot polish on and let it harden. Put another layer on, let it harden.
'You keep doing that – then you just get a duster and give it a light rub and you get a lovely deep shine.'
There's no quick win, but the end result is worth the effort.
+++
WATCH: Arthur Lydiard lectures on video here . . .
Tags: Fife AC, George Black, Katy Barden