Inter-District action from Holyrood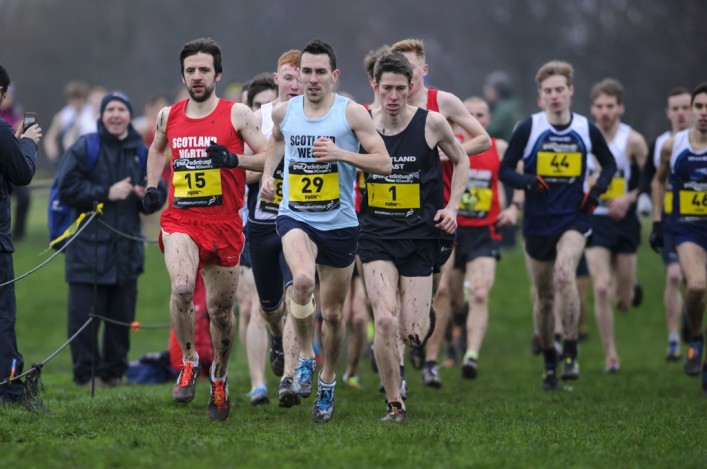 Action from the Junior/Senior men's Inter-District and Celtic U23 race – photo by Bobby Gavin
 All the results on our Events page – scroll down on left for downloads
It was only nine days into the New Year and Andy Douglas savoured Scottish Inter-District success – as his third win already in 2016!
The GB hill running international was an impressive winner in the Senior Men's race as he followed on where he had left off a week earlier when winning the Portobello Promathon and a hill race in Biggar.
Douglas gave West an individual double success in the Senior races with Fionnuala Ross of Shettleston having taken the Senior Women's title across the Holyrood Park mud.
In the Junior International races, there were Scottish Inter-District U17 successes for Erin Wallace (West) and Ben Greenwood (East) only a few days after their fine indoor performances at the Emirates Arena.
Douglas will represent Scotland at the Antrim International XC event this forthcoming weekend and he felt under a bit more pressure to prove his worth after being advised of his selection a couple of days prior to Holyrood.
'I wanted to show that I can run well at cross country and particularly after hearing about that Scotland vest for Antrim,' said Andy.
'It just put that little bit more pressure on me but it turned out a good thing. I could feel Sean Chalmers was gaining on me a bit in the final lap after going out quite hard but thankfully I had enough to win it.
'Yes, that's three races wins in a row over a few days so I guess you could say it has been a Happy New Year! It is always enjoyable winning a race and the Great Edinburgh XC is always a good event.'
As Douglas made it a hat-trick of road, hill and XC success, North athlete Chalmers took silver with the West's Jonny Glen in third place. Both were representing Scotland in the Celtic Nations XC. The Senior men's team race was won by the West District.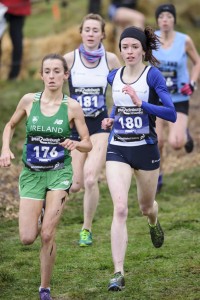 Maclennan (181) and Pennycook medalled in Inter-Districts and Celtic Nations
It was a similar situation in the Women's with Ross followed home by two Scotland U23 athletes in Mhairi Maclennan (North) and Steph Pennycook (Scottish Students). Pennycook helped Scottish Students take the win in the Senior Women's team race by nine points from the East.
In those U17 races, Wallace was followed home by Kate Gallagher (East) and Anna MacFadyan (North). There was team success for the East here and also in the U17 boys where Greenwood took gold and the other medallists were Joe Arthur (East) and Max Milarvie (West).
The opening races of a hectic schedule of races had started with the U15 Inter-Districts and there were wins there for the West in both races.
Robert Sparkes took individual gold for the East in the U15 boys with silver for Hamish Armitt (West) and bronze for David McNair (West). The U15 girls champion was Heather Barnes (West) with the other medallists beings Emma Frew (West) and Jessica Macleod (East)
In the U13s, the two titles went to Lewis Dow (East) an Anna Hedley (East). Following Lewis home for silver was David Addison (East) and Ethan Elder (East)  – with the East taking team success. The other medallists in the U13 girls were Lily Evans-Haggerty (West) and Kate Richardson (West) and they helped West to team golds.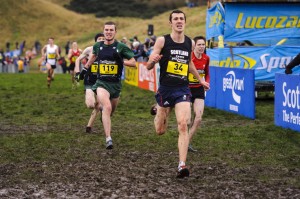 Ben Greenwood wins the Scottish U17 Inter-District title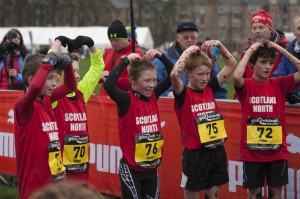 North U13s enjoyed their trip to Edinburgh
*Thanks to all those athletes, coaches, clubs and parents who contributed to the Inter-District event this year – with the selections of course based on the District XC events held before Christmas.
Challenging weather has affected sports events right across the UK over the past few weeks, so it was really good that the Great Edinburgh XC 'survived' with a few course alterations necessary at the express wish of landowners, Historic Scotland. Thanks to the volunteers involved in team organisation, results and other tasks – both prior to and on the day itself. The help is much appreciated.
Tags: Andy Douglas, Ben Greenwood, Erin Wallace, Fionnuala Ross, Great Edinburgh XC, Holyrood Park, Inter-District XC