Butchart 10K win; Sammi Record; North 10K; Shettleston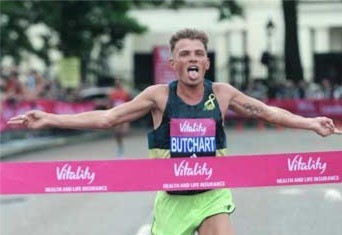 Photo by Mark Shearman
Andy Butchart claimed the Vitality London 10K title for the second successive year – some 36 hours after his Diamond League appearance in Eugene.
Butchart, 25, eased to a comfortable victory as he won in 29:18. The Dunblane runner, who was sixth in the Olympic 5,000m final in Rio, competed in London having just returned from finishing eighth in Friday's Diamond League 5,000m in Eugene, Oregon.
In near perfect conditions, the Central AC athlete went through halfway in 14:34. He could have run faster on the second half but spent much of it high-fiving the spectators.
'The crowds were about eight deep in spots and they created a wall of sound and that just gave me a glimpse into what London will be like this summer,' said Butchart, with Jo Pavey winning the women's race.
'I know everyone will be focused on Mo [Farah] and it will be much easier for me because I'm just an underdog. That said, nobody is invincible but it's obviously going to be very tough. It's Mo's last races on the track and that's going to be an emotional occasion but could I get into the medals, you've got to have confidence.'
*Jake Wightman went second on the Scottish 1500m rankings for this year with a run of 3.35.93 in Belgium on Saturday evening. That was inside the World Champs quaolifying standard being asked for by British Athletics.
At Sport City in Manchester, Ben Greenwood clocked 1.48.80 for a PB at 800m and went inside the Euro U20 qualifying standard. There were 1500m PBs, too, for Erin Wallace and Jemma Reekie.
+++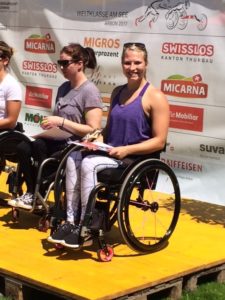 Sammi on the podium for the 400m in Arbon
Para European Record alert! Sammi Kinghorn can't stop setting records at the moment and she clocked another European best in the T53 800m in 1.47.60 on Sunday at the Swiss Champs with a great performance.
That followed on from Saturday in Arbon when the Paralympian won the 100m T53/T54 overall in 16.38 and 400m T53/T54 overall in 54.08. She finished third in the T53/T54 1500m heat in a new Scottish record of 3.26.35.
There were also PBs for young Scots athletes Luke Deighan, Sean Frame and Kyle Brotherton.
With thanks to Ian Mirfin
+++
Inverness Harriers duo Donnie MacDonald and Jenny Bannerman (pictured above) both added to previous wins when they lifted the North District 10K titles at a windy Castle Of Mey on Sunday (May 28).
MacDonald won mainland Britain's most northerly road race along the shoreline of the Pentland Firth in 33:24 after a tight battle with early leader Timothy Ross of Orkney (33:28). Matthew Sutherland (North Highland Harriers) took bronze in 34:06.
Bannerman removed 46 seconds from her own 2015 women's course record with 36:37. The silver medal went to Michelle Slater of Moray Roadrunners (42:54), while Marianne Wilson of North Highland Harriers won the bronze in 45:50.
Host club North Highland were also in the medals when Kevin Cormack (34:48) and Lorna Stanger (46:45) took the Masters' titles. Masters bronze went to race organiser and recently retired RR and CC North member, Sophie Dunnett (48:51). The V50 title winners were Inverness Harriers athletes Steve Worsley (37:12) and Fiona MacKay (51:04).
With thanks to Charles Bannerman 
+++

The final race of the Babcock 10K Series switched to Glasgow for the final race to a new venue in the historic Glasgow Green.
And it was London Olympian Wayney Ghebresilassie, Shettleston Harriers, who dominated after winning the previous two races in Helensburgh and Dumbarton.
Wayney clocked 30.10 to just miss out on the 30.00 time bonus and this was the fastest 10K run of the year in Scotland. Corstorphine's Mike Crawley took second place, some 1.48 back. Shettleston took the team prize with six athletes in the top seven.
If the men's race produce an quality race the ladies race was even better. Fionnuala Ross of Shettleston ran over a minute inside the time bonus requirement when she clocked 34.23. This places her in the top 12 in the UK and 2nd in Scotland so far this year.
Second in the ladies race was Scottish marathon medallist Katie White (36.06) of Garscube Harriers followed by Elspeth Curran (36.42) of Kilbarchan. Host club Shettleston Harriers also took the ladies team prize with four of their ladies in the top 10.
Jill Knowles of the Scottish Prison Service won the series prize picking up valuable points in Helensburgh, Dumbarton and then finally on Glasgow Green .
Tags: Andy Butchart, Ben Greenwood, Castle of Mey, Donnie MacDonald. Babcock 10K Series, Jake Wightman, Jenny Bannerman, North District 10K, Sammi Kinghorn, Wayney Ghebresilassie