Hill runners picked for Ireland trip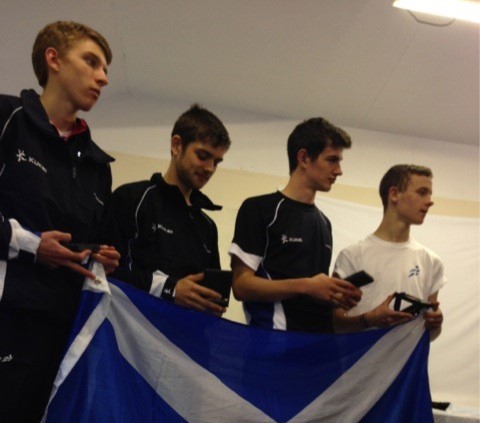 Scotland selections – and hill running league winners
Scotland hill running teams will take on England, Wales and hosts Ireland at the Junior Home International later this month.
The event takes place on Saturday 20 September at Glendalough, in the Wicklow Mountains, after being hosted at Aberfoyle last September.
Aberfoyle was the venue for the Scotland trial races last weekend with four boys and four girls picked for the two age groups – U16 and U19 – who contest the Junior Home International.
Junior men Andrew Lawler and Jacob Adkin, who will represent Team GB and NI at the World Champs in Italy on September 13, are selected for Scotland for Ireland.
There are 11 clubs represented in the selections and all at scottishathletics would like to congratulate the athletes, their families and coaches and those involved with their development over the years.
Scotland U16 Girls: Laura Stark (Kilbarchan AAC), Emily Nicholson (Pitreavie AAC), Ailsa Cruickshanks (Fife AC), Rona Tytler (Kilbarchan AAC).
Scotland U16 Boys: Thomas Otton, Gavin Bryson (Gala Harriers), Tristan Rees (Fife AC), Sam Galloway (Lothian RC).
Scotland U19 Girls: Louise Mercer (Edinburgh Uni), Annabel Simpson (Fife AC), Emma Dunnett (Edinburgh AC), Jennifer Ricketts (Deeside Runners).
Scotland U19 Boys: Andrew Lawler (Edinburgh AC), Jacob Adkin (Moorfoot), Craig Jardine (Victoria Park-Glasgow), Ross Gollan (East Sutherland AC).
*The trial races doubled up as the final event in the scottishathletics Junior Hill Running league for the 2014 season.
With 18 completions (athletes must run at least three races), the growing interest was obvious with a new format for the league hopefully a contributory factor.
Kilbarchan's Laura Stark won the U16 title with maximum points while the boys title in that age-group is shared for 2014 – between Thomas Otton of Gala and Tristan Rees of Fife AC. Thomas and Tristan each amassed 109 points and had the same positions in head-to-head races!
Winners:
U14 G Maddie Owen (Dundee HH)
U16 G Laura Stark (Kilbarchan)
U14 B George Rees (Fife) U16 B Tristan Rees (Fife) and Thomas Otton (Gala)
U19 B Ross Gollan (East Sutherland)
All the league results are online SAL junior hill 2014
Tags: