Hill runners claim medals at Durisdeer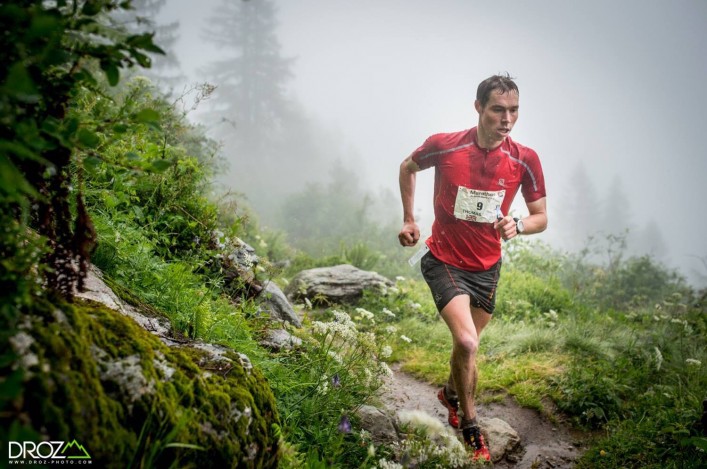 Tom Owens: GB international won Scottish hill title at Durisdeer
scottishathletics Hill Running Championships 2015
Durisdeer Hill Race 2015 Results
The 2015 scottishathletics hill running championships took place at the Durisdeer Hill Race on Saturday 13 June over 14.7km with 1,240m of climb.
The race also hosted a stage of the 6-race league-based British Championship and so attracted a strong field from across Britain.
Tom Owens (Shettleston) came home to win the men's field in 1:25:00, finishing nearly 30 seconds clear of Finlay Wild (Lochaber) with Rob Hope (Dark Peak) in third.
In the women's race, Jasmin Paris (Carnethy) continued her fine run of form to win in 1:37:33, ahead of Victoria Wilkinson (Bingley) and Hannah Horsburgh (Keswick).
Both winning times were a few minutes outside the course records which were set by Rob Jebb and Angela Mudge back in 2008.
The full list of scottishathletics medallists for 2015 is as follows:
Men:
Under 23: James Waldie (Carnethy)
Senior: 1 Tom Owens (Shettleston); 2 Iain MacCorquodale (Ron Hill Cambuslang); 3 David Eiser (Ochil)
V40: 1 Stuart Malcolm (Highland); 2 John Connaghan (Shettleston); 3 Grant Baxter (Ochil)
V50: 1 Stewart Whitlie (Carnethy); 2 Alan Smith (Deeside); 3 David Gallie (Highland)
V60: 1 Euan Patterson (Moray)
Teams: 1 Carnethy (Whitlie, Waldie, Michael Reid, Iain Whiteside); 2 Shettleston (Owens, Connaghan, Stephen Winter, Peter Mackie); 3 Deeside (James Espie, Smith, Peter Henry, Owen Bass)
Women
Senior: 1 Jasmin Paris (Carnethy); 2 Charlotte Morgan (Carnethy); 3 Ciara Largey (Lochaber)
V40: 1 Veronique Oldham (Cosmic); 2 Fiona Kelsall (Ochil); 3 Liz Killean (Fife)
V50: 1 Louise Burt (Fife); 2 Hilary Ritchie (Fife); 3 Jo Schreiber (Pudsey)
V60: 1 Jane Kerridge (Deeside)
Teams: 1 Fife (Burt, Ritchie, Liz Killean); 2 Deeside (Kerridge, Jane Oliver, Ursula Bass); 3 Carnegie (Melanie Sinclair, Isobel Burnett, Morna Fleming).
With thanks to Hugh Buchanan, convenor of the Hill Running Commission
Tags: Carnethy, Durisdeer, Fife AC, Jasmin Paris, Scottish hill running Champs, Tom Owens