Hawkins; Alloa; Inglis; Hill Running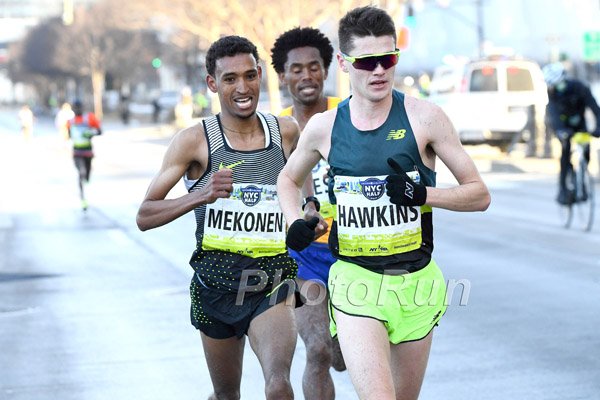 Photo via Twitter
The road running season is firmly upon us and that's reflect in our review of half marathon events from the United States, Portugal and Scotland.
Let's start right at the top as Callum Hawkins came up with the second best all-time performance on the men's list as he went within eight seconds of the time he recorded in Japan last month.
The Olympian finished second in the United Airlines New York Half Marathon to Olympic silver medallist, Feyisa Lilesa, with his 60.08 just four seconds adrift of the Ethiopian.
And Callum confessed he had nothing left to give after being pipped to victory in the Big Apple on Sunday.
The 24-year-old looked confident as he spearheaded a breakaway group of three for most of the event. However, in what turned into a two-man dash for the line over the closing stages, he was edged out by his Ethiopian rival who won in 60:04 with the Scot just four seconds behind.
Callum said: 'I was just thinking, like, why won't he leave me alone? But yeah, it was really fun running through Manhattan.
'I mean, such an exciting race, but overall it was just really tough, and I was throwing everything I could just to get rid of Feyisa. But he was just too strong in the end.'
With the winner second in Rio last year, there's further proof of Callum's progress and his most recent races have underlined his arrival at global level – taking in the Euro Cross XC, the Great Edinburgh XC, the half marathon record in Japan and this New York performance.
Prior to the event, Callum had said he was looking for a "competitive race" rather than a particular time. Always to the fore, he had splits of 14:25 for 5km, 28:46 for 10km, 42:52 for 15km and 56:58 for 20km before Lilesa denied him victory with a late kick.
He will now go on an altitude training camp in Boulder, Colorado, under the eye of Steve Jones as he continues his build-up to the IAAF World Championships in London.
Back in Scotland, the Alloa Half Marathon is always a great occasion and the Results reveal just a couple of athletes shy of 2700 finished the distance from around 3500 entries.
There were wins for Kristian Jones of Dundee Hawkhill Harriers and Katie White of Garscube Harriers, as both of those athletes continued their really impressive winter form. Jones clocked 67.19 to win with White at 76.52.
Following Kris home was Cameron Milne of Central AC with a time of 67.40 and Inverclyde's Craig Ruddy with 69.55. Second place in the Women's race went to Gemma Rankin of Kilbarchan AAC with 78.20 and Morag MacLarty of Central AC at 79.42.
Alloa Half Marathon Results
+++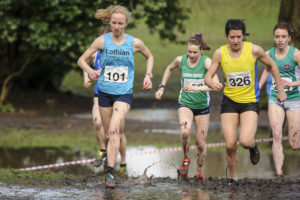 Sarah Inglis in action at the National XC – where she took bronze
Sarah Inglis of Lothian Running Club has a Scotland appearance looming in cross country as she prepares for the Home International XC in Wales this weekend.
And she did so with a fine half marathon performance in Lisbon as she finished in 16th place in the Women's race and first Brit in a time of 74.51 for a PB.
That takes Sarah to the top of the Scottish rankings for the Women's half marathon for this year with Susan Partridge and Katie White (after Alloa) in second and third place at the moment.
West District Hill Running Championships, Criffel, March 19
The inaugural scottishathletics West District Hill Running Championships took place on Sunday, over the 11km Criffel Race route. A large field of 201 runners finished the testing, muddy course.
Christina Rankin (Shettleston) took the Women's District gold medal, ahead of Rosie Allen (Annan & District) and Maya Hernes (Westerlands). Rosie was also 1st FV40, ahead of Susan Breckenridge (Shettleston). Shettleston also secured the team title.
Tom Owens (Shettleston) took the Men's District title, ahead of team-mates Alasdair McLeod and Jethro Lennox.
Jethro also finished 1st MV40, followed again by two team-mates, Kenny Richmond and Stephen Winter. Iain Ballantyne (Glasgow University) was 1st U20. Bill Breckenridge (Shettleston) took the MV50 title, as his club completed a good day by finishing 1st team ahead of Westerlands and Annan.
Race winners were Graham Gristwood (Ochil) and Georgia Tindley (Hunter's Bog Trotters).
A big thank-you to Ranjit Thomas and his team of helpers from Dumfries Running Club, who successfully organised the race and agreed to host the Championship.
With thanks to Malcolm Patterson
+++
It was a busy weekend for Jethro Lennox, as he took a fourth place on Saturday in Liverpool at the British Masters XC.
Not sure how other Scots may have fared but there are Results online (please scroll down page on left to find icon for Liverpool XC)
Tags: Alloa Half Marathon, Callum Hawkins, Criffel, Katie White, Kristian Jones, New York Half Marathon, Sarah Inglis, West Hill Champs